There are plenty of great hotels, resorts, and timeshares in and around Orlando for tourists, stay-cationers, and timeshare owners to enjoy. With six amazing resorts in the middle of the theme park capital of the world, Hilton Grand Vacations offers prime locations, luxurious amenities, and family-friendly activities. We've put together a guide to the top Hilton Grand Vacations Orlando to help you decide where to use your ClubPoints next or where to buy a timeshare.
Best Hilton Grand Vacations Orlando Resort
With six properties in the City Beautiful to choose from, which Hilton Grand Vacations resort in Orlando is best? Depending on your travel party size or which parks you want to be closest to can make all the difference. Hilton Grand Vacations Club SeaWorld Orlando is great for families with its luxurious outdoor pool and proximity to SeaWorld. Tuscany Village by HGVC is also great for families and has more of an upscale atmosphere. We'll weigh out the pros and cons of our top picks so you can pick the best Hilton Grand Vacations Orlando resort for you.
Hilton Grand Vacations at SeaWorld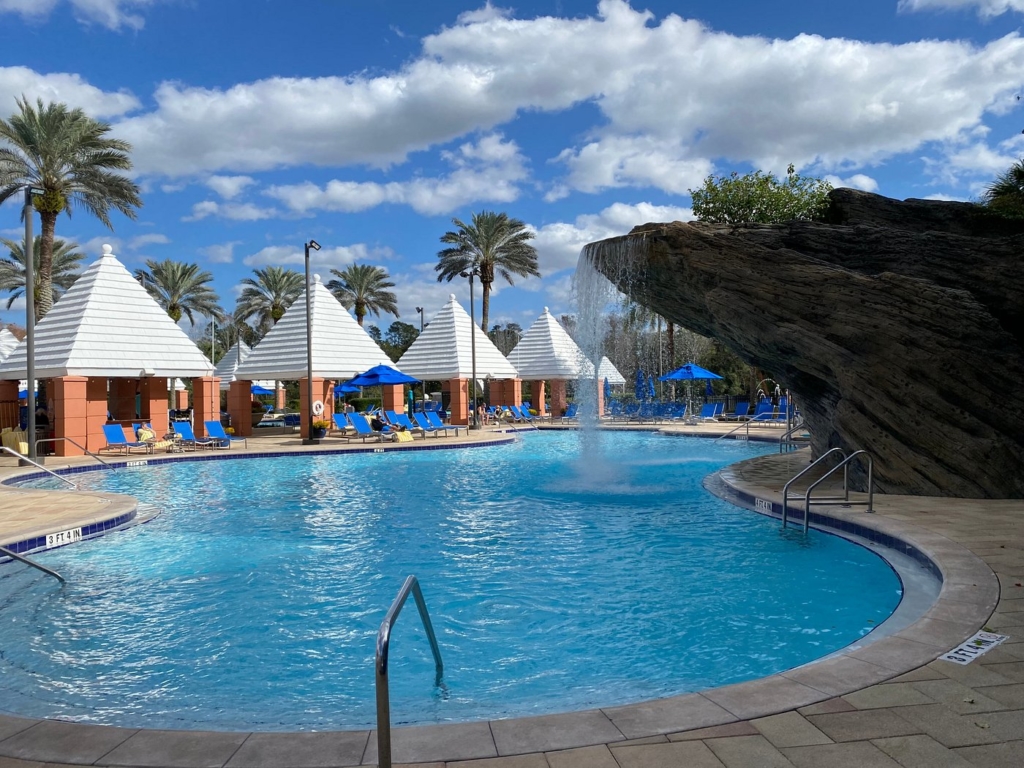 Address: 6924 Grand Vacations Way, Orlando, FL 32821
Hilton Grand Vacations at SeaWorld is fun, family-friendly, and fabulous. This resort is by far the most popular Hilton Grand Vacations Orlando resort. Its perfect location next to the dolphins, whales, and flamingos at Seaworld is an ocean lover's dream. The kids will never want to leave!
A free shuttle on-site takes guests to Seaworld right next door, as well as Aquatica, Discovery Cove, and Universal Orlando. After an exciting afternoon at the best theme parks, there are plenty of other amenities on the resort. Three pools, five whirlpool tubs, two kid-friendly pools, and a waterfall feature will suit your outdoor needs. The little ones will also enjoy the Children's Activity Center or outdoor playground. An on-site restaurant, Coral Reef Bar & Grille has a full menu. Choose from burgers, sandwiches, salads, or other entrees to fill your palate. Grab breakfast, lunch, or dinner here, or head to the Provisions Market & Fresh Deli. Stock up on Boars Head sandwiches, snacks, pizzas, or other groceries.
Accommodations here range from studios that sleep up to two people, all the way to three-bedroom suites that can comfortably sleep eight people. Studio accommodations feature kitchenettes, complete with a mini-fridge, coffee maker, toaster, dishes, and utensils. Enjoy a 42-inch flat-screen TV with premium cable while you get comfortable in a lux King-sized bed. One, two, and three-bedroom suites are complete with a fully equipped kitchen, living room, dining room, washer, and dryer, as well as a private patio or balcony. Granite countertops and vanities create a wealthy atmosphere. In addition, each guest gets 2 cups of Starbucks Coffee or 2 16 oz. bottles of water per day. Feel free to sleep in like royalty (and make use of the black-out curtains available!)
Why You'll Love HGV at SeaWorld:
Free shuttle to Aquatica, Discovery Cove, Universal Orlando, and SeaWorld
Three pools on-site, including two kid-friendly pools
Tennis courts, jogging trails, and a state-of-the-art fitness center
Coral Reef Bar & Grille as well as Provisions Market & Fresh Deli on-site
Accommodations fit up to eight guests
Read more: Hilton Grand Vacations Club at Seaworld Orlando: Your Gateway to Adventure!
Hilton Grand Vacations at Tuscany Village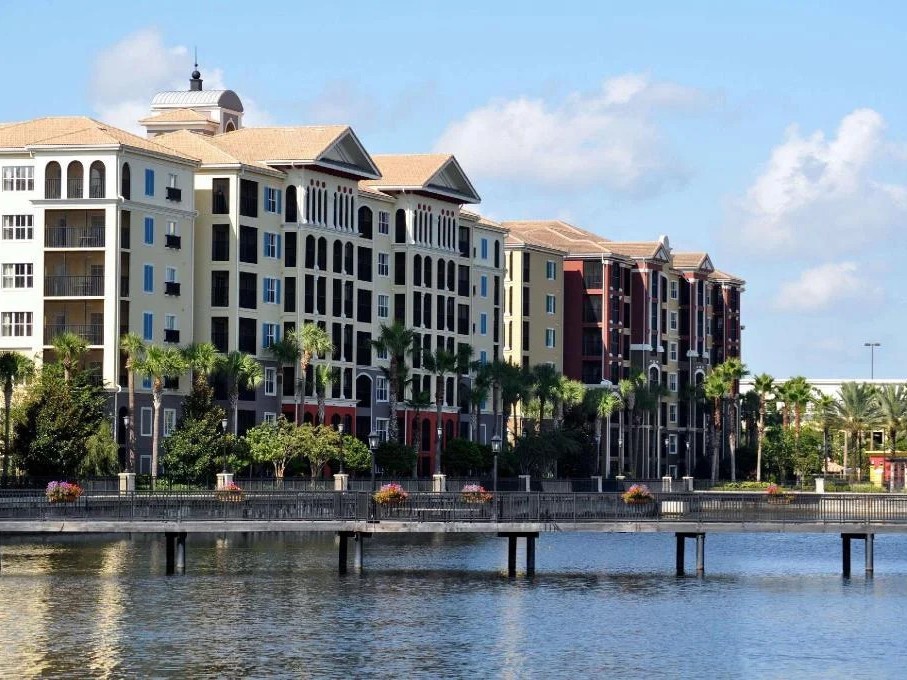 Address: 8122 Arrezzo Way, Orlando, FL 32821
If a European trip isn't in your near future but you wish it was, Hilton Grand Vacations at Tuscany Village can take you there. Mosaic tile pool accents, rustic brick walls, and gorgeous archways mimic Italian architecture that sings European luxury. While this resort is family-friendly, the adults will appreciate the atmosphere the most.
A shuttle service transports hotel guests to the nearby theme parks daily so you relax and enjoy your afternoon without paying for parking! Right next to HGVC's Tuscany Village is also the Orlando Premium Outlets, where you can shop at all of your favorite stores and get designer goods at unbeatable prices. There are two outdoor pools for your Vitamin D needs, as well as whirlpool tubs and a children's water feature. Keep up your fitness routine while you're away at the fitness center, lakefront jogging path, or sports court!
When your stomach starts to rumble, Tuscany Village makes it easy to enjoy delicious food with multiple dining options. Enjoy Fresh Tuscan Pizza, the Laguna Snack Bar (next to the Laguna Pool area), the Toscana Pool Bar and Grill, or the Fresco Market & Deli. The wealth of choices ensures you don't have to step foot in a car, especially when you're getting groceries for your suite. The Fresco Market & Deli even has you covered with that.
Room types at Hilton Grand Vacations Tuscany Village resort range from Studio rooms with a kitchenette and King-size bed. Or, take the whole family with you for up to eight people in a three-bedroom suite complete with a full kitchen, washer and dryer, living room, and dining area. Kick back and relax while watching unlimited movies on the flat-screen TV with DVD Now, or soak in the jet tub in the master bathroom.
HGVC at Tuscany Village Resort Features:
Mediterranean-style architecture and decor
Free daily shuttle to nearby theme parks
Next door to the Orlando Premium Outlets
Two outdoor pools
Four cafes and dining options to choose from
Accommodations sleep up to eight guests
Parc Soleil by Hilton Grand Vacations Club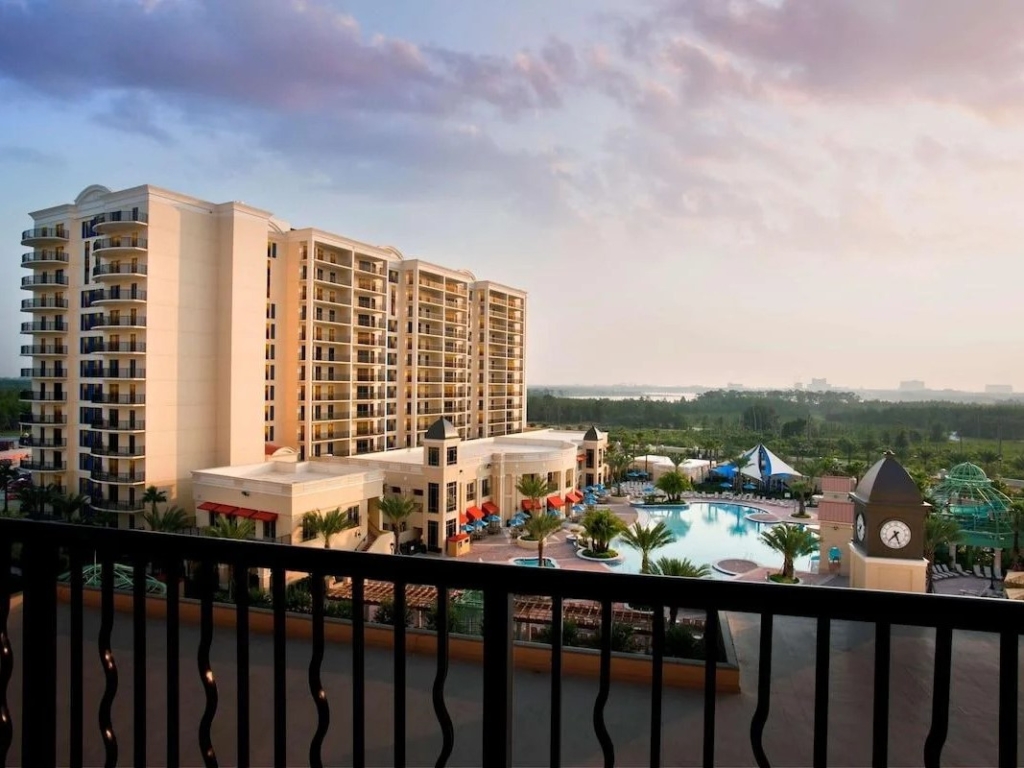 Address: 11272 Desforges Ave, Orlando, FL 32836
Just three miles from Orlando's Walt Disney World Resort sits Parc Soleil by Hilton Grand Vacations Club. This sprawling resort is the perfect backdrop for your next family vacation! You'll be just minutes away from the magic of Disney and will have 52 acres of amenities at your disposal.
There are plenty of opportunities to stay active while staying at Parc Soleil. The resort's walking paths are great for exercising while getting some fresh air. For a more intense workout, head to the resort's fitness center. There you'll find a variety of different exercise machines and weights. Alternatively, there are a few sports courts on-site that are fun for sports lovers.
Parc Soleil's beautiful pools are probably where you'll be spending a lot of your time when you visit. You can spend your day relaxing in a quiet cabana or going down the winding waterslides. Adults will love unwinding in the resort's hot tub or with a drink at Cafe Soleil. This poolside cafe serves delicious sandwiches and salads, as well as refreshing cocktails and beer. If you're looking to stock up your timeshare villa's kitchen, head to The Marketplace. There you'll find a wide selection of grocery items, plus convenient grab-and-go items for when you're heading out for the day.
Parc Soleil by Hilton Grand Vacations Club offers villas with enough space to be able to truly relax during your vacation to Orlando. Retreat to a spacious one-, two-, or three-bedroom villa after a long day of fun exploring the city's best attractions. Each suite has a full kitchen, free WiFi, a DVD player, and a private balcony, so you'll feel right at home. There are suites big enough for eight guests, which means that you can bring the whole family and still have enough room to unwind.
Parc Soleil by HGVC Perks:
Minutes away from Walt Disney World
Walking paths and trails across 52 acres of the property
Tennis court on-site
Private, pool-side cabanas available
Villas sleep up to eight guests
Las Palmeras by Hilton Grand Vacations Club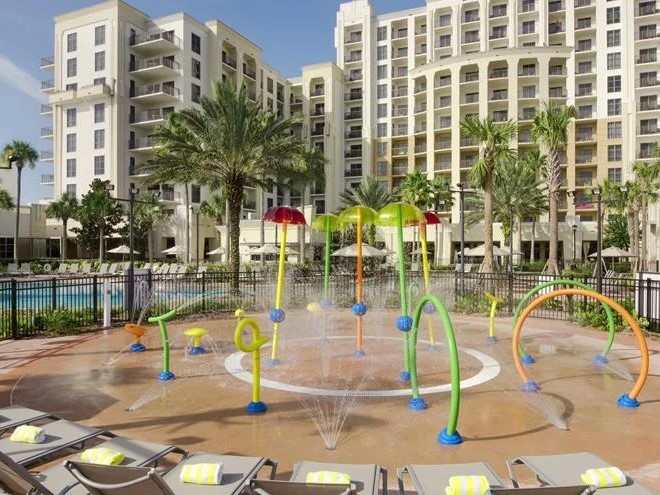 Address: 9501 Universal Blvd, Orlando, FL 32819
Las Palmeras by Hilton Grand Vacations Club is the closest of their resorts to Universal Studios Orlando. If you're planning on spending your vacations enjoying the thrilling rides at Universal, this could be the perfect resort for you! Its location is also quite close to International Drive, where there are tons of dining and entertainment options. This is also a great location for those traveling to Orlando to attend a conference or convention at the Orange County Convention Center.
There is a vast selection of fun activities and amenities at Las Palmeras. One of the ca n't-miss amenities is the resort's large pool deck. Not only is there a large pool area to enjoy, but there is also a waterslide and splash pad. There is a kids' activity center full of fun games and crafts that will be a hit amongst the little ones in your travel party. There are a few places where adults can grab refreshing beverages including the Lobby Bar and the poolside bar, Cabana Del Sol. Guests of all ages will have an incredible time at Las Palmeras!
If you're looking for a great meal without even leaving the property, head to Fiorella's. This highly-rated restaurant serves authentic northern Italian dishes. Fiorella's has an extensive wine list featuring great selections from around the world. Whether you're looking for a romantic date spot or a big family dinner, this is an awesome and convenient choice!
Guests will love how comfortable the one- and two-bedroom suites are at Las Palmeras. However, if you're looking for a room for just two guests and don't need too much space, there are beautiful studio options too. You won't be losing out by staying in a smaller suite. Every suite at this Orlando resort has the quality you'd expect from Hilton Grand Vacations.
Las Palmeras by HGVC Details:
Closest to Universal Orlando and Orange County Convention Center
Waterslide and splash pad at the on-site pool
Kid's activity center with games and crafts
Top-rated Italian restaurant on-site, Fiorella's
Accommodations sleep up to eight guests
Read more: Enjoy Family-Friendly Fun With 7 Universal Studios Rides for Kids!
Best Timeshare Resorts in Orlando, Florida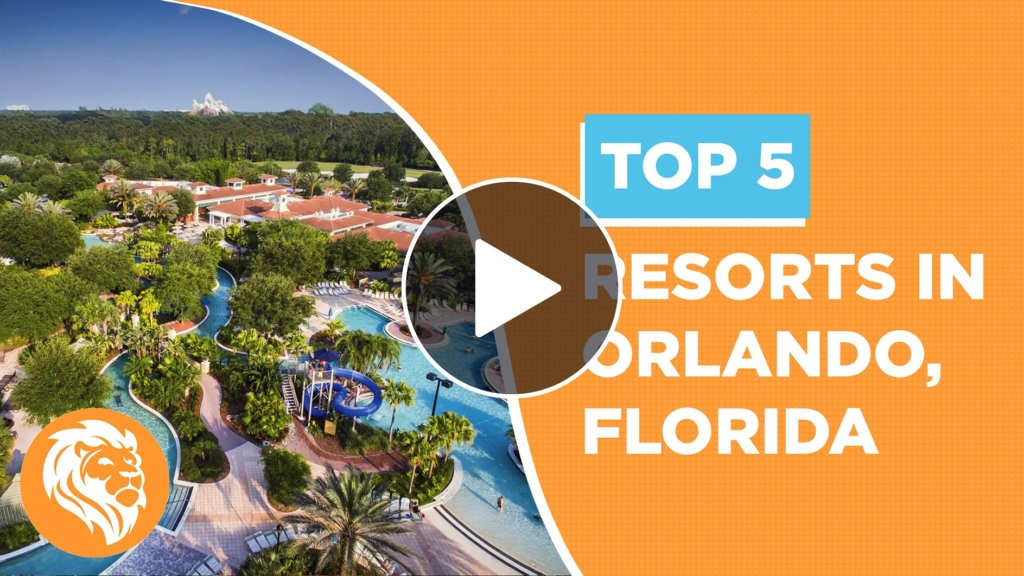 Hilton Grand Vacations Orlando Timeshares For Sale
If you're ready to make a yearly trip to one of the Hilton Grand Vacations resorts in Orlando, our Licensed Real Estate Agents can help. Firstly, browse our Hilton Grand Vacations timeshares for sale. Then, when you've found the right listing for you in Orlando, simply make an offer! Becoming a vacation owner has never been so easy! Not to mention, the resale prices of timeshare are generally way lower than retail. So, you can save a bunch of money. We know that deciding to buy a timeshare can be daunting, but we're here to help. We can help you find the perfect vacation ownership for your family, without any pressure. You can contact our experienced team directly at (407) 465-5188 or [email protected].
Read more: What is Hilton Vacation Club? All You Need to Know!
Sell My Hilton Grand Vacations Orlando Timeshares
Do you have a Hilton Grand Vacations Club timeshare that you no longer use? We can help you sell your timeshare. Fill out the form below to meet one-on-one consultation with a licensed real estate agent.