When you arrive at Downtown Disney restaurants, prepare yourself for the sensory overload that you'll experience. Between the live concerts at House of Blues, the non-stop action, and the overwhelming, intoxicating aroma of over 20 incredible restaurants, you'll need a few minutes to stop and take it all in. Walt Disney famously said, "I don't want the public to see the world they live in while they're in the Park. I want to feel they're in another world." At Downtown Disney restaurants, that is exactly what you'll get.
Extra perk: all of the restaurants mentioned below are part of the Disney Dining Plan. Check out the end of the article for the link to learn more about it!
Rainforest Cafe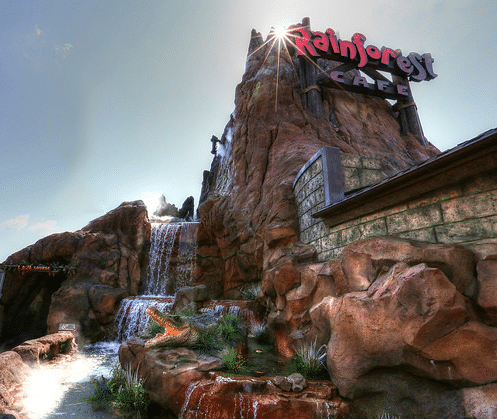 This Downtown Disney restaurant is a staple. It's so popular that Disney actually built two locations of Rainforest Cafe within feet of each other. One is within Downtown Disney, and the other is in Animal Kingdom.
Rainforest Cafe has American cuisine and table-side service. Everywhere you walk there are life-size, extremely loud (but mesmerizing), tropical animals waiting to join you for a meal. Make sure you keep an eye out for the unexpected lightning and rainstorms!
Additionally, The Rainforest Café just opened The Lava Lounge right outside their doors. Dubbed the "hottest" addition to Downtown Disney, The Lava Lounge immerses you in an "active" hot and humid volcano. It isn't as intense and loud as the Rainforest Café, which creates a more relaxing atmosphere.
Even though Lava Lounge shares the same menu as Rainforest Café, they also have their own with additional appetizers such as: Volcanic Sliders, Polynesian Pot Stickers, and Tectonic Tacos. The thing we love most about Lava Lounge is that unlike most of Disney's sit-down restaurants, reservations are not necessary.
If you're a Disney Vacation Club member, you qualify for a DVC member discount of 10% when you present your membership card!
T-Rex Cafe
As the sister restaurant of Rainforest Café, the T-Rex Cafe will take you back to the prehistoric ages. When you walk into this American-fare restaurant, you will be welcomed by every kind of dinosaur you can imagine. Enjoy your meal in the ever-color-changing cave and witness multiple meteor showers while waiting for your meal. The T-Rex Cafe offers non-stop entertainment and does not disappoint on the outstanding décor. Some of their signature Jurassic meals are the Gigantosaurus Burger, the Tar Pit Fried Shrimp, and the Mammoth Mushroom Ravioli, just to name a few. Before you leave, make sure you check out the giant octopus above the bar. If you look closely, it actually moves!
Just like at the Rainforest Cafe Disney Vacation Club owners qualify for 10% if they present a DVC membership card!
Fulton's Crab House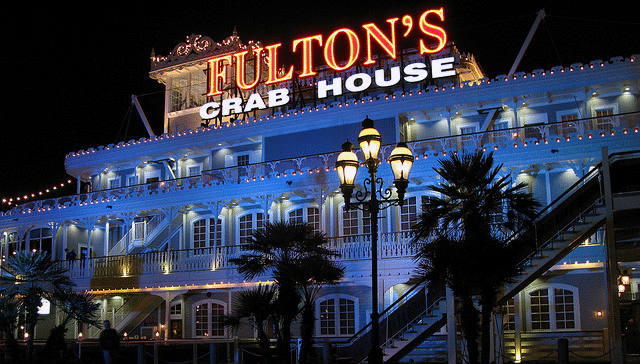 Labeled the "Jewel of Downtown Disney," Fulton's literally can't be missed. Located in a giant replica of a Riverboat, this restaurant was bought as a gift specifically for Walt Disney's wife, Lilly. This seafood-focused restaurant flies in 50 types of fresh fish daily and always has the freshest Alaska King crab available. However, this is a surf-and-turf restaurant that offers something on the menu for everyone. They offer filet mignon and baby back ribs that are just as delicious as the seafood meals. Fulton's also offers a very impressive wine selection. They have their own cellar that houses over 2,000 bottles.
Bonus tip: if you post a picture of your meal on Fulton's Facebook page, they will give you 10% off your entire bill! You may also qualify for the DVC member discount here, though these aren't typically valid along with other offers, so be sure to ask your server.
Raglan Road
When you walk through the doors at Ragland Road, you'll find yourself in what appears to be a genuine Irish Pub. Fun Fact: All of the wooden bars and tables are imported straight from Ireland.
If the furniture isn't enough to complete the illusion, every Monday through Saturday evenings is live Irish music and dancing. The food options are authentic and beyond delicious. You can choose from genuine Irish fare such as Shepherd's Pie, Fish and Chips, and multiple hearty stews. The restaurant's menu was hand-picked by celebrity chef Kevin Dundon, who starred on Master Chef on the Fox network.
What would an Irish Pub be without drinks? In true Irish fashion, the beer selection is not to be overlooked. They offer stouts, American crafts, lagers and various whiskey options. Here is the complete menu.
Raglan Road stands out for many reasons, but one thing they are most known for is their Sunday brunch. This family-style meal takes place from 11:00 am to 4:00 pm. Make sure you come hungry! The brunch features premium roasts, multiple mouth-watering sides to choose from and a plethora of delicious desserts. As with lunch and dinner times, brunch features professional Irish dancers that jig to the Irish beats of the house band, Creel. There is also a gift shop in the restaurant so you can purchase an Irish souvenir to forever remember your experience at Raglan Road.
Get 10% off when you present your Disney Vacation Club membership card.
Planet Hollywood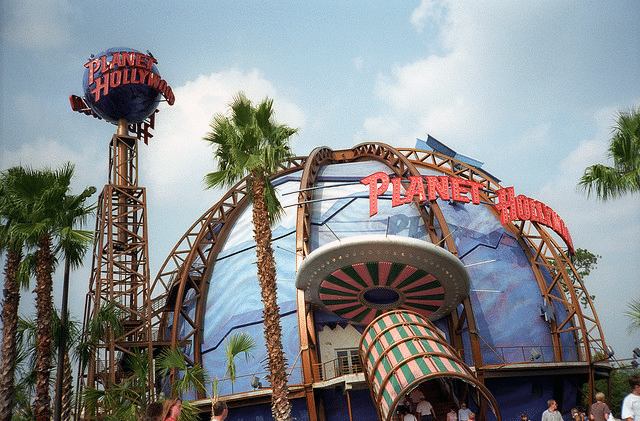 With over 20 locations worldwide, this particular restaurant has a very unique setting: inside a giant globe! The ceiling is covered with thousands of twinkling stars that make you feel like you are looking into the sky. While reservations are always suggested, Planet Hollywood is quite large. It offers three different levels to dine in, so if you walk-up, your wait shouldn't be too long.
Planet Hollywood's late-night atmosphere may appeal more to the partiers of your group. The restaurant itself is open to 12 a.m. and the bar stays open until 12:45 a.m. This is considered the All-American restaurant, so of course, they offer food that will appeal to everyone. A few top-favorites are: the L.A. Lasagna, the Kobe Sliders and the Teriyaki Salmon. Once you're sufficiently stuffed, make sure to take a leisurely walk around the restaurant taking in all the famous memorabilia from your favorite Hollywood flicks. Also, don't be surprised if you spot a celebrity or two!
Wolfgang Puck Cafe and Dining Room/Wolfgang Puck Express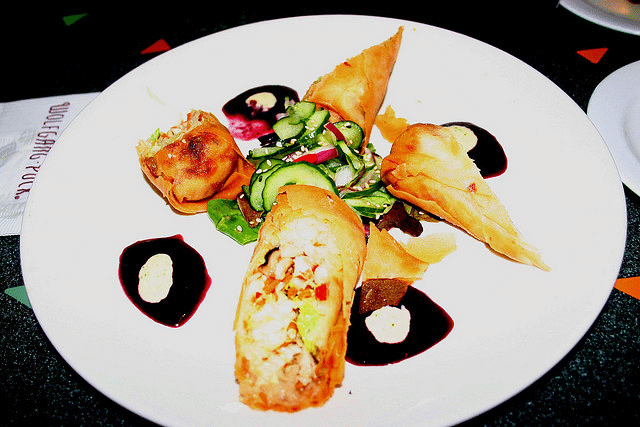 You've definitely heard of him. You may have even tasted some of his famed dishes. Bottom line: do not miss out on a meal here! Wolfgang's famous quote "live, love, eat" really sets the tone for what you will be getting into while experiencing a meal here. The cuisine here is California-Asian fusion. This upstairs location is more formal and expensive than its sister restaurant, Wolfgang Puck Express, which is located downstairs. The bright colors and geometric shapes give the atmosphere a really fun and eclectic feeling. Much like Fulton's, Wolfgang encourages social media marketing. If you check into Facebook at their restaurant, your table will receive a free hummus appetizer!
If you aren't looking to spend a whole lot of money or time but still want quality Wolfgang food, you need to check out Wolfgang Puck Express. Even though the menu is smaller, it offers all of the classics. You can still order hot sandwiches, salads and Wolfgang's famous pizzas. They even offer grab-and-go options if you don't want to waste any time sitting down. All of the ingredients are completely fresh. Bonus: Try the mashed potatoes. They are some of the highest-rated potatoes in the world!
Downtown Disney Restaurant Dining Tips
Now that you've learned a little more about the top restaurants at Downtown Disney, you need to be aware of the Disney Dining tips. Following these tips just might make your experience a little less stressful and your wallet a little fuller!
Make reservations at any one of the Downtown Disney restaurants. It is recommended that you call and make reservations 180 days before your trip. Of course, Downtown Disney's easy-to-access location allows for a shorter reservation period. Since reservations are highly suggested, they make the process easier. A lot of the Downtown Disney restaurants offer online reservations. Check out their websites for more information.
Orlando is famous for its hot summer days. On these days in particular, ask any restaurant for a free glass of ice water. With the exception of a couple of months a year, the temperature in Orlando can get up way above the 80's. A (free!) cup of ice, cold water could make all the difference on your Disney vacation.
Eat during the off hours. Have a late breakfast and an early lunch. Or have a late lunch and an early dinner. While everyone else is visiting the restaurants during normal meal times, you'll have already been in and out!
As mentioned before, each of the restaurants highlighted above offers the Disney Dining Plan. Click here to find out more about the convenient Dining Plan offerings from Disney!
In addition to saving on dining, Disney Vacation Club members are also eligible for discounts on souvenirs and recreational activities, so be sure to check out our Complete List of DVC Member Discounts before your trip!