Hyatt Residence Club is the best option for your future time share vacations in Key West. With three Hyatt resorts to choose from on the island of 7.5 square miles, which one will you stay at first?
Key West Time Shares
Take your family on an annual trip to the tropical Florida Keys with a Key West time share and experience unforgettable vacations year after year. Key West time shares are a great year-round vacation option as this temperate climate rarely reaches below 75 degrees, even in the winter! Key West is one of the most popular vacation destinations and it's clear to see why. This tiny island is chock full of adventure and pristine beauty, which is why purchasing a Key West time share is a great choice. Hyatt Residence Club is the leader in Key West time shares and these are the amazing resorts they have to offer.
Beach House Resort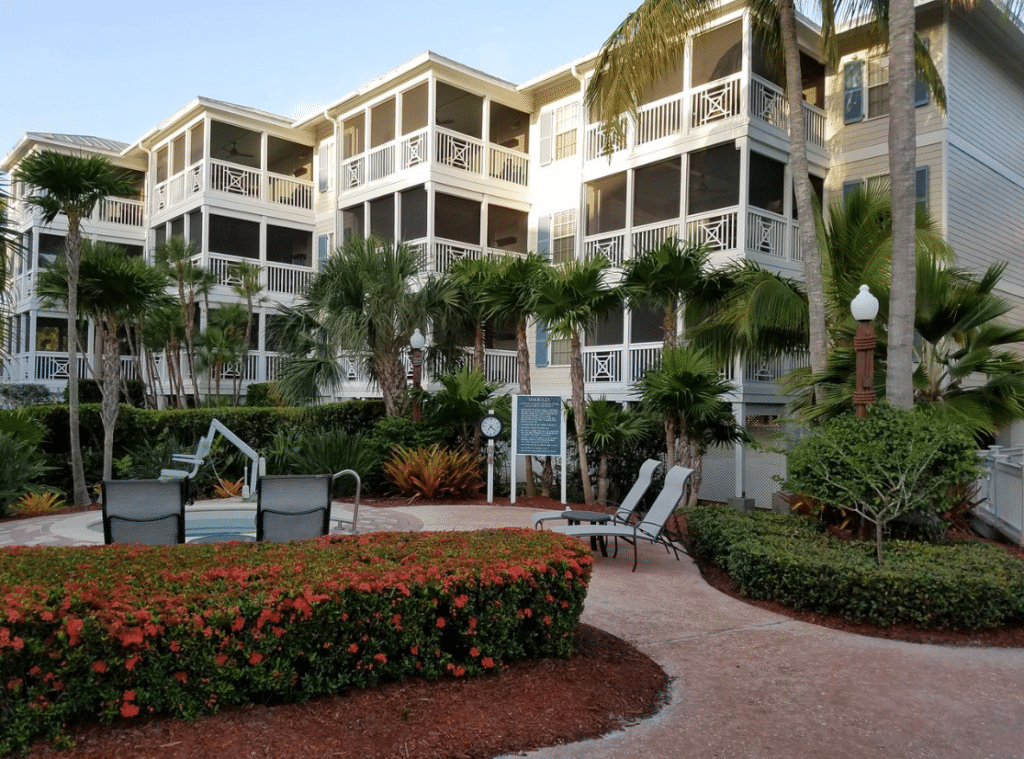 See Beach House Resort Timeshares For Sale
If you want a vacation getaway dedicated to leisure and luxury, Hyatt Beach House Resort is your tropical escape. The resort is about four miles away from Old Town, making it an ideal sanctuary from the excitement of downtown while staying accessible. Relaxation is the only obligation you'll face here, and the free-form pool, sweeping vistas of the Gulf, and gorgeous gardens make that an easy task to accomplish.
Surprising to many first-time Key West vacationers, private beaches are somewhat of a commodity on the island. Hyatt Beach House Resort has one of the finest white-sand beaches you'll find anywhere. Guests report spotting manatees swimming in the shimmering blue waters beside the dock. Enticing recreational opportunities are also available, including boating and fishing.
You'll love the large accommodations, fit for up to 6 guests. Fall asleep in fluffy, king-sized beds and enjoy a fully-equipped kitchen for homemade meals in your Key West time share. The separate living room areas also feature flat-screen TVs and space to stretch out. Each suite has beautiful views of the gulf, garden, or pool.
Sunset Harbor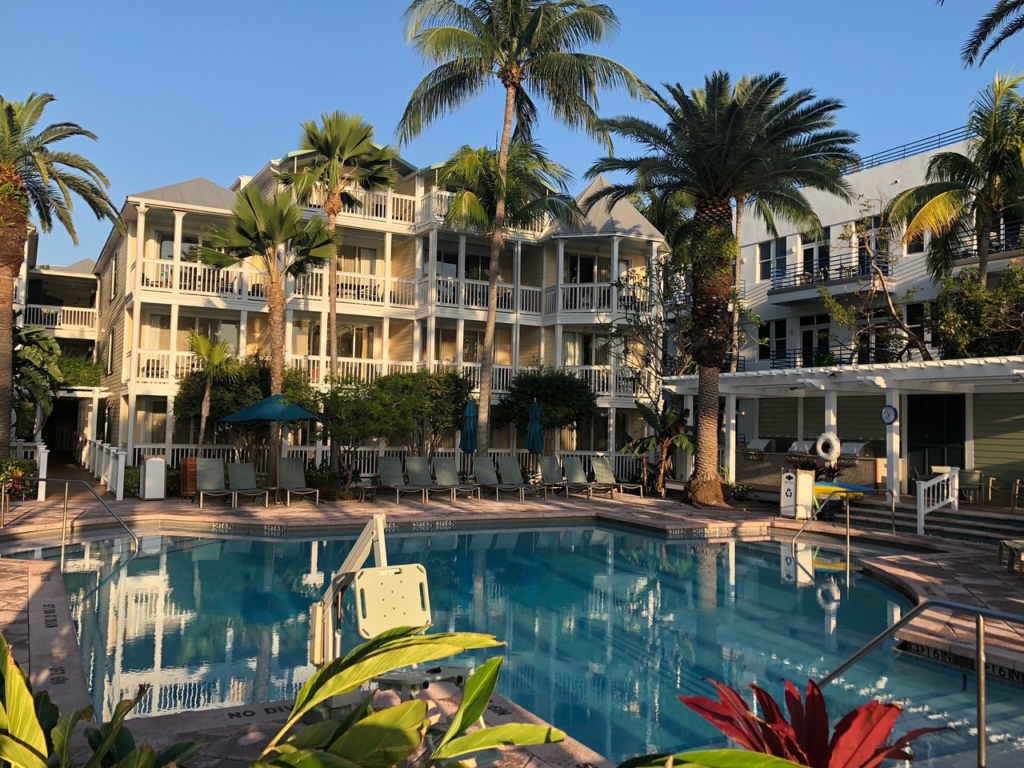 See Sunset Harbor Timeshares For Sale
This Hyatt Residence Club Key West resort is a prime choice for guests that want to be near Old Town's excitement and charm. Sunset Harbor is located on Key West's northwestern coast and only a couple of short blocks from Duval Street. Guests are within walking distance of the island's most quaint attractions.
Hyatt Residence Club owners experience the true heart of Key West at Sunset Harbor with majestic views of the harbor to the west and shopping, fine dining, and cultural events to the east. One of the most notable of these attractions is the nightly Sunset Celebration at Mallory Square Dock where a diverse group of artists, entertainers, and vendors gather for a multicultural art show.
There are a few different options as far as accommodations go. Couples can enjoy a cozy Studio suite, which sleeps up to two guests. One-bedroom suites are perfect for a single family, sleeping up to four guests with a private bedroom and pull-out sofa. For larger families, the two-bedroom suites offer extra space and can comfortably accommodate up to six guests. One and two-bedroom suites are complete with a private balcony, where you can delight in Gulf or garden views. There are also fully-equipped kitchens, as well as en-suite bathrooms with soaking tubs.
Sunset Harbor is the most desirable Hyatt Residence Club Key West time share resort, so make sure that you make vacation plans early. It's prime location, extra accommodations, and gorgeous amenities make Sunset Harbor a favorite for sure.
Windward Pointe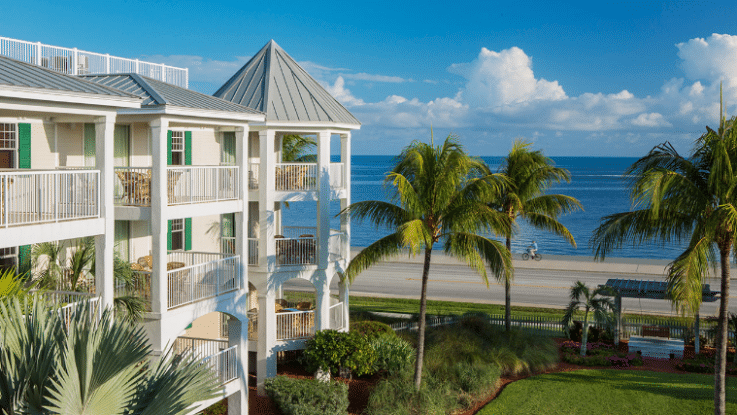 See Windward Pointe Timeshares For Sale
Fall in love with this elite Hyatt Residence Club resort in Key West, Windward Pointe. It has been awarded with the 'Certificate of Excellence' by TripAdvisor, and for good reason! Windward Pointe sits at the southeastern point of Key West, only minutes from the airport.
Two-bedroom suites overlook the Atlantic Ocean, with serene palm trees that sway from the ocean wind. Accommodations also include the bells and whistles that owners expect from a Hyatt resort. Enjoy fully-equipped kitchens, private bedrooms, and spacious living room areas.
What really sets Windward Pointe apart from the rest of the Hyatt Residence Club Key West time share resorts is the on-site amenities. Families and couples can sit poolside or soak in the spa tub. There is even pink pong, pool tables, shuffleboard, volleyball, and barbecue grills.
Keep in mind, there is no beach at Windward Pointe, however, the infinity-edge pool may satisfy your needs. This resort also has the highest maintenance fees out of the rest of the Hyatt Residence Club Key West resorts. Mostly because of its prestige and opulence.
Ready to Buy a Hyatt Residence Club Key West Resort?
If you think you're ready to buy a timeshare, take a look at our listings of Hyatt Residence Club points for sale. You can check Sunset Harbor, Windward Pointe, and Beach House now. Or, call one of our Licensed Real Estate Agents at 1-800-465-5188.
Finance Your Hyatt Timeshare
You can finance your Hyatt purchase with our friends at Vacation Club Loans. They offer low rates, $0 origination fees, and only a 10% downpayment. Take a look at how you can finance a timeshare, or fill out the form for more information on timeshare financing.
Selling Hyatt Points?
If you are a current owner looking to sell your Hyatt points, we can help. Our Licensed Real Estate Brokerage has over 20 years of experience in the resale industry, helping owners just like you. Call us today at 1-800-465-5188 for a free, one-on-one consultation, or fill out an easy online form. We do not charge any upfront fees and are trusted by ARDA.
Contact Form
Gravity Form to SFDC