If you're looking for a beautiful trip filled with history, maybe a vacation to the UK could be for you! If you're already a member of RCI, you're well on your way to this memorable getaway! Here are some of the best timeshare resorts in the UK that you can exchange for with RCI! From the rolling green hills of Scotland to the lively city of London, RCI can take you on a trip you'll never forget! Here are a few of our favorite timeshare resorts in the UK!
How to Exchange For A UK Timeshare With RCI
RCI is the world's largest vacation exchange network. Contrary to popular belief, RCI doesn't actually own any resorts. instead, it is affiliated with timeshare resorts around the world. Some of the top timeshare brands are RCI affiliates, including Club Wyndham, Disney Vacation Club, and more! If you're not sure if the timeshare you own is at an RCI-affiliated resort, contact your developer! If you own with an RCI affiliate and are ready to access the benefits of vacation exchange, you should become a member!
Once you're a member of RCI, then you can exchange your timeshare points/weeks for a stay at a resort within their vast network. This includes any timeshare resorts in the UK that are affiliates of RCI, so it's easy to take a trip across the pond!
There are yearly fees for RCI members, so be sure to stay up-to-date with your payments!
Best UK Timeshares To Exchange For With RCI
When you're ready to exchange your timeshare points/weeks with RCI to take a trip to the UK, you may be wondering which resort to choose! Well, we've curated a shortlist of some of our favorite resorts across the pond! The UK has a lot to offer, whether you're looking for a peaceful harbourside escape or want to explore one of the world's most diverse cities! Make your dream vacation a reality and exchange for a trip to one of these RCI resorts in the UK.
Hilton Grand Vacations Coylumbridge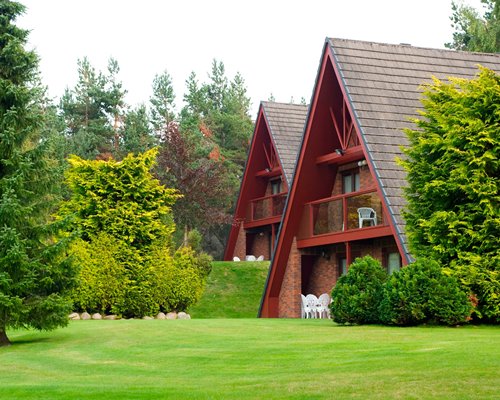 Hilton Grand Vacations at Coylumbridge is a serene hideaway in the Scottish Highlands. As you'd expect with a Hilton resort, Coylumbridge has a broad offering of on-site amenities. The accommodations at this resort are unique 2- or 3-bedroom Nordic-style cottages. Each of these lodges includes all of the comforts of home including full kitchens and spacious living areas. This is definitely a one-of-a-kind lodging experience, so you won't want to miss out!
Caylumbridge is close to the Cairngorm Mountains, which are great to visit year-round! In the summer, visitors can enjoy hiking and tubing. In the winter, skiing and snowboarding are super popular! The resort is also in an area that is teeming with other outdoor activities like fishing, canoeing, and biking! If you're looking for some fun without leaving the resort, head to the Fun House. This is where you'll find mini-golf, bowling, and a soft play area for kids!
If you're a HGV member, you already have the ability to book at this resort with your existing points. However, if you own with a different RCI affiliated timeshare brand, then you can easily exchange for a stay at this incredible resort in the UK!
Thurnham Hall, A Diamond Resort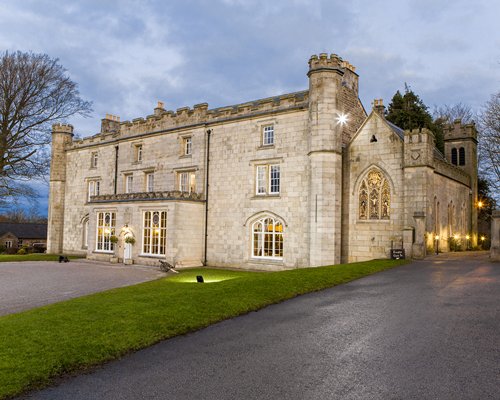 Thurnham Hall is a Diamond Resort in the historic town of Lancaster, England. This university town offers a wide variety of museums and some stunning architecture. Lancaster is home to medieval castles that will offer visitors a glimpse into England's past. Lancaster Castle is almost 1,000 years old! If you're looking to step back in time while visiting the UK, exchanging for a stay at this RCI timeshare could be for you!
While staying at Thurnham Hall, you'll be surrounded by rich history. This countryside resort sits on 30 acres of green pastures and overlooks a 12th-century estate. This estate offers a great hall where guests can gather around the fire and enjoy their time together. Guests can have a more traditional suite in the main house or more modern accommodations around the property. The guest accommodations all come with full kitchens and spacious living areas.
Diamond Resorts members already have access to booking at this stately property. If you're not a Diamond member and want to experience Thurnham Hall, don't fret! Join RCI and exchange your existing timeshare points/weeks for a stay at this historic UK resort.
Club Quarters Hotel, Trafalgar Square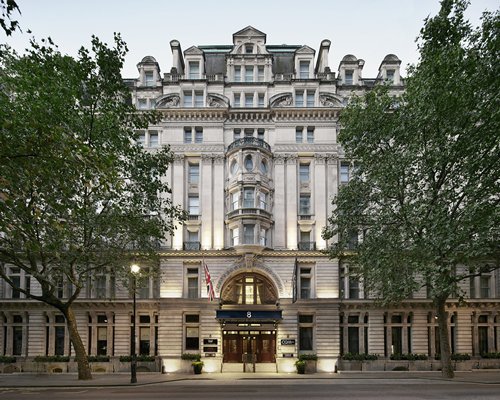 The Club Quarters Hotel in Trafalgar Square will put you right in the heart of London. Trafalgar Square features some of London's top attractions, so you'll never be bored when you stay nearby. This hotel is in the Westminster area of central London, which puts you within walking distance of historic sites like Westminster Abbey and Big Ben. Just a few blocks away from the hotel is the River Thames where you'll find restaurants and some more touristy attractions.
This hotel doesn't offer timeshare suites like some of these other RCI resorts, but you'll be too busy exploring the UK's capital to even notice. This is a more traditional hotel stay, so don't expect super spacious accommodations. Instead, expect modern amenities and an unbeatable location! This hotel also has a few dining options, so you can unwind with a good meal after a long day exploring London. Club Quarters Hotel in Trafalgar Square is a quiet escape right in the middle of bustling London.
The Marine Quay Club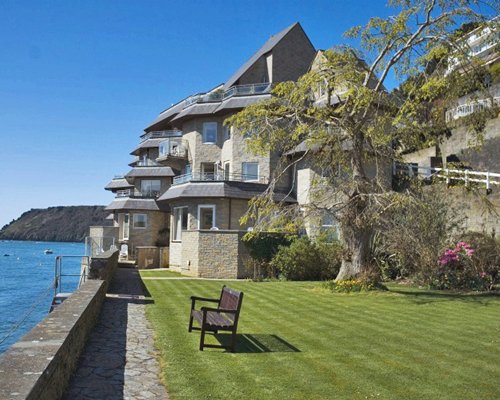 The Marine Quay Club sits on the shores of the Salcombe Harbour in South Devon, England. The town of Salcombe is a popular resort town known for its outstanding views and its quaint seaside village. This area is a haven for water sports, so if you enjoy sailing or kayaking then you'll love this area! If you just want to relax and enjoy the views of the turquoise waters, then you can hang out on the beach! Of course, England doesn't offer tropical temperatures, but you can still have a wonderful time by the sea.
The Marina Quay Club offers luxury apartments with amazing views of the sea. These apartments are right on the water's edge, so you'll get unobstructed views of the sparkling water! The apartments have private balconies, which is where we'd expect you'd spend a lot of time. These apartments offer two bedrooms and two bathrooms, so there is plenty of room for 6 people to sleep comfortably. Guests will also enjoy the full kitchen and spacious living areas. So, don't forget to stock your shelves so you can enjoy a homecooked meal with your loved ones.
More UK Timeshares With RCI
To view all of the timeshares in the UK that you can exchange for with RCI, browse their website! With their resort directory, you can find the exact resort you're looking for! With the map feature, you can find a resort near the UK landmarks that you want to visit!
If you want to join one of the vacation clubs that are affiliated with RCI, you've come to the right place! To see the latest RCI timeshares for sale, we recommend looking at some of the brands RCI works with. A few include Wyndham, Holiday Inn, and Hilton. For fast assistance, you can also call 407-477-7987 to speak to one of our agents about RCI eligible timeshares.