There are few places in America as exciting as New York. From the hustle and bustle of the city to the beauty of Central Park, there's a lot to love about the Big Apple. As one of the most popular vacation destinations, it should come as no surprise that there are plenty of fantastic timeshare resorts in New York. With so many great options to choose from, picking just one might seem a bit intimidating. Fortunately, we're here to help! We've put together a list of the best New York City timeshares to help you take on the big city.
An Overview of the Best Timeshares in New York
Westgate New York Grand Central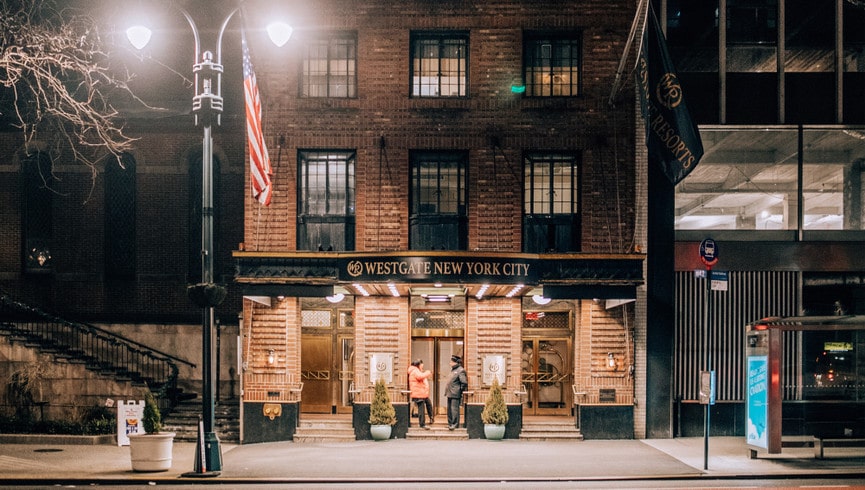 If you want to be at a site that combines history with luxury, Westgate New York Grand Central is an excellent choice. Located in the historic town within a town that's known as Tudor City, Westgate New York Grand Central is near plenty of the city's top attractions like Grand Central Station and Midtown Manhattan. The resort's amenities include dry cleaning and laundry services, so you won't have to worry about that on vacation. Plus, there's a business center and fitness center to help you keep up with routines. You'll also be able to enjoy on-site dining at the Tudor City Tavern. This historic bar has an old-world charm thanks to its historic NYC cocktails like Chochran's Apple or the Rag Gang Smoking Gun. Or, if you'd like something a bit more grab-and-go, swing by the Tudor City Marketplace for some freshly baked pastries.
For accommodations, you'll enjoy a variety of one-bedroom suites. The one-bedroom queen suite offers a luxury queen-sized bed and a separate living area with a queen sleeper sofa. Overall, this suite can accommodate up to four guests. There's also a one-bedroom king suite. This suite features a king-sized bed and queen sleeper sofa. Like the queen suite, this suite can house four guests, but unlike that suite, this one comes with a private balcony. As a result, you'll be able to enjoy a gorgeous view of New York City from the comfort of your room. These suites range from 305 to 420 square feet, depending on which is chosen. They also all come with a flat-screen TV, coffee maker, and a full bathroom with a shower and tub combo.
West 57th Street by Hilton Club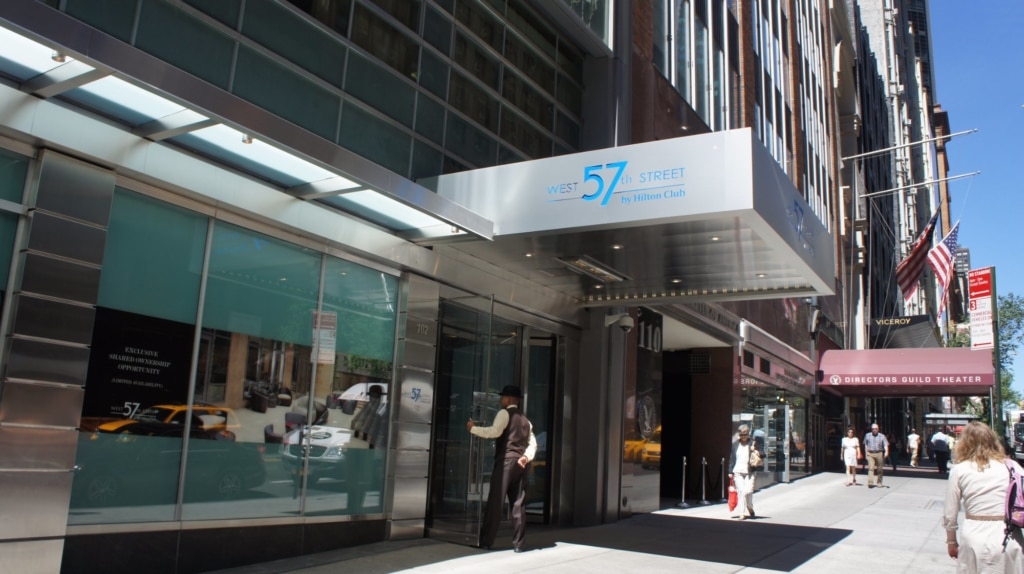 Looking to be within walking distance of Carnegie Hall and Central Park? Then you can't go wrong with West 57th Street by Hilton Club. This timeshare in New York City is the first ground-up, residential shared ownership property ever developed in the city. As a result, the resort is a landmark in its own right! There's a 24-hour fitness center and a fully equipped business center, so no matter what time it is, you'll be able to stay productive. You'll be able to kick back and relax in the owners' lounge with a deluxe continental breakfast.
When you're ready to call it a night, West 57th Street by Hilton Club has studio, one-bedroom, and penthouse suites. The studio suites feature a king-sized bed and flat-screen TV to house up to two guests. Next, the one-bedroom suite adds a queen sleeper sofa and workspace to help you stay productive. Overall, this suite accommodates up to four guests. Last, but certainly not least, the penthouse suites add a luxurious lounge and spacious living room. These suites are located on the top two floors of the resort and boast floor-to-ceiling glass windows that will give you spectacular views of the city.
Club Wyndham Midtown 45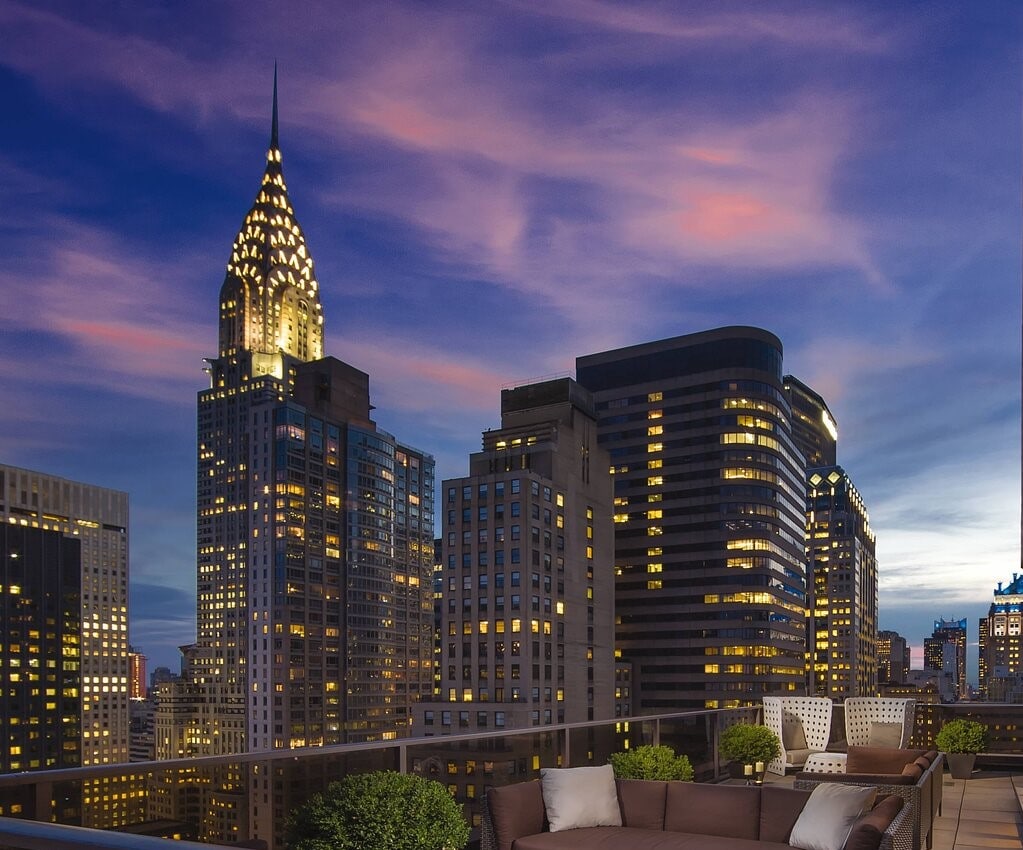 Another fantastic New York City timeshare is Club Wyndham Midtown 45. This stylish, contemporary resort lets you take in the sights of Manhattan from the gorgeous rooftop sitting area. You might even catch a glimpse of some of the nearby sightseeing hotspots like Times Square or the Empire State Building. You'll also have easy access to one of the most glamorous shopping spots in New York City: 5th Avenue. Take in great views of New York City from the Sky Lounge, which has both indoor and outdoor seating to enjoy the sights in every season. With valet parking, free wifi, and on-site guest laundry, you can rest assured that all your needs for the trip will be taken care of.
Families seeking a lot of room to stretch their legs are sure to love Wyndham Midtown 45. These studio, one, and two-bedroom suites are as spacious as they are comfortable! The studio has a king-sized bed and can comfortably hold two guests. The one-bedroom adds a queen sleeper sofa and separate living area to house four guests while the Presidential suite adds even more room and amenities. Lastly, the two-bedroom suite boasts enough space to accommodate six guests, making it great for larger families. This suite offers a king and queen bed to go along with the sleeper sofa alongside a full kitchen so you can make a delicious meal without having to leave the resort.
The Manhattan Club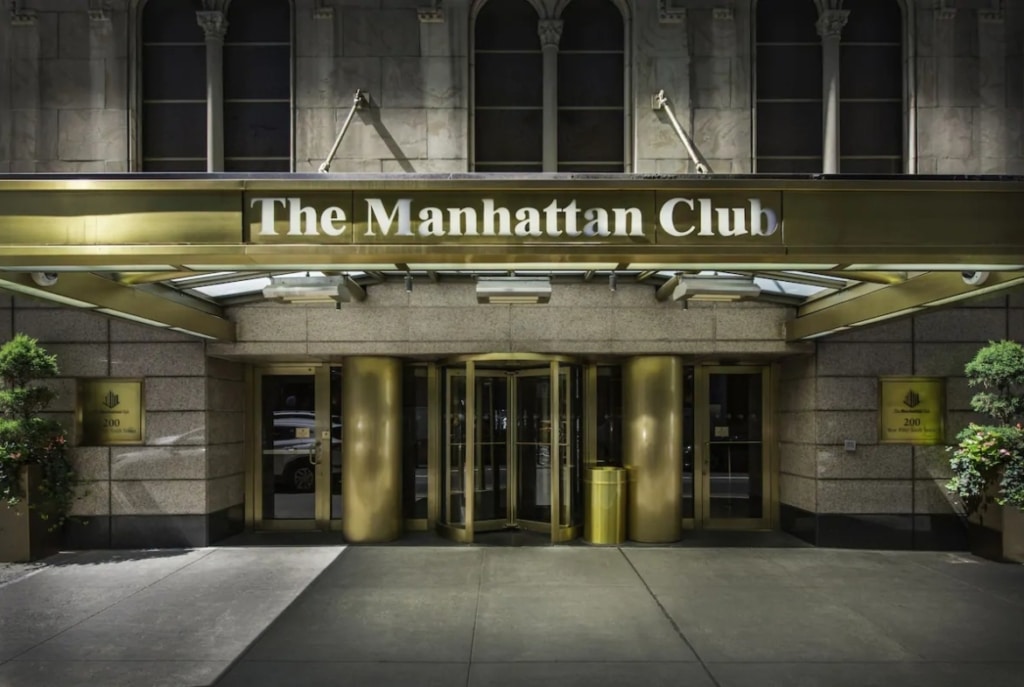 If you want to be near Broadway, you can't go wrong with the Manhattan Club. This timeshare in New York City also has easy access to many of the best museums, shops, and restaurants, so you'll never run out of fun things to see nearby. Much like the other great resorts mentioned, the Manhattan Club has a business and fitness center, as well as a stunning club lounge. Where the Manhattan Club stands out, however, is in how the resort also offers cocktails and evening food service with pizza, quesadillas, hummus, and more!
Another reason why the Manhattan Club is one of the top timeshare resorts in the Big Apple is because of its luxurious suites. The one-bedroom suite offers maximum comfort and privacy with traditional furnishings, elegant marble bathrooms, and a coffee maker to help you start your morning right. They also have king-sized beds and queen sleeper sofas. If you're looking for sky-high views, look no further than the Penthouse Suite, which gives an unbeatable view of NYC. You'll also have a nightly turndown with liquor, offering a luxurious and cozy experience each evening.
St. Regis New York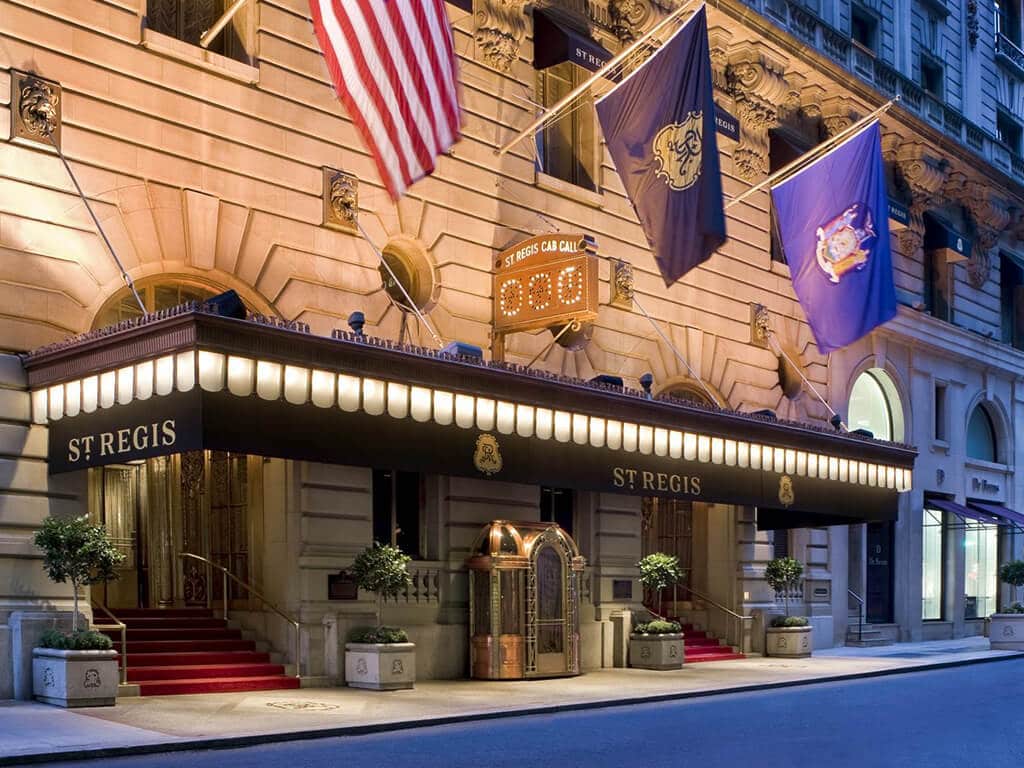 Last but certainly not least is the historic resort: St. Regis New York. St. Regis has been a mainstay in New York City for over a century thanks to its convenient location and luxurious amenities. You can savor fine dining without ever having to leave the property. Travelers can look forward to seasonal fine dining at Astor Court, or enjoy the elegance and grandeur of the King Cole Bar and on the weekends. Plus, you can enjoy afternoon tea alongside sandwiches and pastries on the weekends. St. Regis is devoted to ensuring that each and every guest is taken care of, which is why the resort boasts its signature butler service. The St. Regis also boasts a convenient location right on 5th Avenue.
This emphasis on luxury doesn't stop at the amenities, each designer suite at the resort is furnished with crystal chandeliers, vibrant fabrics, king-sized beds, and spacious living areas. Each of these suites also has a unique theme. From the Parisian Dior to the Italian Milano to the contemporary Caroline Astor, these suites have character packed into each of their rooms, making them true homes away from home. These suites are all very spacious as well, with up to 1,700 square feet of space. You'll have plenty of space to stretch your legs. Plus, with the resort's signature butler services, you'll have luxury for all your nights in New York City.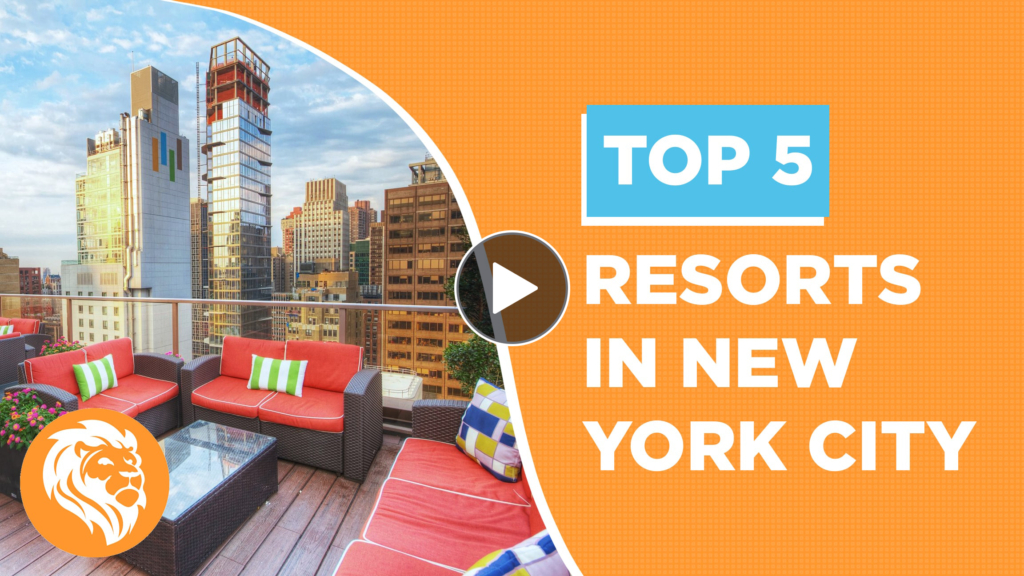 Want to learn more about timeshares in New York? Then check out our video, "Top 5 Resorts in New York City."
Things to Do Near the Best Timeshares in New York
One of the best things about all of these NYC timeshares is that they have easy access to many of the city's best attractions. As a result, you'll have extra convenience for your New York trip. Here are the best things to do near NYC timeshares.
Visit the Many Museums in New York City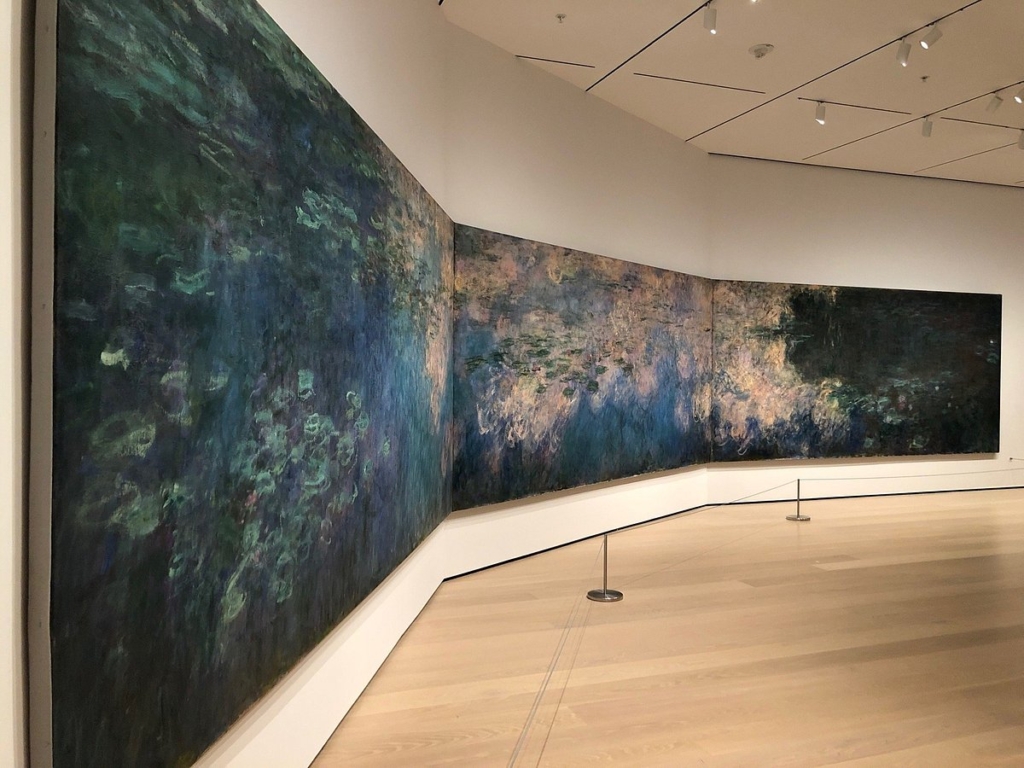 If theirs one thing you'll never run out of in NYC, it's museums. Located in Midtown Manhattan, the Museum of Modern Art is one of the largest and most influential museums not just in the city, but the entire world. Plus, it's near both the Manhattan Club and Club Wyndham Midtown 45! The American Museum of Natural History is another highly influential spot you won't want to miss, especially if you're a fan of nature. You'll mingle with butterflies, marvel at the beauty of space, and much much more. The Metropolitan Museum of Art is another destination you'll want to visit. You'll see over 5,000 years of art from around the world, so it's fun for all kinds of travelers.
Stop By The Rockefeller Center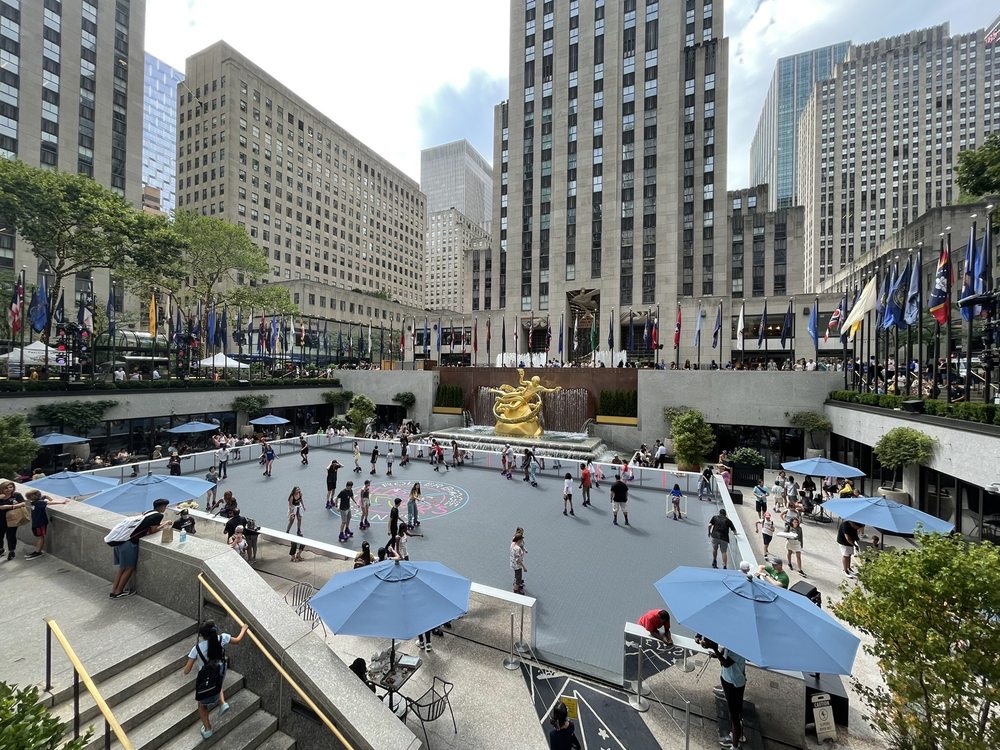 Over a century ago, John D. Rockefeller had the vision to create a "city within a city." Looking at the Rockefeller Center today, it's safe to say his vision came true. The center hosts a collection of Art Deco motifs and sculptures. There are also 19 buildings filled with TV studios, food, and shopping. Some of the highlights include the Radio City Music Hall, home to the Radio City Rockettes. Just next door is the General Electric Building, where Saturday Night Live, Late Night with Jimmy Fallon, and The Today Show are all filmed. In fact, you can buy tickets to watch the tapings in person! While the buildings are all great, no trip to the Rockefeller Center is complete without seeing the iconic Rockefeller Plaza. You'll have easy access to the center from New York City Timeshare resorts, meaning you'll have no trouble stopping by for a visit.
Check Out Times Square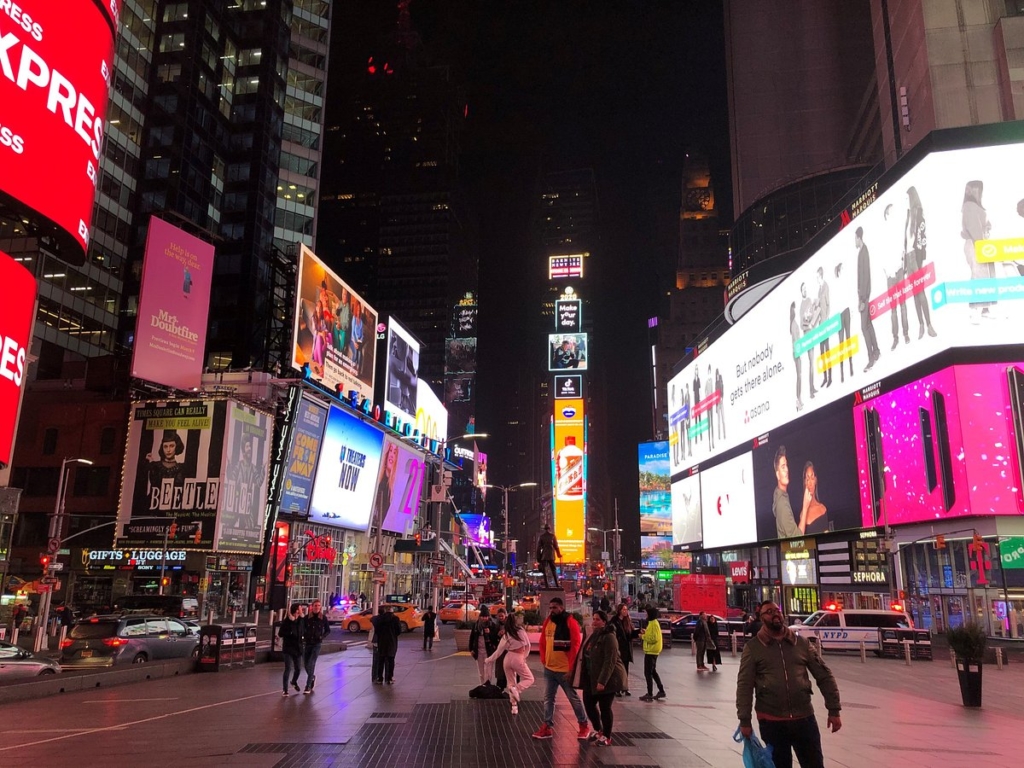 Of course, what New York City getaway would be complete without a visit to Times Square? Originally known as Long Acre Square, this area has dazzled tourists and residents alike with its bright, dazzling lights. This major attraction has stood for over a century and is, in many ways, the heart of the city. The square is home to tons of restaurants with every kind of food you could want. Sushi, burgers, pizza, if you can name it, Times Square has it. Times Square is also home to New York's Madame Tussaud's wax museum. Plus, if you visit in December, you can see one of the best New Year's celebrations in the world! There's so much to see at Times Square, so if you're visiting New York City, you have to stop by.
Explore Central Park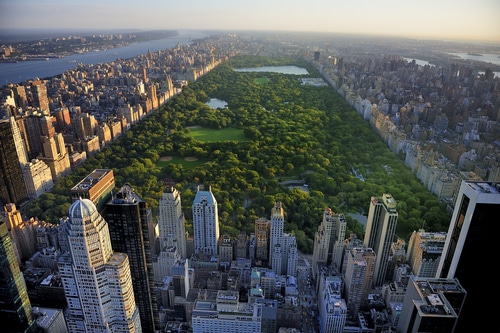 While the bright lights of NYC are great, every once in a while you'll want something a bit more natural. If that's the case for you, check out Central Park. This open-air oasis is a staple of New York City, and it's close to quite a few of the best timeshares in town! You can bike around the greenery, stop by the strawberry fields, or explore Belvedere Castle! (Yes, Central Park does have a castle). If you're on vacation in New York, you should be sure to stop by the Central Park Zoo. Here, you'll find over 130 different species ranging from snow leopards to tropical birds spread out across over five acres. Don't forget to say hello to the red pandas!
Buy a Timeshare in New York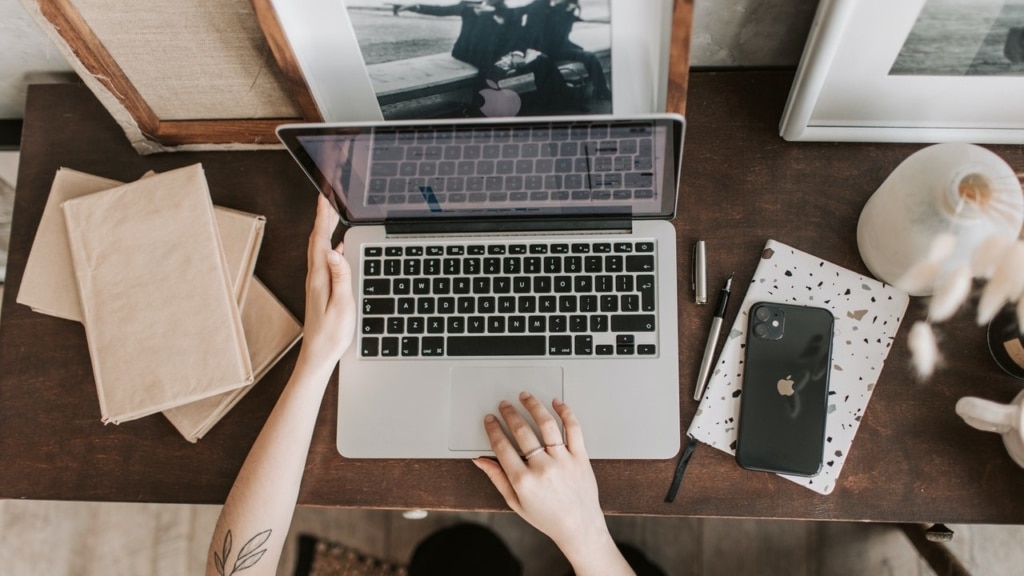 There are few places in the world as exciting as New York City. With so much to see and do around every corner, any trip you take is sure to give you a whole new experience. If you want to keep coming back to the Big Apple, the best way to do it is with a timeshare. When you buy a New York City timeshare resale, you'll have plenty of extra space to stretch your legs in, great amenities, and easy access to all of the city's best attractions. Regular hotels just can't match up to that value.
If you're ready to buy a timeshare, then check out our marketplace! We have listings for top timeshare resorts from developers like Hilton Grand Vacations, Westgate, Club Wyndham, and more. You can shop around, decide on the one you like, and make an offer all from the comfort of your own home. What's not to love? If you have any questions about your next getaway, feel free to email us at [email protected] or give us a call at 1-800-410-8326. Our licensed agents are always happy to help!