When you're on vacation, it can be challenging to fit everyone's interests into one destination. Whether you're going to Florida, California, Myrtle Beach, or even Hawaii, we've picked the top golf courses in the U.S. for you. If golf is a vacation staple for you, then you're in the right place.
Top Golf Courses in California
Pebble Beach Golf Links – Pebble Beach, CA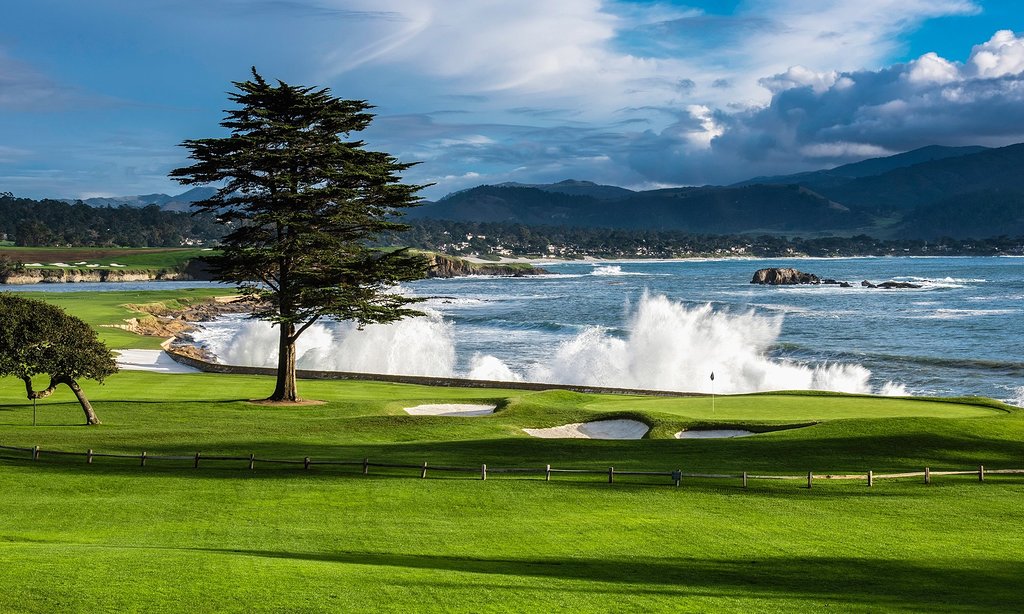 Often regarded as the number one public golf course in America, Pebble Beach Golf Links sits along the jagged shoreline of the Monterrey Peninsula in California. This course takes you right to the Pacific's edge, into the woods, then back again. Pebble Beach was founded in 1919 and has hosted the U.S. Open six times. Pebble Beach is any golfer's dream come true, so it was an easy pick for our top golf courses in the U.S.!
Hyatt Highlands Inn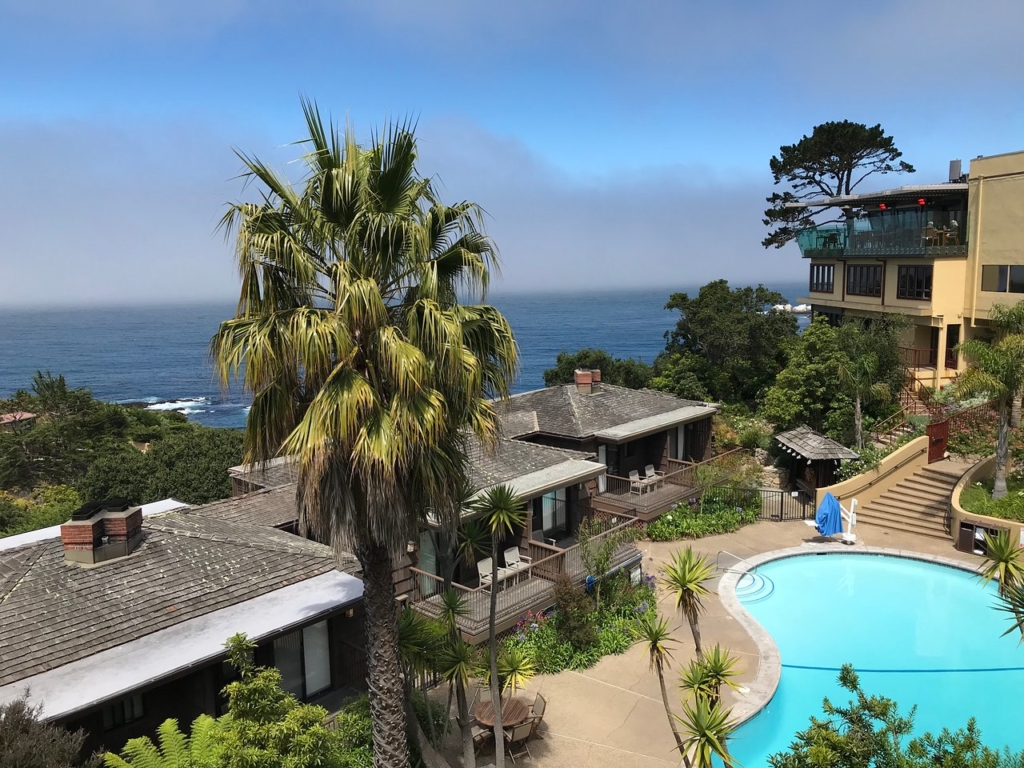 Located just a short drive away from Pebble Beach, Hyatt Highlands Inn offers picturesque views of the Big Sur coast and also has the quiet charm of a boutique resort hideaway.
Presidio – San Francisco, CA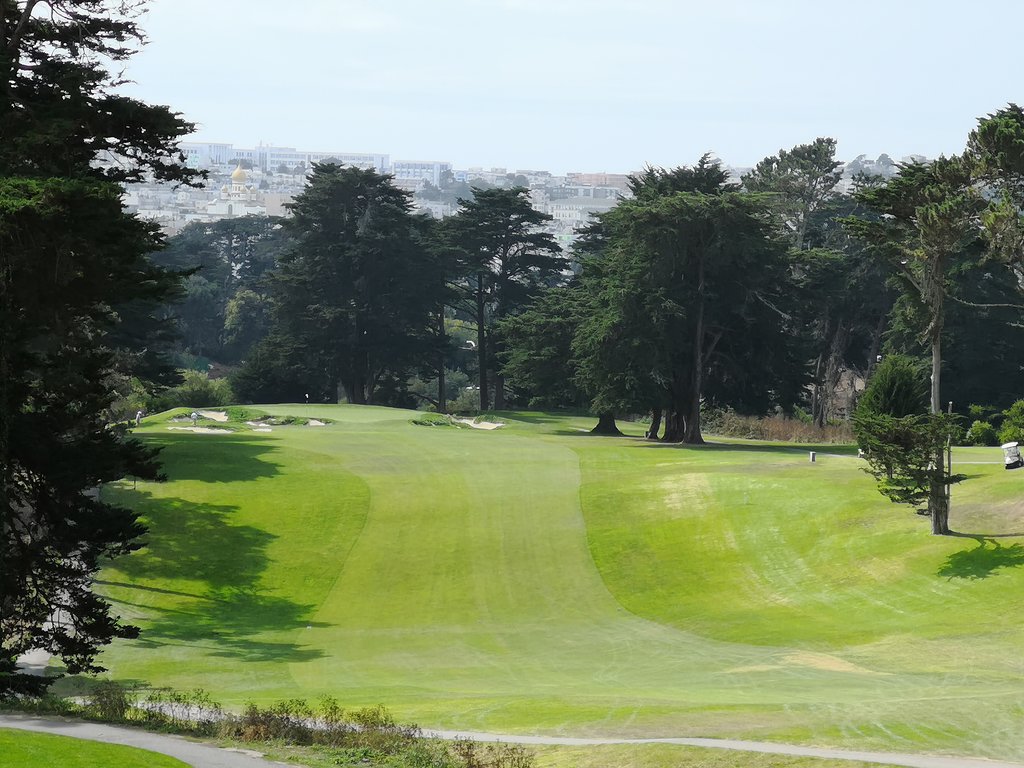 Located right outside downtown San Francisco in Presidio National Park, Presidio Golf Course is perfectly located for a quick escape from the hustle and bustle of the city. Its tree-lined fairways and city views make Presidio one of San Francisco's best-kept golf secrets. Keep in mind, if you tee up in the morning, you may also find some signature Bay Area fog rolling amongst the hilly greens.
Wyndham Canterbury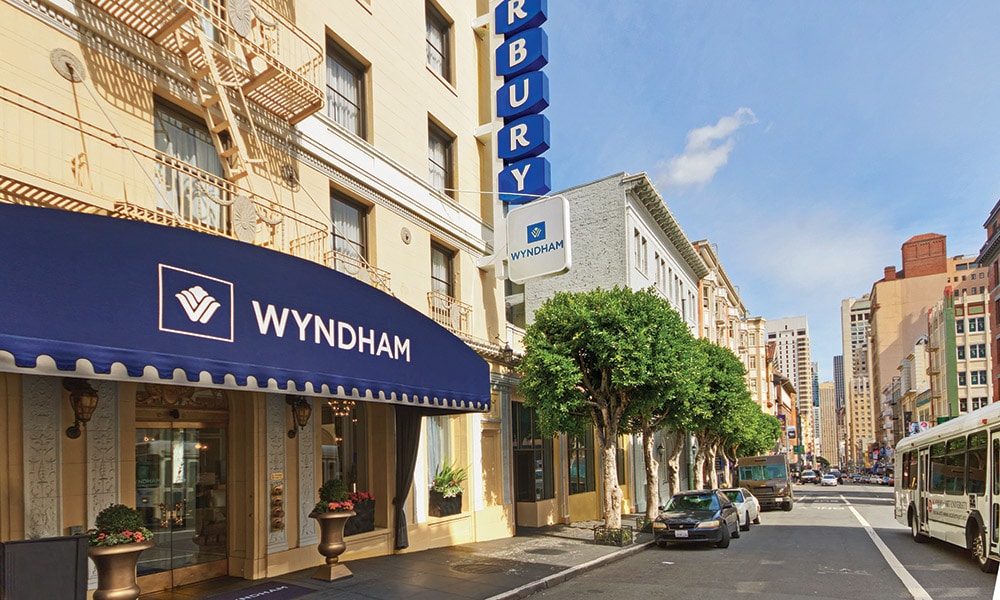 Just 20 minutes across town from Presidio, Wyndham Canterbury is located in downtown San Francisco and is within walking distance of many of the cities most popular attractions, for instance, Union Square and Chinatown.
Top Golf Courses in Hawaii
Waikoloa Kings' Course – Waimea, HI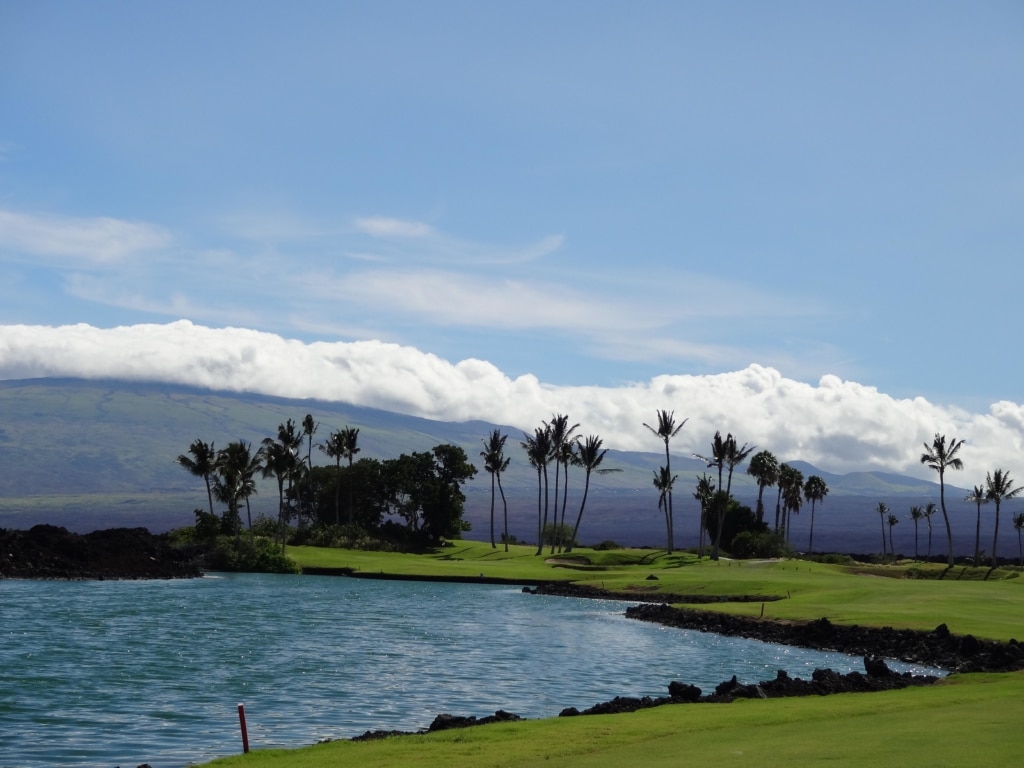 If you're looking for a golf course that's located on resort property, Waikoloa Kings' Course is for you. Conveniently located at Hilton Grand Vacations Club at Kings' Land, this course sprawls out over Waikoloa on Hawaii's Big Island. The gameplay includes avoiding lava fields and massive sand traps, all while admiring a beautiful ancient volcano backdrop.
HGVC Kings' Land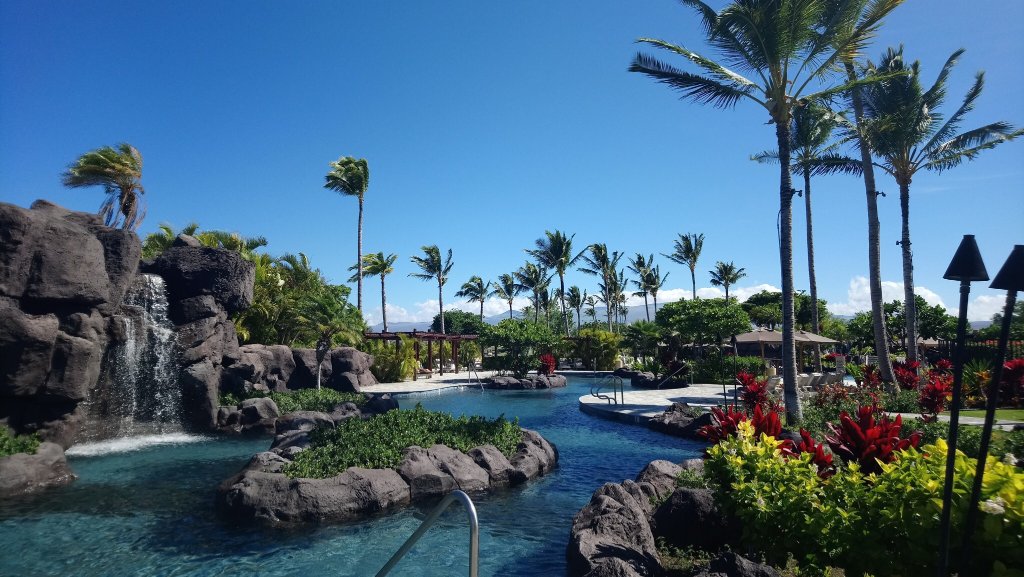 Hilton Grand Vacation Club at Kings' Land is a quiet, lush resort located 2 miles inland from the beautiful Waikoloa Beach. The immaculate hotel grounds not only include two golf courses, but also a 30,000 sq. ft. putting green.
Ka'anapali Royal Golf Course – Lahaina, HI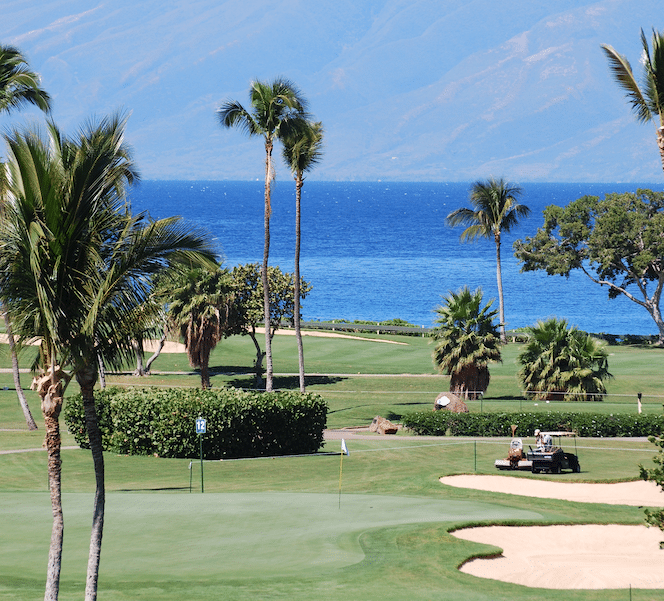 Ka'anapali Royal Golf Course is located in the city of Lahaina on the island of Maui. This oceanside par 71 course provides stunning views of neighboring islands as well as cool ocean breezes. Not only can you see the ocean, but the 5th hole takes you down to Maui's iconic Black Rock Beach. As you play, you'll also find plaques located on each tee that share the ancient background and stories of Ka'anapali. This golf course is one of our top picks in the U.S. for not only location but history!
Westin Ka'anapali Ocean Resort Villas North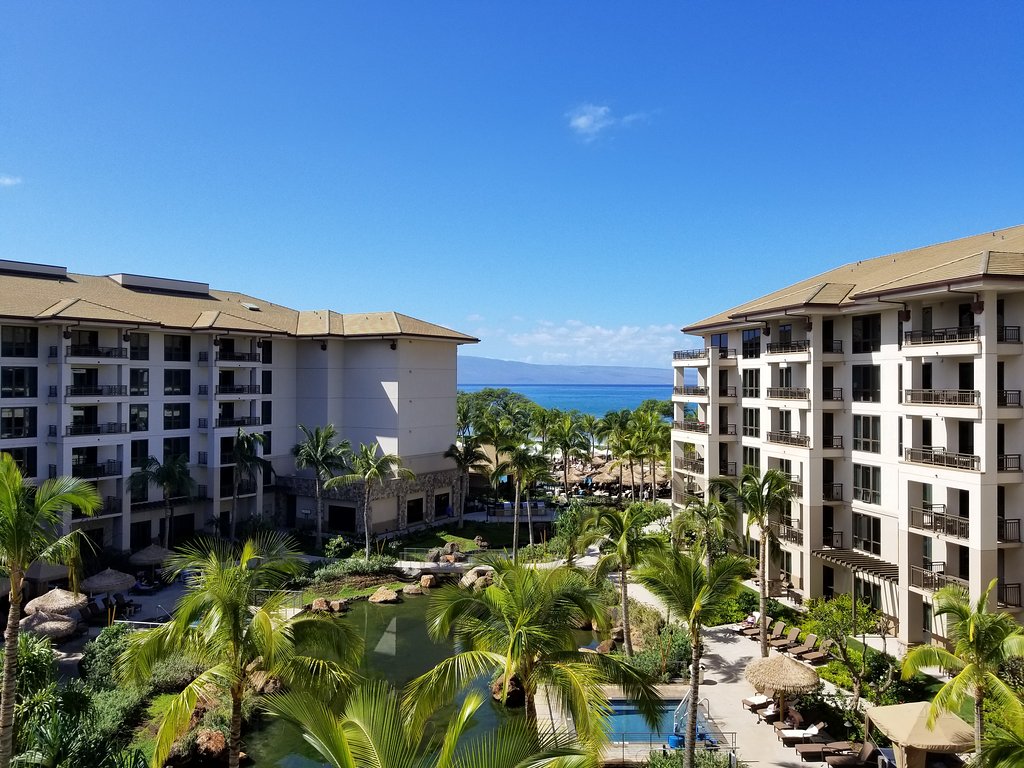 Located less than two minutes up the Kaanapali Parkway, Westin Ka'anapali Ocean Resort Villas North is a 26-acre tropical oasis along Maui's famous Ka'anapali North Beach.
Top Golf Courses in South Carolina
Barefoot Resort and Golf – Myrtle Beach, SC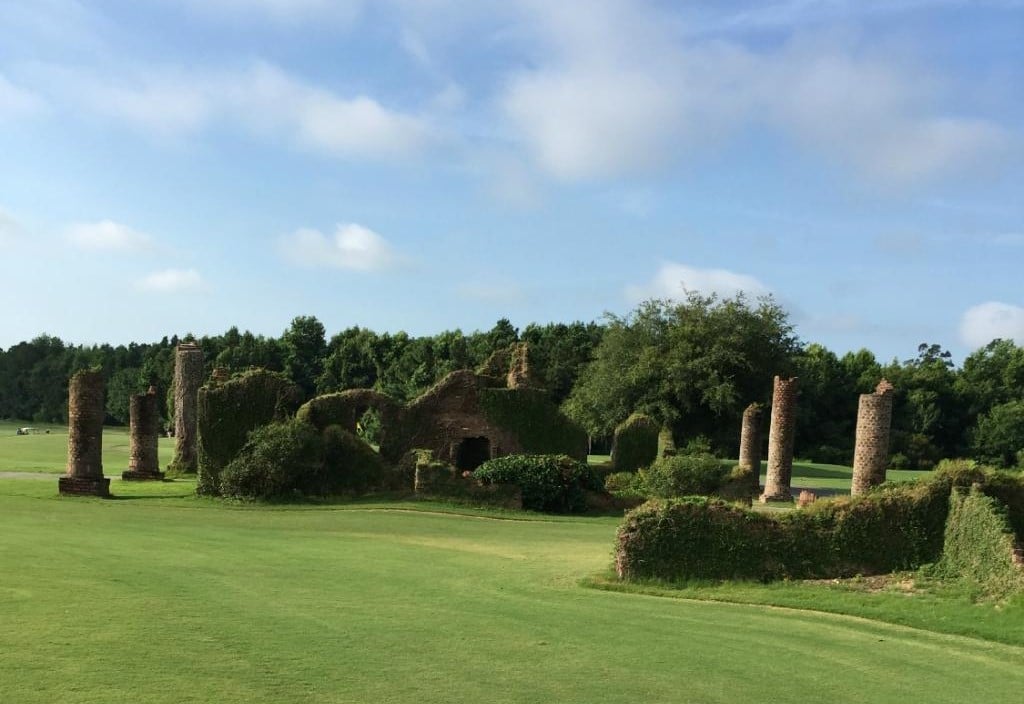 Myrtle Beach's Barefoot Resort provides four golf courses, all designed by and also named after hall of fame players. Each course features different terrains and levels of difficulty, so golfers are spoiled for choice. Chosen as the best golf course in Myrtle Beach, and also one of our top in the U.S., Barefoot is a must-play on your next trip.
Club Wyndham Ocean Boulevard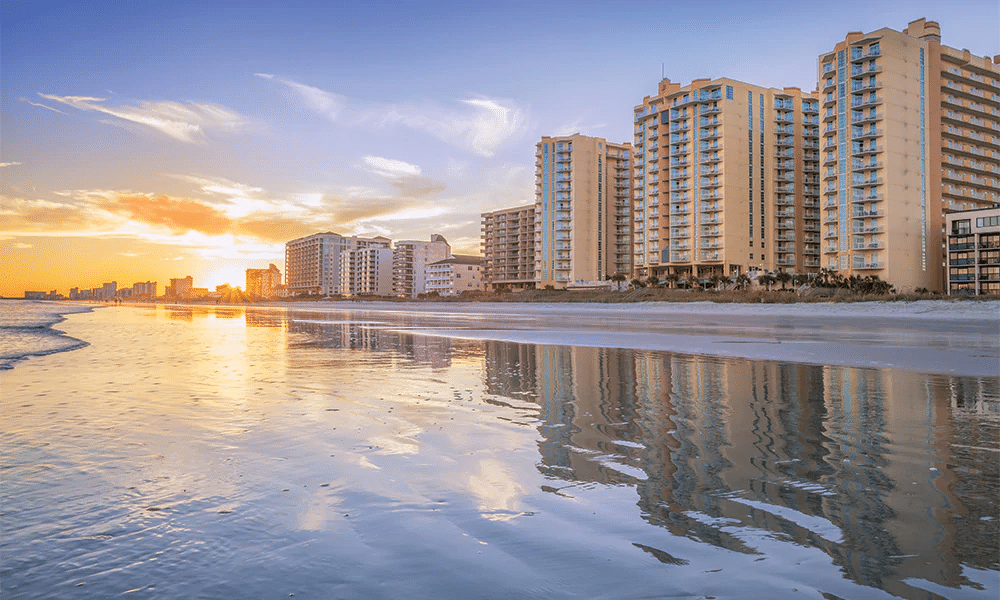 Fifteen minutes away from Barefoot Resort and Golf, Club Wyndham Ocean Boulevard is an award-winning resort just steps from the beach. Unwind from your day of golf in one of their eight hot tubs.
Harbour Town Golf Links – Hilton Head, SC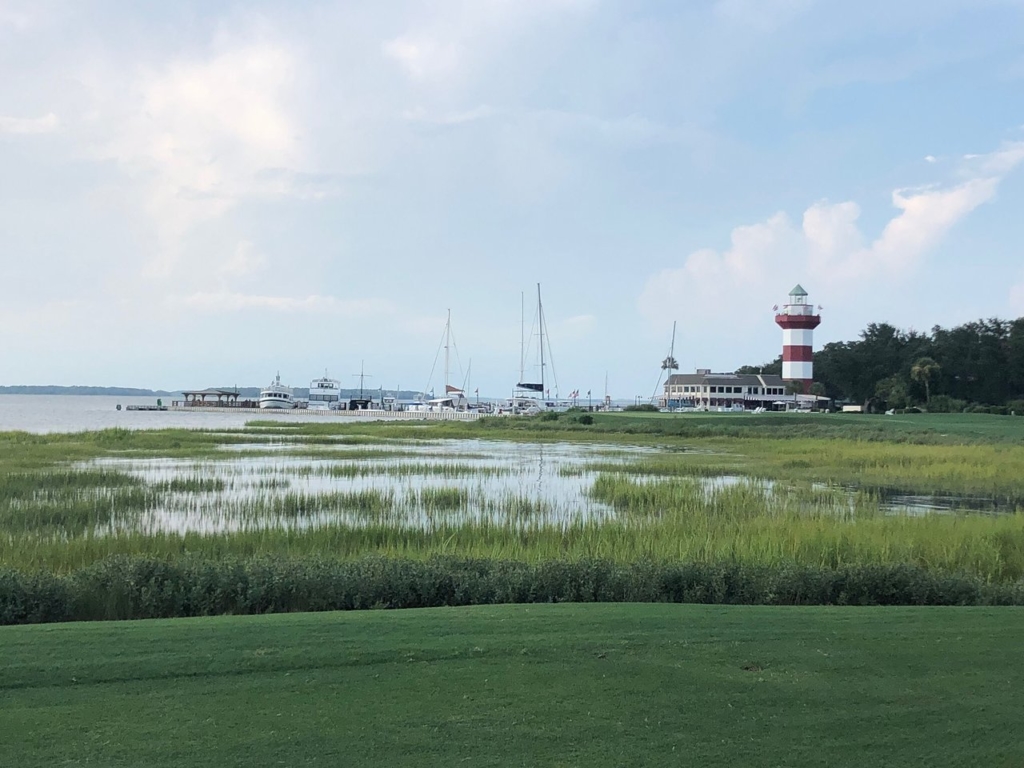 Designed by Pete Dye and Jack Nicklaus, Harbour Town Golf links is not only highly acclaimed but challenging. A favorite among PGA Tour players, this course features a series of par threes considered some of the world's finest. In addition, the par-4 18th hole is even known as one of the most feared in golf! Harbour Town is an easy choice for one of our top golf courses in the U.S. Enjoy a challenging day of golf at their newly enhanced grounds next time you're vacationing in beautiful Hilton Head.
Marriott's Heritage Club at Harbour Town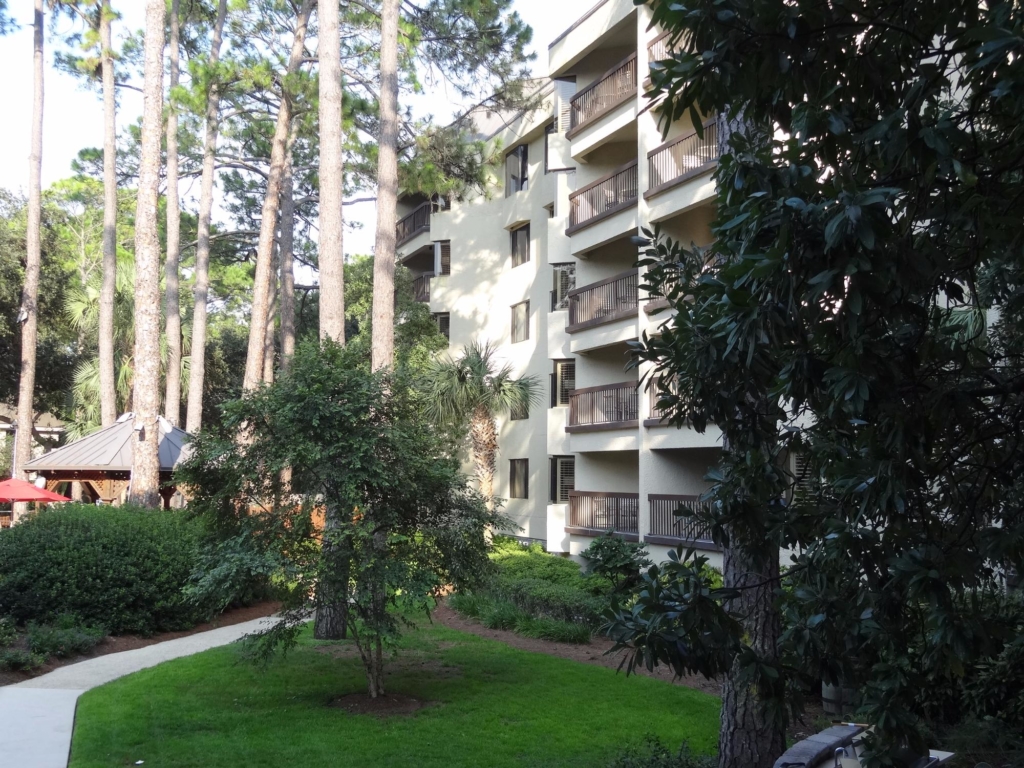 Located directly across the street from the golf course, Marriott's Heritage Club is a tranquil getaway in family-friendly Hilton Head. Just steps from the marina and lighthouse, so shopping and dining is a short walk or bike-ride away!
Top Golf Courses in Florida
Lake Buena Vista Golf Course – Orlando, FL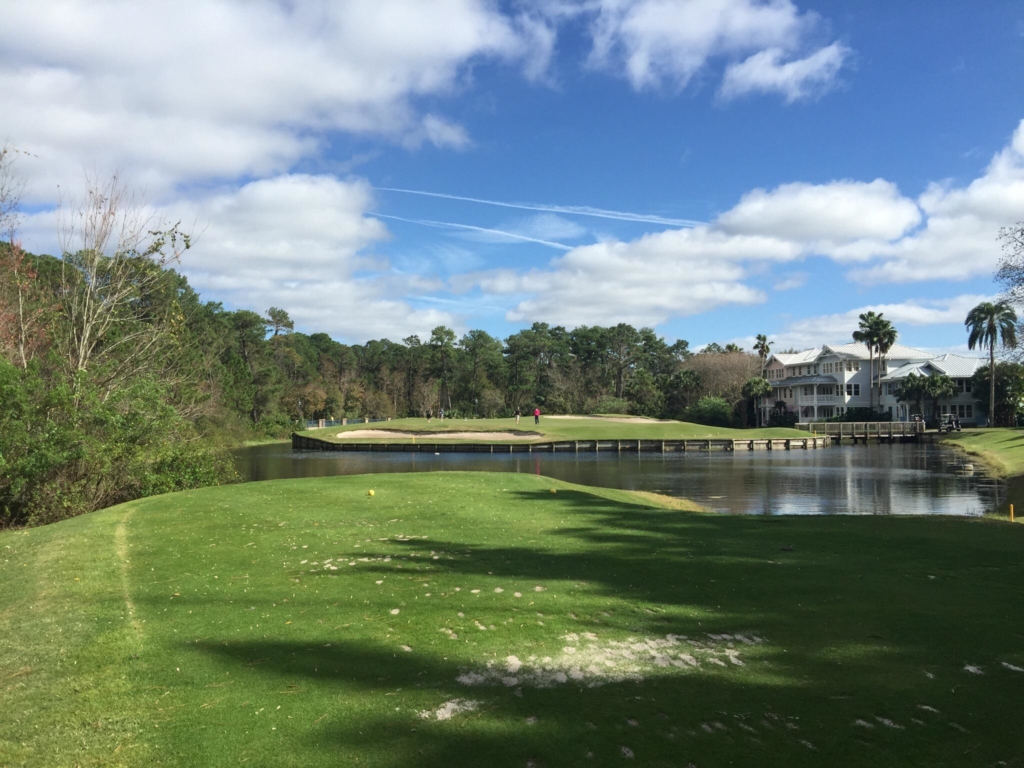 Disney's Lake Buena Vista Golf Course is one of three 18-hole offerings at the Disney World resort and is also regarded as one of the best in the U.S.! Several PGA Tour, LPGA and USGA events are held at this course and consequently is an absolute must if you want to play where the pros play. Elevated bunkers, canal-side greens and a signature Mickey head sand trap make this one-of-a-kind course a must-do during your Disney getaway. Not to mention, this course is conveniently located on the Saratoga Springs resort grounds.
Disney's Saratoga Springs Resort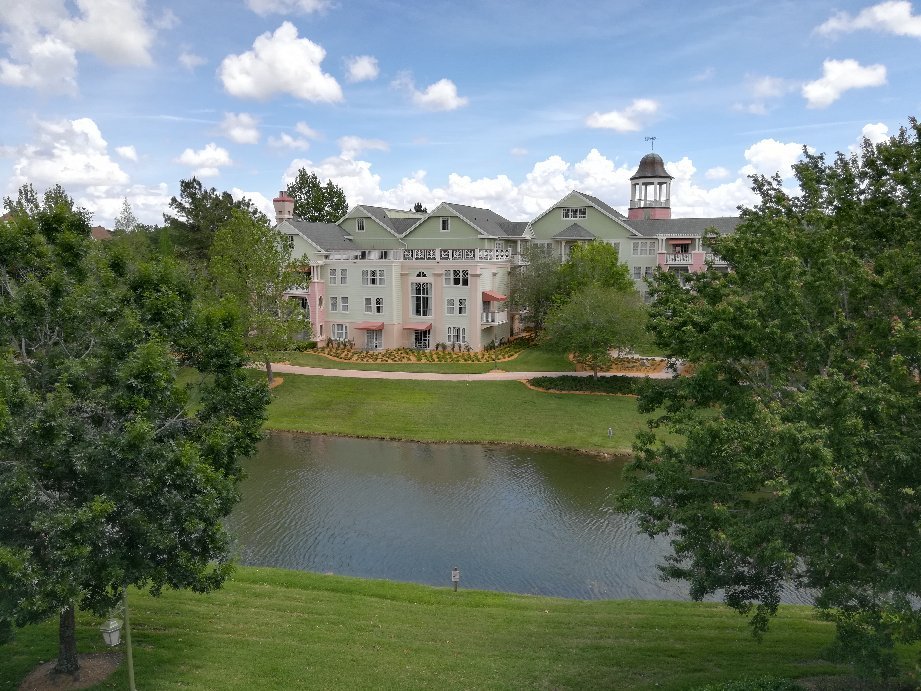 Disney's Saratoga Springs is a Victorian-style resort nestled between the golf course and Village Lake. This quiet resort is just a short boat trip away from the endless fun at Disney Springs and also a bus-ride away from everything else Disney has to offer.
Miami Beach Golf Club – Miami, FL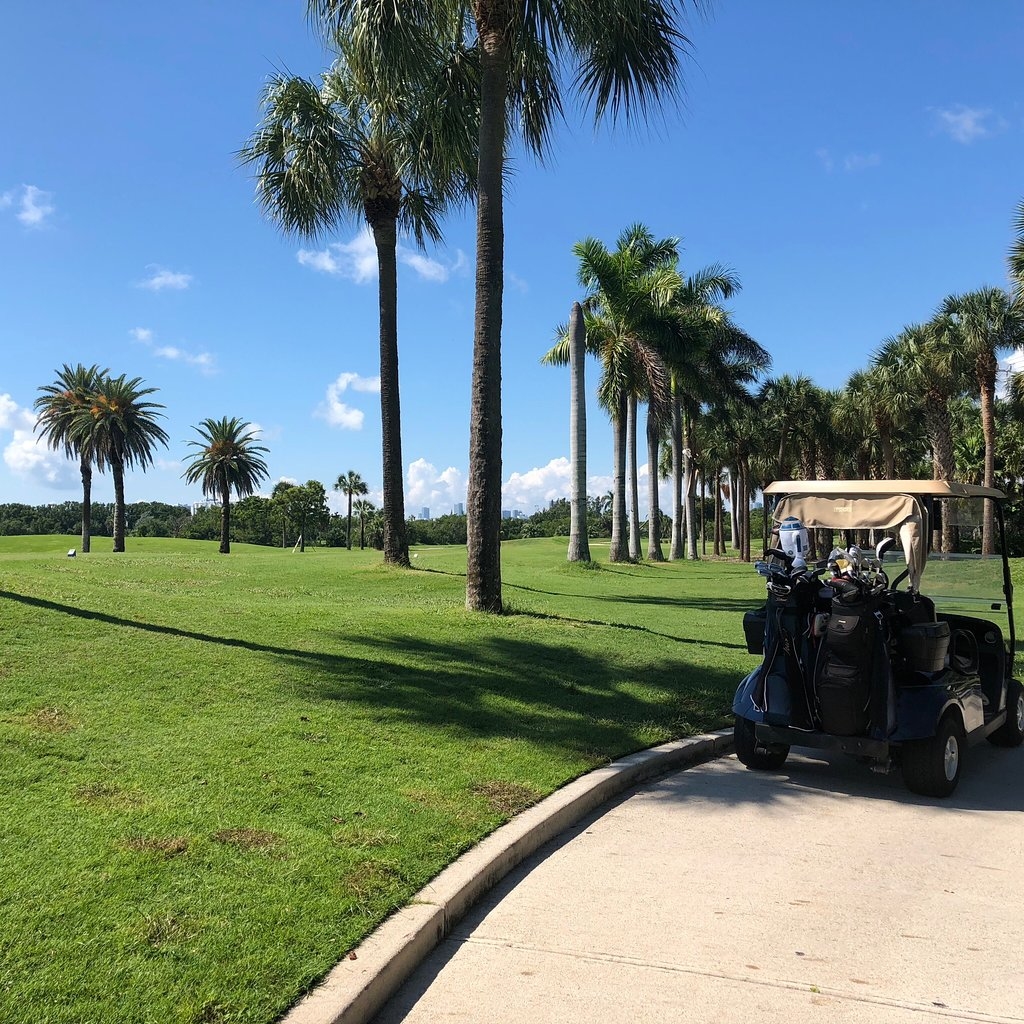 Originally opened as the Bayshore Golf Course in 1923, the Miami Beach Golf Club has spectacular views as well as an interesting history. For example, in World War II the U.S. Army rented out the golf course as a training ground for soldiers. In the early 2000s the course was reimagined by famed architect Arthur Hills, therefore resulting in the elegant and highly-regarded course you can play nowadays. This course sprawls out near world-famous South Beach, so you might encounter some intense sea breeze and the occasional iguana.
Hilton Grand Vacations Club At McAlpin – Ocean Plaza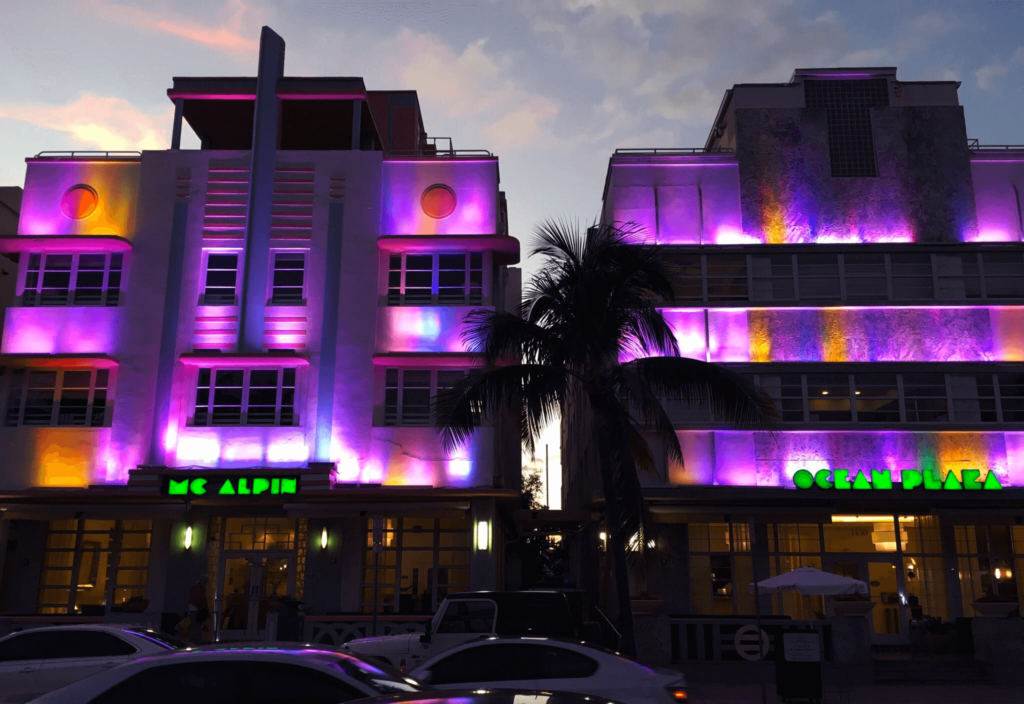 Located in the Art Deco district of South Beach, HGVC at McAlpin is a sultry and elegant resort. Just a mile away from the golf course, the resort is surrounded by trendy boutiques and white-sand beaches.
Looking to Buy a Timeshare?
If you're looking to turn a game at one of our top golf courses in the U.S. into a full-fledged vacation, Fidelity can help. A yearly golf trip is a great excuse to look into buying a timeshare. Browse our selection of timeshare resale listings today. Simply make an offer on the listing of your choice right online, or call us at 407-465-5188 for guidance.