Want to save money on a trip to the Grand Strand? A vacation to the incredible Myrtle Beach is bound to be fun thanks to its amazing attractions, delicious dining, and clear waters, but it's also not cheap. Fortunately, there is a solution! If you want to save money, you can buy a timeshare in Myrtle Beach for a fraction of the cost on the resale market. Top resort developers like Wyndham, Holiday Inn, and Westgate know just how popular Myrtle Beach is, and they've built plenty of top-notch resorts for you to choose from. With so many options, picking just one can feel a bit intimidating. Fortunately, we're here to help! Here's our list of the best Myrtle Beach timeshares to buy.
Best Timeshares In Myrtle Beach to Buy
Who doesn't want the best of the best when they're on vacation? Naturally, a big part of having the best vacation ever comes down to the resort that you're staying at. When you choose your home resort in Myrtle Beach, you have priority access to reservations or an annual week that's guaranteed. Allowing you to come back year after year hassle-free. Myrtle Beach offers one-of-a-kind vacation experiences that are fun for everyone, no matter the age or interest type.
Club Wyndham Myrtle Beach Timeshares:
As one of the best vacation clubs to join, Wyndham has multiple timeshare resorts that span across Myrtle Beach. Club Wyndham gives owners access to their beautiful resorts on the Grand Strand using points or weeks.
SeaWatch Plantation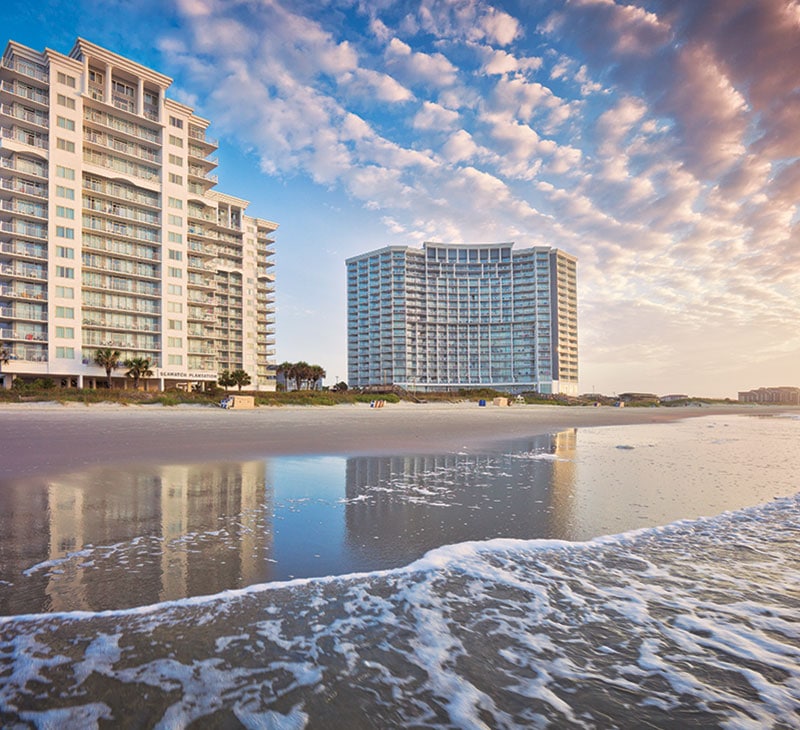 This RCI Gold Crown Resort is a recreational hub on the Grand Strand. With easy beach access, a lazy river, as well as multiple pools on-site, this is a great Myrtle Beach timeshare to buy. The kids will love playing bocce ball or spending cloudy days in the game room. Looking for something else to do? Head to the activities center on the resort for a calendar filled with fun. Moms will love the quiet sunbathing area for those much-needed snoozes by the ocean. Not to mention, golf enthusiasts will love the nearby championship courses nearby.
Accommodations at the SeaWatch Plantation resort vary from one to four-bedroom suites. Each option has a fully-equipped kitchen, washer, and dryer in the unit, as well as private bedrooms for maximum comfort. Enjoy a fresh cup of hot coffee on private porches or balconies to watch the sunrise over the ocean each morning. If being in the center of attractions and entertainment isn't quite for you, the SeaWatch Plantation resort is perfect. Only ten minutes away from the Myrtle Beach Boardwalk and Promenade, guests here can relax in peace each night but are still within reach of the excitement.
Ocean Boulevard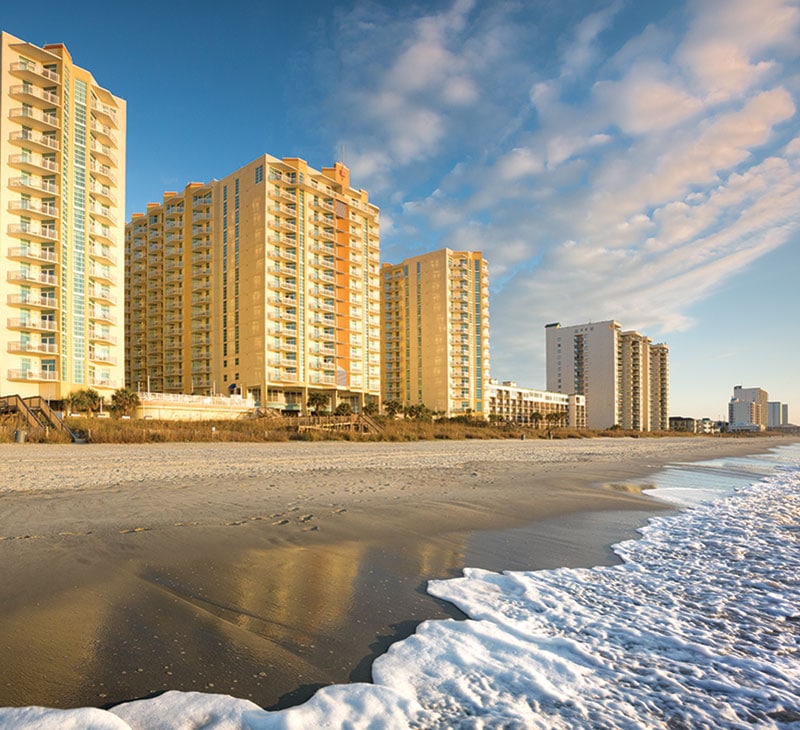 Eight hot tubs, three outdoor pools, two indoor pools. A sauna, on-site bar, and full beach access. All of this and more are available at Wyndham's Ocean Boulevard resort. Take the planning out of vacation when all you are looking for is right on the property. Ocean Boulevard is a great Myrtle Beach timeshare to buy, with all of the extravagant and exciting amenities available. There are tons of attractions nearby, such as horseback riding, fishing, live entertainment, and parasailing. We already know Myrtle Beach is the ultimate family-friendly beach vacation, but Ocean Boulevard resort takes it one step further.
Plus, you'll never have to leave the property (if you don't want to). Grab a cocktail at the pool bar before sunbathing, or enjoy a bite to eat from the deli and snack bar. The Sea Breeze Cafe & Bar has something to satisfy every craving. Stay in one, two, three, or even four-bedroom suites, each complete with fully-equipped kitchens, a washer and dryer, and a private balcony/patio. You'll find comfort in the spacious accommodations that offer privacy and plenty of room to stretch out.
Westwinds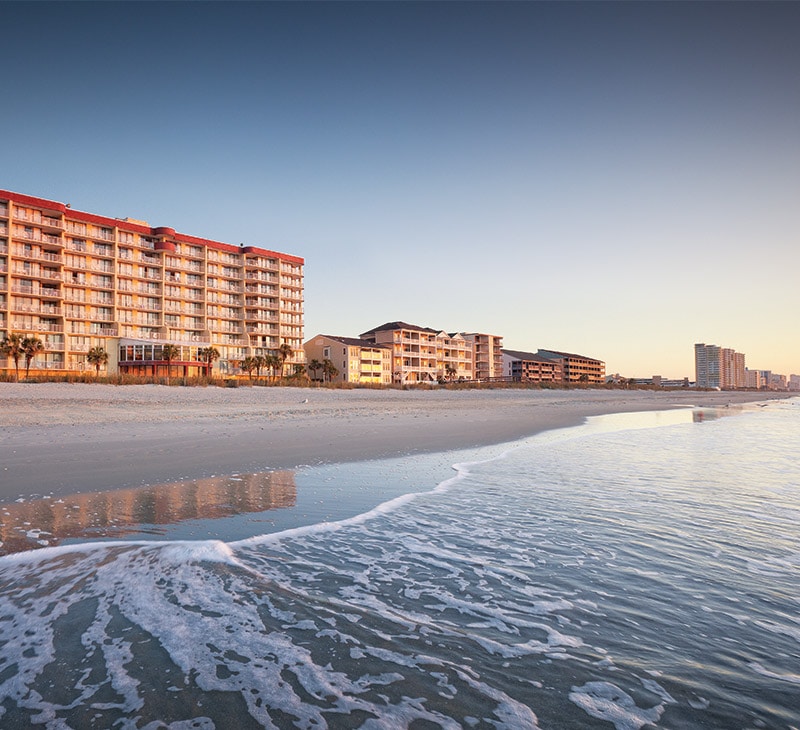 Club Wyndham Westwinds resort is the perfect, cozy getaway on Myrtle Beach. This property on the Grand Strand is just secluded enough to enjoy a quiet getaway without missing the attractions like the SkyWheel or Ripley's Believe It or Not! While Westwinds has fewer amenities, you'll find greater opportunities to unwind and relax truly. Take a short stroll from your suite to the beach, hang out by the pool, or soak in an indoor hot tub.
There are fewer accommodation options, but each suite is just as comfortable and luxurious as other Wyndham timeshares in Myrtle Beach. If you don't plan on traveling with kids every year, or you have a smaller travel party, consider buying this Myrtle Beach timeshare.
Learn more: 4 Reasons Why You Should Buy a Wyndham Timeshare
Holiday Inn Club Vacations Myrtle Beach Timeshares:
South Beach Resort by Holiday Inn Club Vacations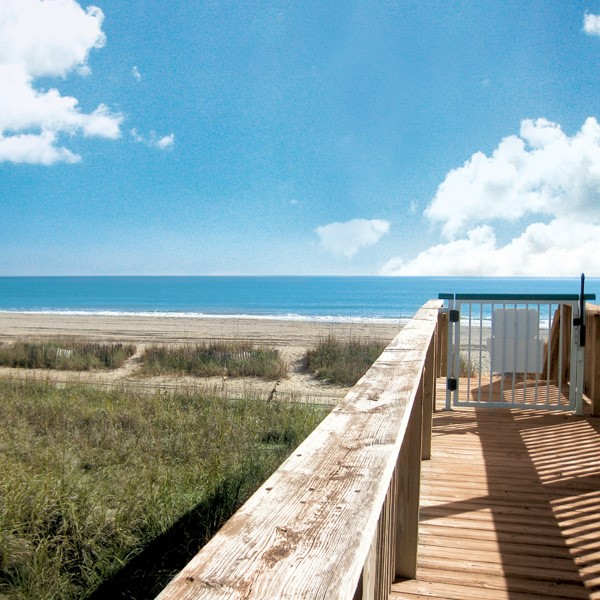 Holiday Inn Club Vacations is the perfect vacation ownership option for families and budget-conscious travelers. The South Beach Resort offers the best of both worlds in Myrtle Beach. Being just a few steps away from the beach makes this resort an ideal retreat destination for travelers, not to mention its larger villas.
On the resort is a relaxing lazy river for a nice ride in the water. Looking for something fun that the kids will love? The South Beach Resort even has giant waterslides at Splash Cove. Need a drink in hand while spending a day out in the sun? No worries! Captain Cliff's Lagoon Bar offers delicious tropical-themed beverages right by the pool.
Westgate Resorts Myrtle Beach Timeshares:
Westgate Myrtle Beach Oceanfront Resort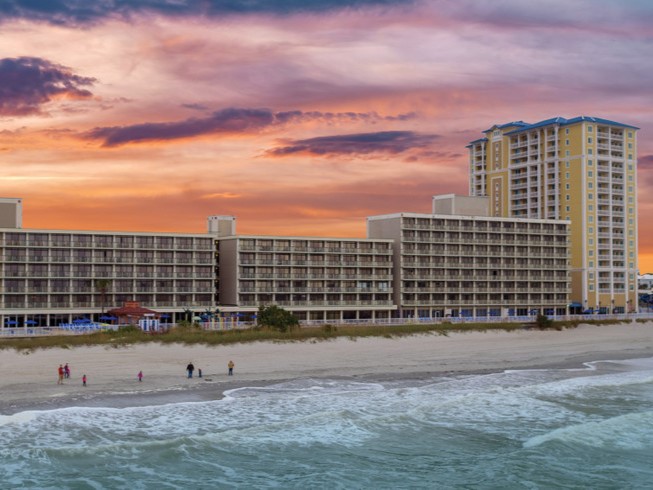 Start your morning by waking up to oceanfront views and the rhythm of waves crashing along the shorelines. This newly renovated Westgate beach resort has everything you need and more. Guests can choose from various one and two-bedroom villas that offer different views. In addition, guests have easy access to the beach, local attractions, shopping, and entertainment.
Whether you want your accommodation to be cozy or spacious, it is up to you to decide. The villas can sleep two to eight guests, depending on what you choose. It comes equipped with a full kitchen to make tasty meals, a living room, as well as a washer and dryer. Smaller room amenities feature a hairdryer, an in-room safe, cable tv, wifi internet access, and much more.
Yachtsman:
Yachtsman Timeshare Resort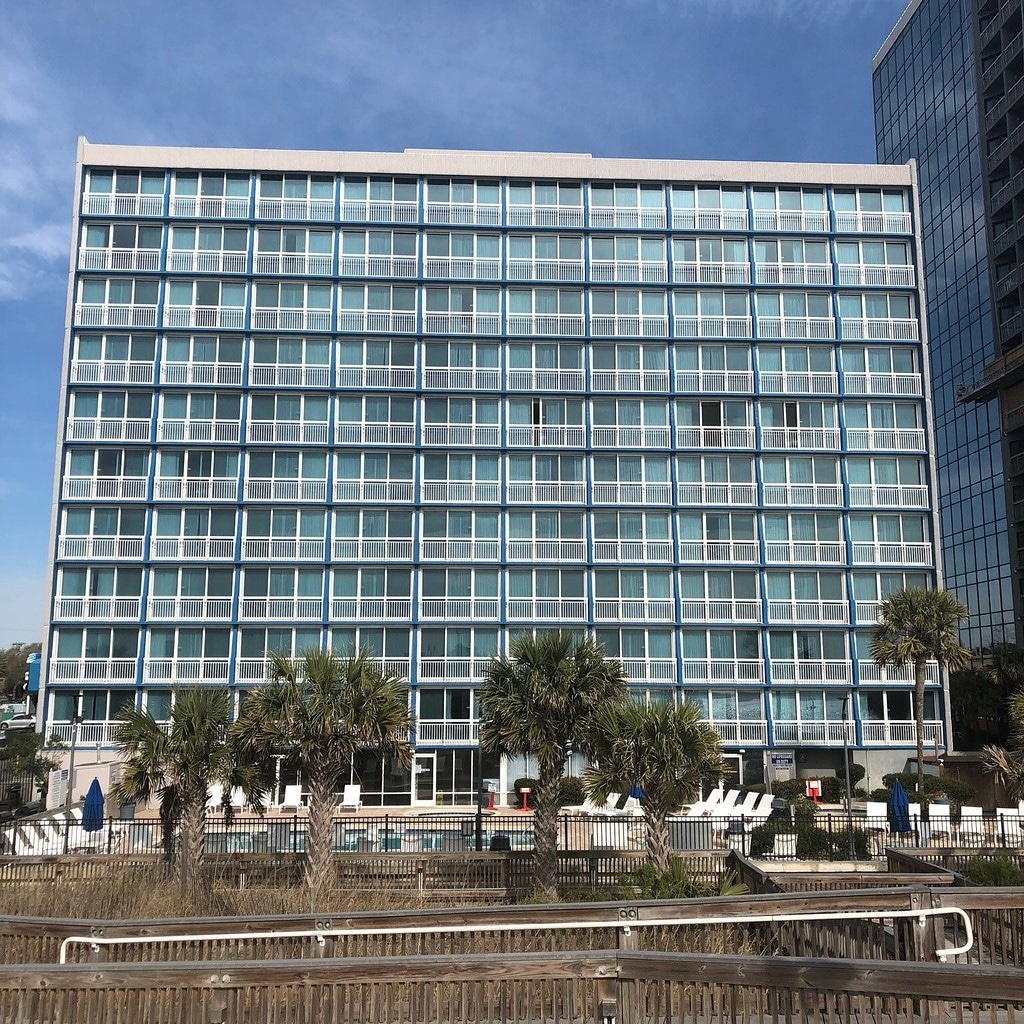 Go to the heart of the action year after year at the Yachtsman timeshare resort in Myrtle Beach. Just one block away from the Myrtle Beach Boardwalk, visit the SkyWheel, Broadway at the Beach, and more. Activities are practically limitless, with shopping, dining, and even live entertainment. When you buy this timeshare in Myrtle Beach, you'll have a fixed week to guarantee your vacations every single year. This is the most beneficial for families that don't want to plan ahead or worry about booking windows.
On-site at the Yachtsman Resort are two outdoor pools and an indoor pool for those cloudy days. The kids will love the activity room and activity center to fill each day with something fun. Not to mention, you can grab some poolside snacks and drinks from the Yachtsman Snack Bar (only open seasonally). Choose from multiple accommodations ranging from efficiency-style studios or two-bedroom suites with oceanfront views.
Marriott Myrtle Beach Timeshares
Marriott's Oceanwatch Villas at Grand Dunes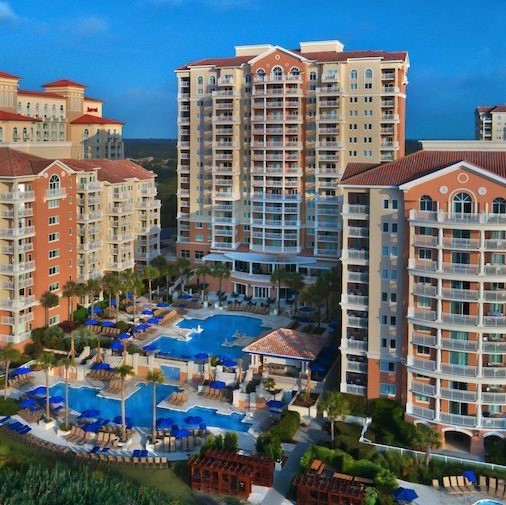 If you want easy access to the beach, you can't go wrong with Marriott's Oceanwatch Villas at Grand Dunes. Try your hand at putting on the resort's putting green or play volleyball, shuffleboard, or table tennis. You can also take a dip in the indoor and outdoor swimming pools to get out of the Summer heat. In addition, on-site casual restaurants and pool bars offer a menu of a variety of American cuisine.
For accommodations, the resort boasts spacious two-bedroom villas with king and queen-sized beds. You'll also have a balcony with oceanfront views you can use to gaze out over the golden sands of the beach or the resort's beautifully designed garden. With stellar suites and great amenities, it's no surprise this resort is the top Marriott timeshare in Myrtle Beach.
Myrtle Beach Timeshares For Sale
Ready to hit the beach year after year when you buy a Myrtle Beach timeshare? Then check out our marketplace! We have listings for plenty of great resorts from Wyndham, Marriott, Westgate, and more. Once you find one you like, just make an offer, and one of our licensed agents will handle the rest. If you have any questions, please give us a call at 1-800-410-8326 or email us at [email protected]. We're always happy to help!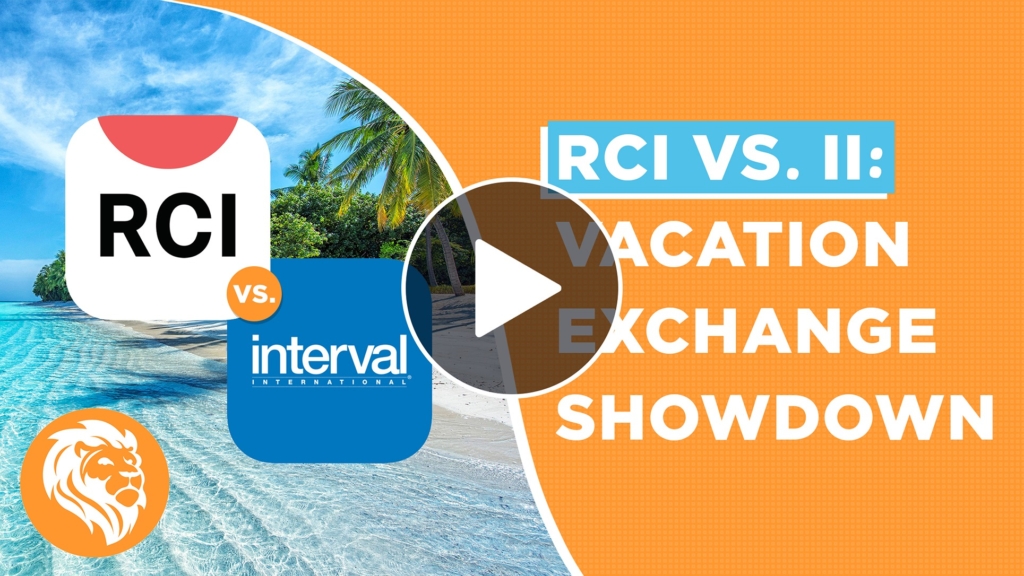 Seawatch Plantation, Ocean Boulevard, Westwinds, and South Beach Resort by Holiday Inn Club Vacations are RCI-affiliated resorts. Westgate Myrtle Beach Oceanfront Resort, Yachtsman Timeshare Resort, and Marriott's Oceanwatch Villas at Grand Dunes are II-affiliated resorts. Want to know more about what that means? Then check out our video, "RCI vs. Interval International: Vacation Exchange Showdown."