If you're planning a visit to Orlando, it's safe to say you're probably interested in Seaworld. With its thrill rides, exhibits, and shows, the park has become one of the most popular theme parks in Florida. While traffic in Orlando isn't as hectic as what's found in other major cities like Los Angeles or New York, you're on vacation, so you shouldn't need to worry about navigating a city. Fortunately, there's an easy way to stay in Orlando while staying close to the excitement of Seaworld. Hilton Grand Vacations Club at Seaworld Orlando is just a mile away from the beloved park. Plus, there's a free shuttle service that can get you to and from the park with no hassle. Has this resort caught your interest? Here's everything else the HGVC at Seaworld has to offer.
Amenities at Hilton Grand Vacations Club at Seaworld Orlando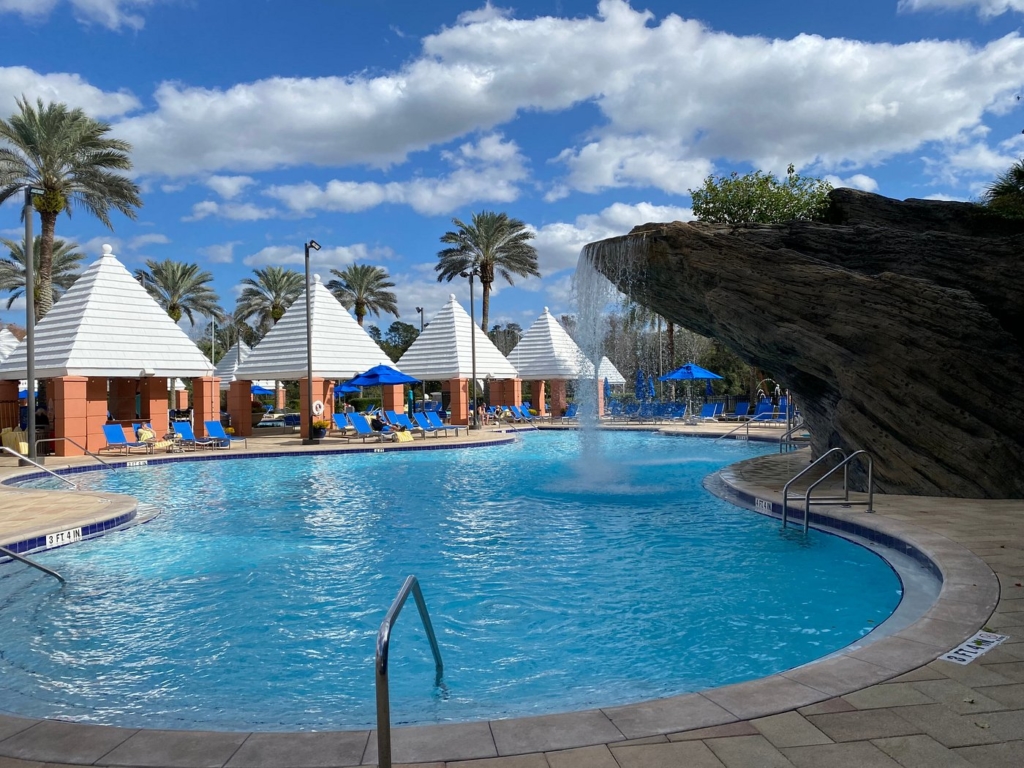 While you'll likely spend most of your time either visiting Seaworld or exploring Orlando, you'll have to spend some time at your resort. Fortunately, Hilton Grand Vacations Club at Seaworld Orlando, also known as HGV Club Seaworld International Center, has plenty of amenities to make your stay more enjoyable. Cool off at one of three swimming pools, one of which has a kid's splash pad. Or stay in shape thanks to sports courts, jogging trails, and a state-of-the-art fitness center. The resort is also home to an on-site movie theater so that you can enjoy blockbuster films from the comfort of the resort. If you have kids, this resort is an even better option thanks to its full schedule of kids' activities. So if you need something to keep the little ones entertained, Hilton Grand Vacations has you covered.
Accommodations at Hilton Grand Vacations Club at Seaworld Orlando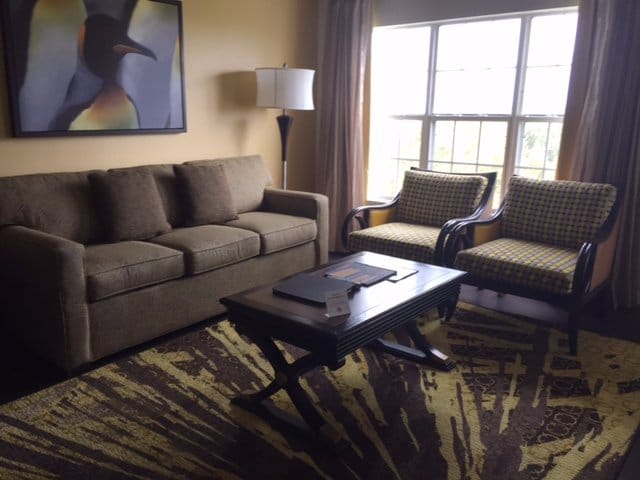 Accommodations at Hilton Grand Vacations Club at Seaworld Orlando include studio, one, two, and three-bedroom suites. First, the studio features a king-sized bed to accommodate two guests. Next, the one-bedroom suite has a king-sized bed and queen-sized sleeper sofa. Overall, this suite can house up to four guests. Then the two-bedroom suite offers a king-sized bed and either a second king-sized bed or two queen-sized beds depending on the suite chosen. These large suites can accommodate up to six guests. Finally, the three-bedroom suite boasts two king-sized beds and either two double or queen-sized beds. These are the largest suites at the resort and can house up to eight guests.
Things to Do Near Hilton Grand Vacations Club at Seaworld Orlando
Of course, if you're staying at Hilton Grand Vacations Club at Seaworld Orlando, you're probably there for Seaworld. With that said, you also get the advantage of being around tons of other great attractions in Orlando. Here are just a few of the things you can do near this resort.
Visit Seaworld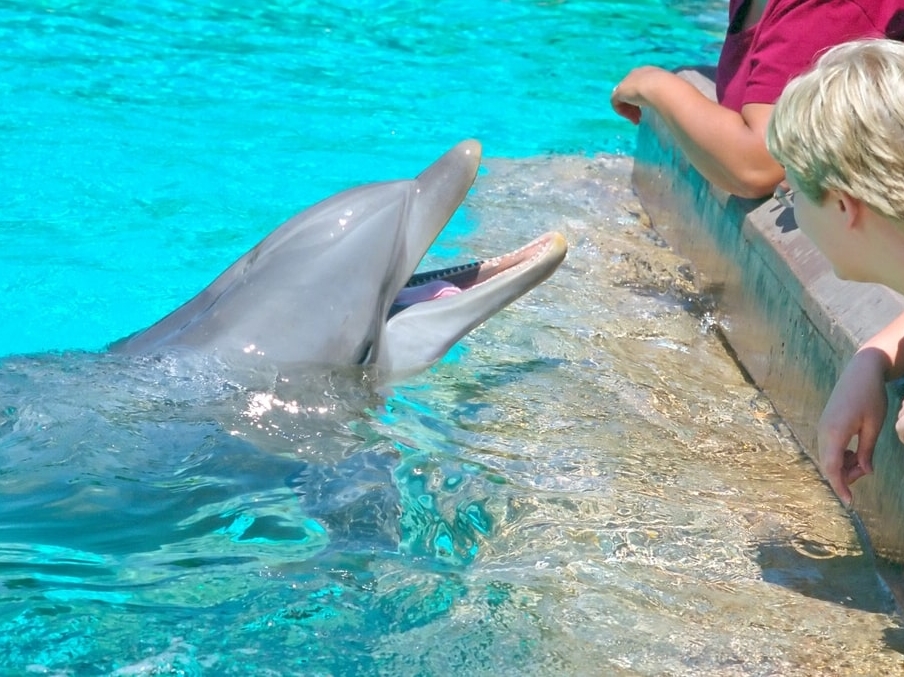 Given where you're staying, we have to talk about Seaworld itself. As we mentioned before, at the Hilton Grand Vacations Club at Seaworld Orlando, you'll practically be within arm's reach of the park. As a result, you won't have to do much to be at Seaworld right when it opens. Seaworld is most commonly known for its marine biology exhibits, and these don't disappoint! Watch Bottlenose dolphins play, walk through a tunnel of sharks, or get up close and personal with stingrays. Anyone interested in aquatic life should visit Seaworld. While these exhibits are great, there's more to Seaworld than meets the eye. This is an amusement park after all, and what park is complete without some great rides? Thrill seekers will love roller coasters like Icebreaker, Manta, and Kraken, while younger visitors can enjoy rides like Journey to Atlantis, Abby's Flower Tower, and Elmo's Cookie Drop.
Check Out Orlando's Other Theme Parks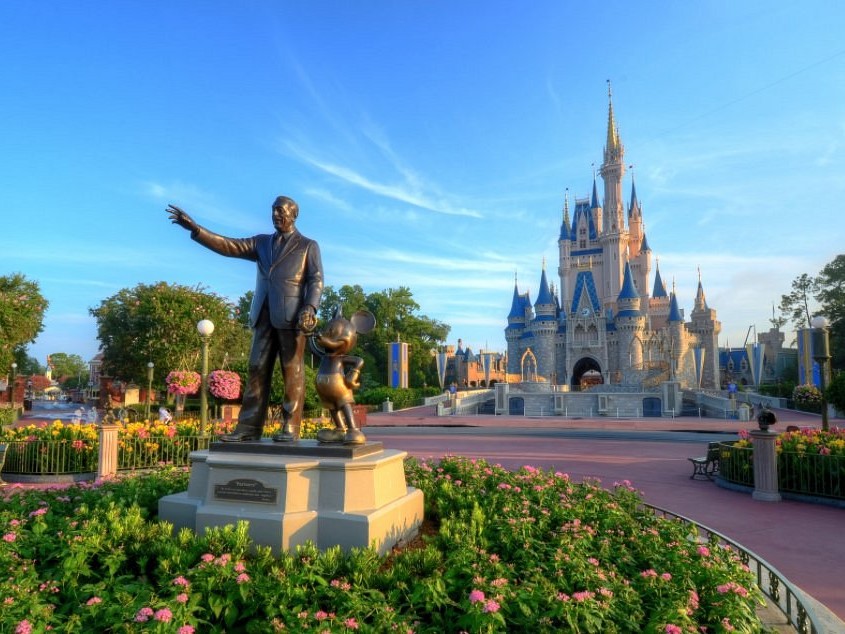 If you're a big fan of theme parks, you've come to the right place. Both Disney World and Universal Studios are less than ten miles away from Hilton Grand Vacations Club at Seaworld Orlando. Disney is home to four parks: The Magic Kingdom, Epcot, Animal Kingdom, and Hollywood Studios. Together, these parks offer a broad range of experiences. From classic experiences at the Haunted Mansion and Space Mountain to new adventures at Star Wars Rise of the Resistance and Tron Lightcycle Run, there's a lot to enjoy. Meanwhile, Universal has three parks. Universal Studios offers a more "classic" experience with iconic rides such as the Mummy and Men in Black. Meanwhile, Islands of Adventure is home to the massive Wizarding World of Harry Potter and exciting thrill rides like the Incredible Hulk. The Volcano Bay water park rounds out the trio with the Krakatau Water Coaster and multiple water slides.
Learn more: Best Orlando Theme Parks That Aren't Disney
Explore the Nature of Orlando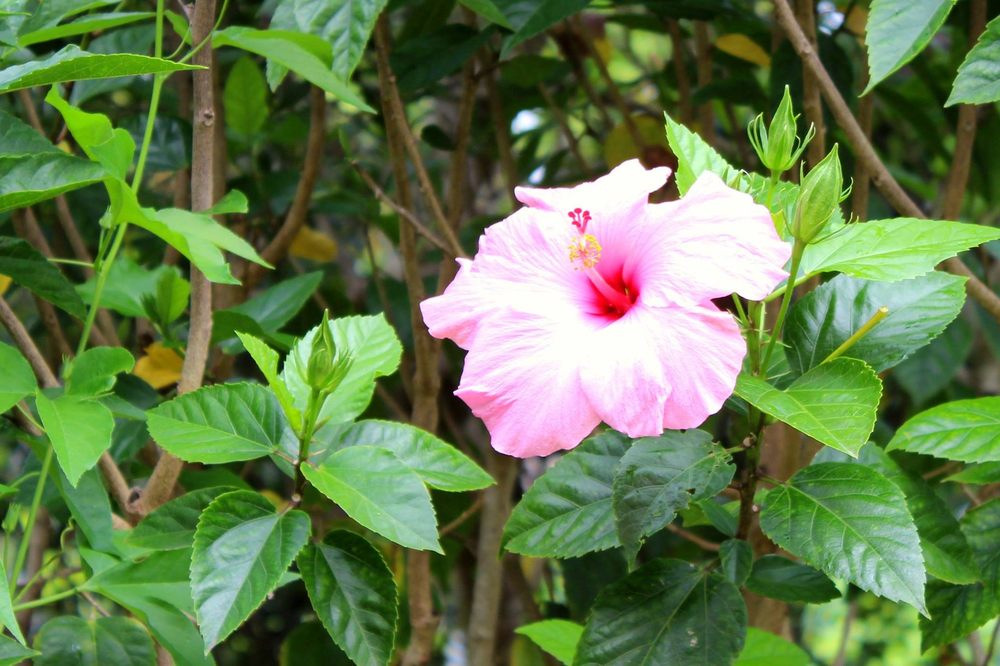 Just off the beaten path, you'll find that Orlando has plenty to enjoy for those that prefer the outdoors. If you enjoy observing flora, check out the Harry P. Leau Gardens. From azaleas to bromeliads, these gardens offer plenty to see. The gardens also feature a collection of sculptures and seasonal art exhibits. Whether you like nature, the arts, or both, these gardens are a great place to visit. If hiking is your thing, then Wekiwa Springs State Park is a must-see location! The park has miles of trails you can explore on foot, bike, or even horseback. Wekiwa Springs also features a broad variety of habitats, from the dense, almost tropical hammocks near where the springs feed into the Wekiva River to the scenic sandhill uplands. Both of these spots are less than an hour away from Hilton Grand Vacations Club at Seaworld Orlando.
Learn more: Top Things to Do in Orlando Other Than Theme Parks
Buy a Timeshare at Hilton Grand Vacations Club Seaworld Orlando
If you're planning a visit to Orlando, you're probably interested in Seaworld. The convenient location of Hilton Grand Vacations Club Seaworld Orlando helps make one part of vacation planning easier. Plus, the amenities at the resort will make your stay even more luxurious. If you'd like to see all there is to enjoy in Orlando, consider buying a timeshare there. That way, you'll be able to keep coming back to the city so you can see everything it has to offer. You could even make visiting Orlando a yearly tradition! At Fidelity, we have listings not just for this resort, but for plenty of others from HGVC and other brands like Westgate, Marriott, and Disney Vacation Club. If you have any questions about timeshares, please email us at [email protected] or give us a call at 1-800-410-8326. Our licensed agents are always happy to help!