Whether you are a Holiday Inn Club Vacations owner or not, you've likely heard of Orlando's largest and most family-friendly resort, known as Orange Lake. Located in the heart of Kissimmee (minutes away from Disney), you won't want to miss this incredible vacation experience. Holiday Inn Club Vacations Flagship resort is a great place to stay. Read on to learn all about it.
A Quick Glimpse of Orange Lake Resort
Orange Lake Resort is a massive property spanning across 1,450 acres. The huge property is divided by four different villages—River Island, West Village, East Village, and North Village. Each village has its own pools, restaurants, and activities. Luckily, you can use the shuttle to quickly explore each corner of the resort.
No Orlando vacation is complete without a trip to the parks. Orange Lake Resort is located within minutes of Walt Disney World, SeaWorld, Universal, or LegoLand. You'll be able to experience all of the shopping and attractions that Orlando has to offer.
Make sure to also check out one of seven dining options spread across the resort. There are seven pools for you to splash around in, including a massive lazy river where you can wade the day away. Four golf courses and two mini golf courses are also available on site for guests to enjoy. In addition, there are watersport rentals on the 80-acre lake and cabana rentals. Guests can also take advantage of the Adventure Club, that features rock-climbing wall and three arcades. Not to mention, three fitness centers can also help you keep with your fitness routine.
Orange Lake Resort Accommodations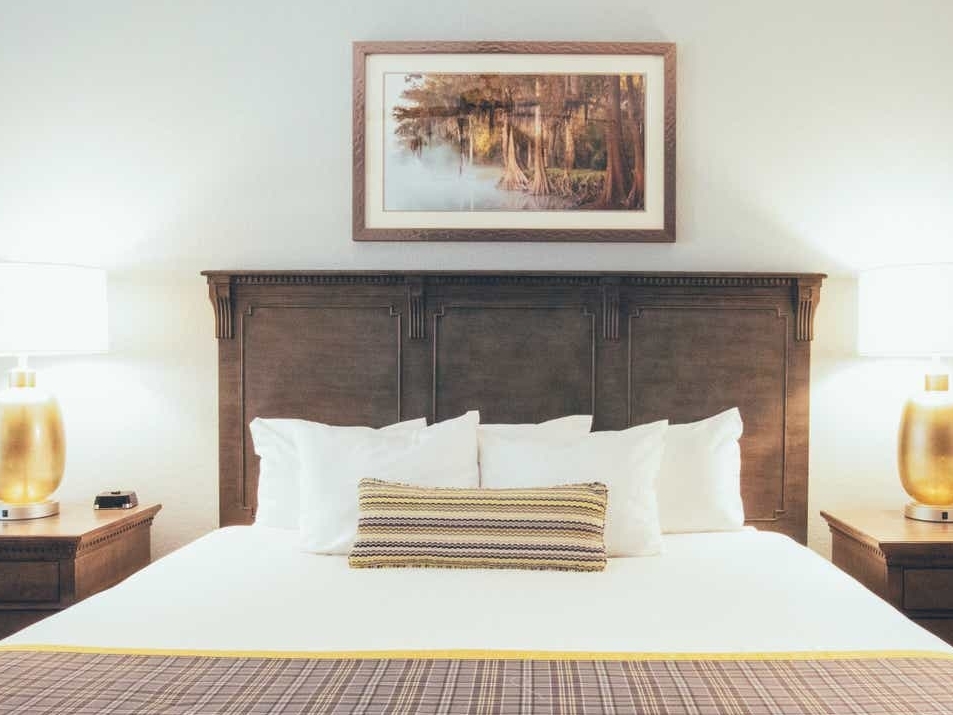 Villas range from one to four bedrooms and can have up to 2,475 square feet of space! Each villa is complete with a living room, dining areas, fully-equipped kitchen, and washers/dryers. Spread out and bring the entire family in your home away from home. In addition the Signature Collection villas offer a luxurious experience with all of the modern amenities that you would expect from a high-end hotel. Not only will you have access to a home theater and gaming system, but you will also have access to upgraded bathrooms and kitchenware with a luxurious espresso machine.
Villas
Clubhouse Studio
One-Bedroom Villa
Two-Bedroom Villa
Three-Bedroom Villa
Four-Bedroom Villa
Signature Collection
One-Bedroom Signature Collection
Two-Bedroom Signature Collection
Three-Bedroom Signature Collection
Four-Bedroom Signature Collection
River Island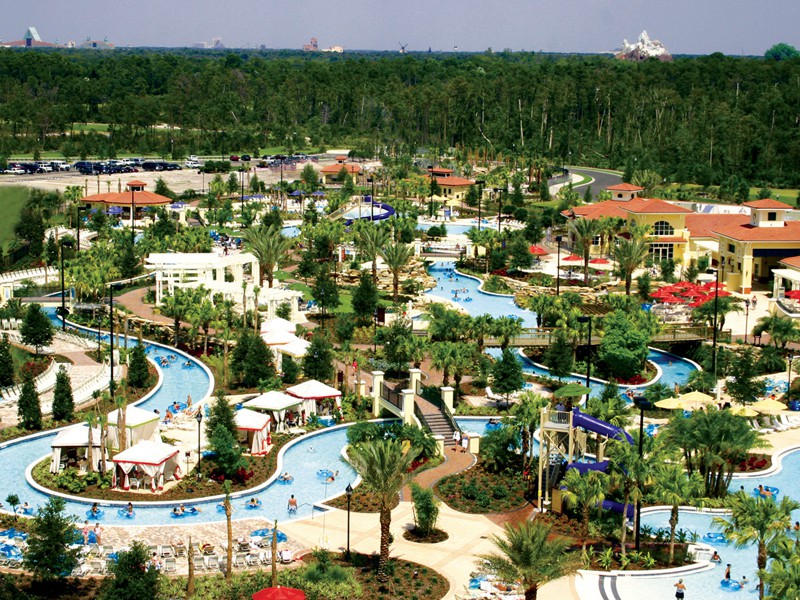 The newest village in Orange Lake Resort, River Island is a tropical oasis that has incredible amenities. River Island spans across 12 acres and offers a fun island setting.
Go shopping at the River Island Exchange, or grab float rentals at the Splash Shack. The zero-entry, beach-style pool beckons guests to relax and unwind next to. For the ultimate outdoor serenity, head to the resort's 1,200-foot lazy river. Make sure to grab a Cabana Key private cabana rental or take a nap outside at The Hammocks lounge area.
Here you'll also find four of seven dining options. These include the River Island Grilling Company & Trade Winds Bar, Windward & Leeward pool bars, Anchors bites to go, and the Currents Cafe.
Holiday Inn Club Vacations Orange Lake Resort is known for fun, and the kids will enjoy plenty of exciting activities. River Island has waterslides, as well as an interactive fountain. Besides water activities, play a round of mini-golf at the Island Golf 36-hole course. The Fun Zone has a rock climbing wall, and Treasure Cove Arcade will keep you busy all afternoon.
West Village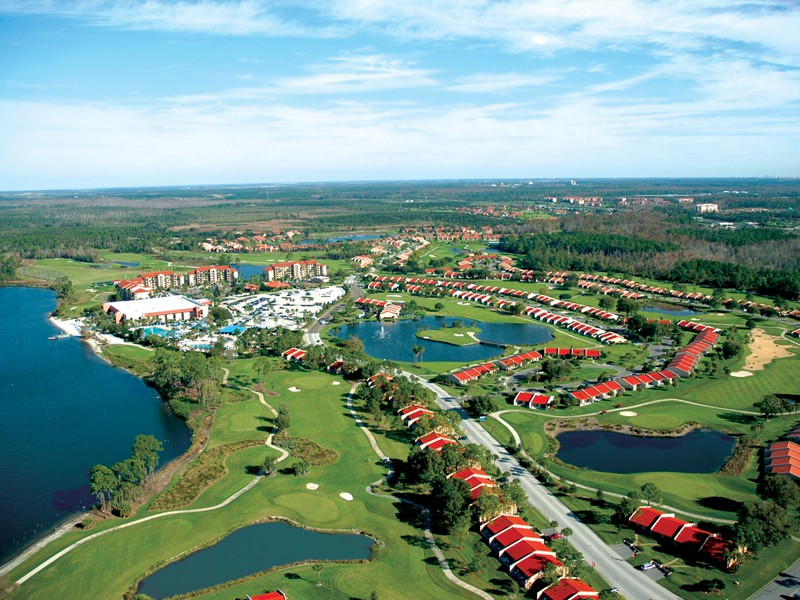 West Village at Orange Lake Resort is packed with amenities. It's a family favorite with many recreational opportunities and it's own "beach." Shop at the Marketplace store, The Reserve & Crane's Bend Pro Shop, or The Surf Shack for all of your water sport needs.
There are three dining options at West Village, including Breezes Restaurant & Bar, the Breeze Express, and the Marketplace for all of your grocery needs.
One of the most exciting amenities at Orange Lake Resort is the "beach" for all of your water sport activities. Play volleyball in the sand, rent a jet-ski or enjoy the serenity of the lake. There are also two golf courses within West Village, as well as The McCord Golf Academy.
Enjoy time outside with tennis, basketball, and racquetball courts. The kids will love Swampy's Adventure Club kids' center, as well as Water's Edge Arcade.
North Village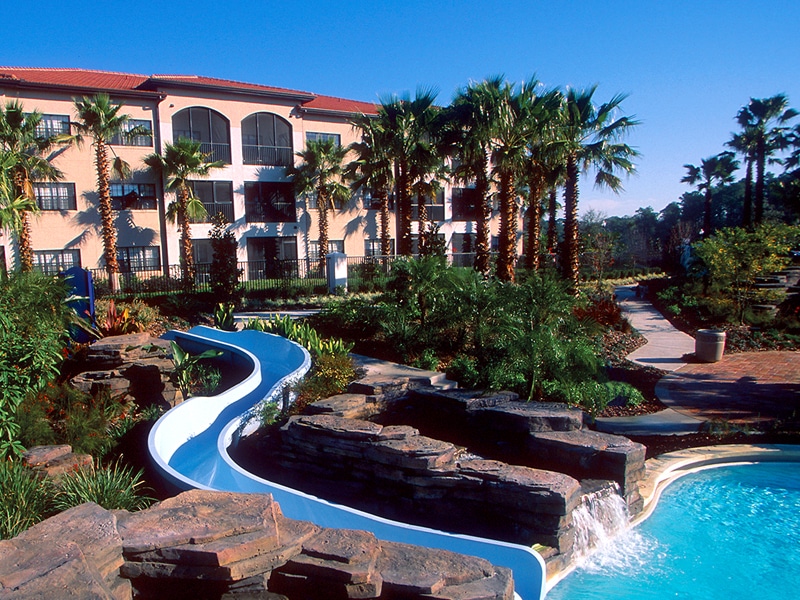 Find some tranquility at Orange Lake Resort's North Village. Sit poolside on multi-level decks that are perfect for sunbathing and tanning. The waterfalls will relax your senses and help you truly unwind. Go shopping at the Legends Walk Pro Shop, especially for all your golfing needs. The Legends Walk course is a 9-hole course that's perfectly lit for evening tee-time.
Make sure to reserve some private cabanas at Splash Lagoon while the kids play in the interactive fountain and make a splash. For on-site dining, take to the Paisan Pizzeria. You'll also enjoy basketball and tennis courts, as well as the Tower Arcade.
East Village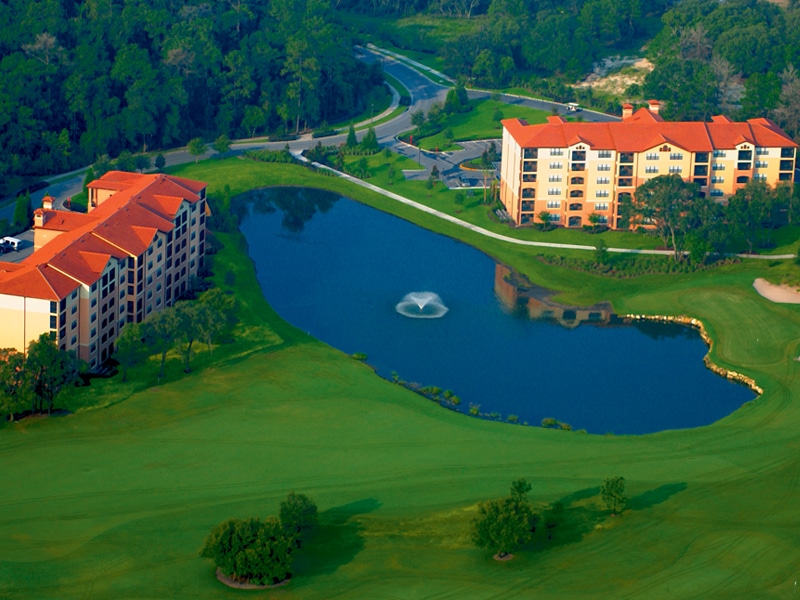 Orange Lake Resort's East Village is known for being a golfer's paradise. Enjoy the natural beauty of Florida while out for tee-time at The Legends at Orange Lake Resort. This 19-hole course is a premiere championship Arnold Palmer Signature course featuring a beautiful backdrop of nature. There is even a driving range for practicing your swing. After an afternoon playing, take to The Legends Clubhouse.
Orange Lake Resort Frequently Asked Questions
There is a lot to know about Holiday Inn Club Vacations Flagship resort. Orange Lake Resort offers many amenities and extras to help guests have the best vacations possible.
1. Does Orange Lake Resort Have a Shuttle to Disney World?
There is not a shuttle from Orange Lake to Disney. However, an on-site shuttle can transport you anywhere on the property.
2. How Big is Orange Lake Resort?
Orange Lake Resort has four different villages that span across 1,450 acres.
3. Where is Orange Lake Located?
The resort is located in Kissimmee, Florida and only minutes away from Walt Disney World.
How to Buy an Orange Lake Timeshare
Now that you know all about Holiday Inn Club Vacations Orange Lake timeshares, you might be wanting to buy a timeshare here. Trust the experts at Fidelity when you're ready to buy a timeshare resale. The buying process with our Licensed Real Estate Agents is transparent, honest, and professional. Not to mention, you can save a substantial amount of money on the resale market.
Start by clicking on the button below and checking out our lisitings. Then, once you find the one that best fits your needs, make an offer. Feel free to contact us by phone at 1 (800) 410-8326 or by email at [email protected].
How to Sell Orange Lake Timeshare
If you're looking to sell your Orange Lake timeshare, don't fret because you have options. Your first step is to contact Horizons by Holiday Inn. This is a free and simple service that can help provide solutions to you. Depending on your circumstances, Holiday Inn may offer to take your timeshare off your hands.
Some owners might opt to sell their Orange Lake Resort timeshare, and that's where we come in. At Fidelity Real Estate, we have Licensed Real Estate Agents that are experts in timeshare resales. We are ARDA's featured reseller and accredited by the BBB with an A+ Rating.
When you're ready to list your Orange Lake timeshare for sale, our agents can offer a free one-on-one consultation to get you started. Plus, we will never charge you up-front fees.
Ready to sell your Orange Lake timeshare? Call us at 1 (800) 410-8326 or email [email protected]. For extra convenience, you can also fill out the form below.