Discover the magical allure of Maui, where paradise awaits at every turn. With its incredible natural beauty, from towering green mountains to crystal clear blue waters, this island gem in Hawaii is the ultimate playground for adventure seekers and relaxation enthusiasts alike. Whether you're seeking sun-soaked days lounging on pristine white sand beaches or thrilling excursions exploring the island's unique attractions, Maui is sure to enchant and inspire. Looking for the best Hilton in Maui? We got you covered. Step into a world of serenity at Maui with these top resorts.
What is Hilton Grand Vacations Club?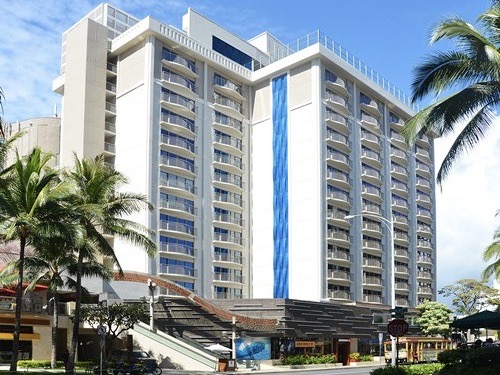 Experience the ultimate in luxury vacationing with Hilton Grand Vacations Club, HGVC. This is a leading timeshare company famous for providing unforgettable experiences to both owners and guests year after year. Boasting an impressive portfolio of world-class resorts, HGVC provides owners with premier access to a variety of gorgeous destinations that range from beach retreats like Hilton in Maui and Mexico to urban escapes like Hilton in Las Vegas and California. Whether you seek leisure or adventure, HGVC has got you. They offer unparalleled hospitality, comfort, and top-notch customer service to ensure that every moment of your stay is truly exceptional. With endless chances to explore and discover, HGVC truly is the ultimate home away from home for vacation lovers. Join the HGVC family by becoming an owner today with a Hilton timeshare resale!
Read more: HGVC Locations: Top Hilton Grand Vacations Resorts!
What is a Timeshare?
A timeshare refers to a type of shared ownership in a vacation property or resort. This ownership arrangement is highly flexible and can take many different forms, allowing individuals to choose from a variety of locations, resorts, and clubs. The vacation property is owned by multiple individuals or families, with each owner having the right to use it for a specific time period every year. When you think of timeshares, you might be thinking of the old style where owners go to the same resort at the same time each and every year. Now vacation clubs and brands have shifted to making things more flexible, so owners can use their ownership at different resorts and even put them towards experiences, like going to the Superbowl. Upon buying a property, owners pay an upfront price and are then responsible for annual maintenance fees.
Learn more: Hilton Timeshare Maintenance Fees: Know Before You Own!
Maui Bay Villas by Hilton Grand Vacations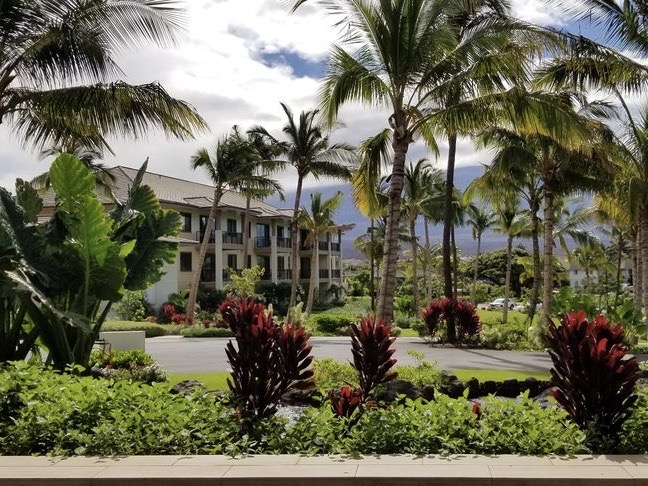 Maui Bay Villas by Hilton Grand Vacations is a beachfront resort situated on 27 acres of Hawaiian paradise along the coast of Maalaea Bay. It offers all-suite accommodations ranging from one to two bedrooms with full kitchens, private lanai, and balcony areas, as well as laundry machines for convenience. With its proximity to tropical reefs and cascading waterfalls, visitors can indulge in outdoor adventures and experience the natural beauty of Maui. Make your Maui vacation unforgettable by taking advantage of the amenities offered at the resort. For fitness enthusiasts, the resort provides a fully-equipped fitness center with state-of-the-art equipment to stay active. With direct beach access, guests can easily enjoy a day of fun in the sun, take a refreshing swim in the ocean, or indulge in various water activities. The resort-style pool is also available for a relaxing swim or lounging by the water.
Timeshares for sale at Maui Bay Villas by Hilton Grand Vacations can be easily browsed here.
Kaanapali Beach Club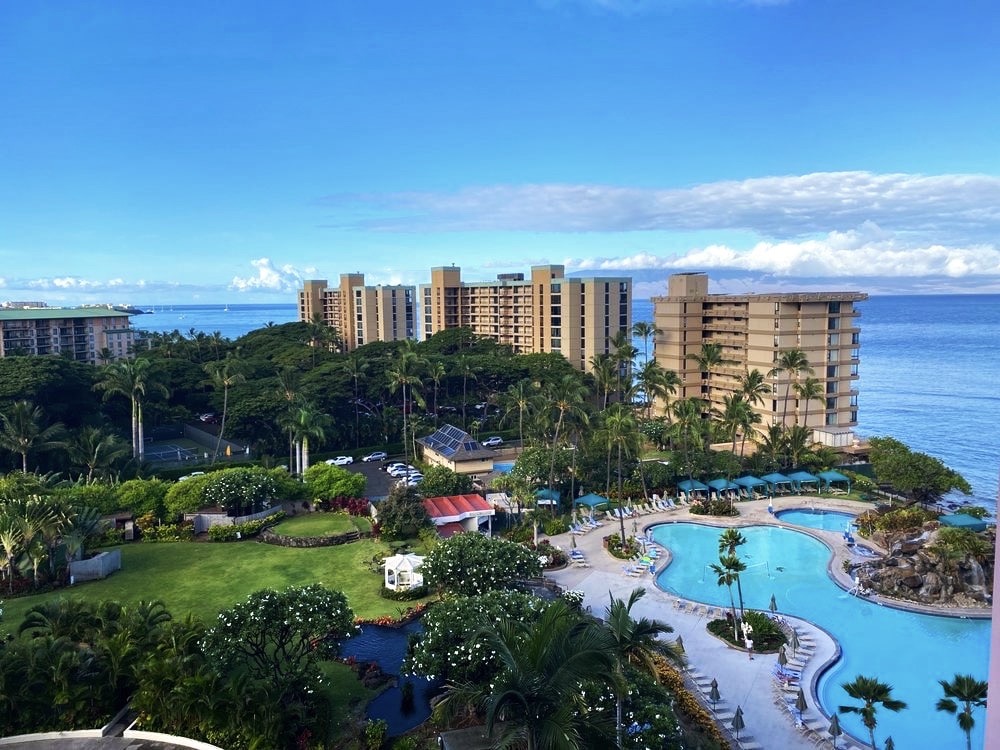 Since Hilton acquired Diamond Resorts, owners of Hilton timeshares can now visit Diamond Resorts, like Kaanapali Beach Club. This fabulous Maui resort is one of the best Diamond Resorts has to offer. Stunning gazebos, tropical gardens, and gentle waterfalls fill the resort grounds. The pool area features a one-acre swimming pool with a waterslide, hot tub, as well as kiddy pool. With direct beach access, enjoy watersports, scuba diving, snorkeling, a beachside barbeque area, and boating. Additional on-site amenities include a spa, health club, restaurant, snack bar, live entertainment, game room, mini-golf, salon, shopping, concierge service, laundry facilities, childcare, and children's program. Each air-conditioned unit has a private lanai and kitchen with a microwave and dishwasher. In addition, five championship golf courses are within a short drive.
You can browse Kaanapali Beach Club timeshares here.
How to Use Your Hilton Timeshare to Stay in Maui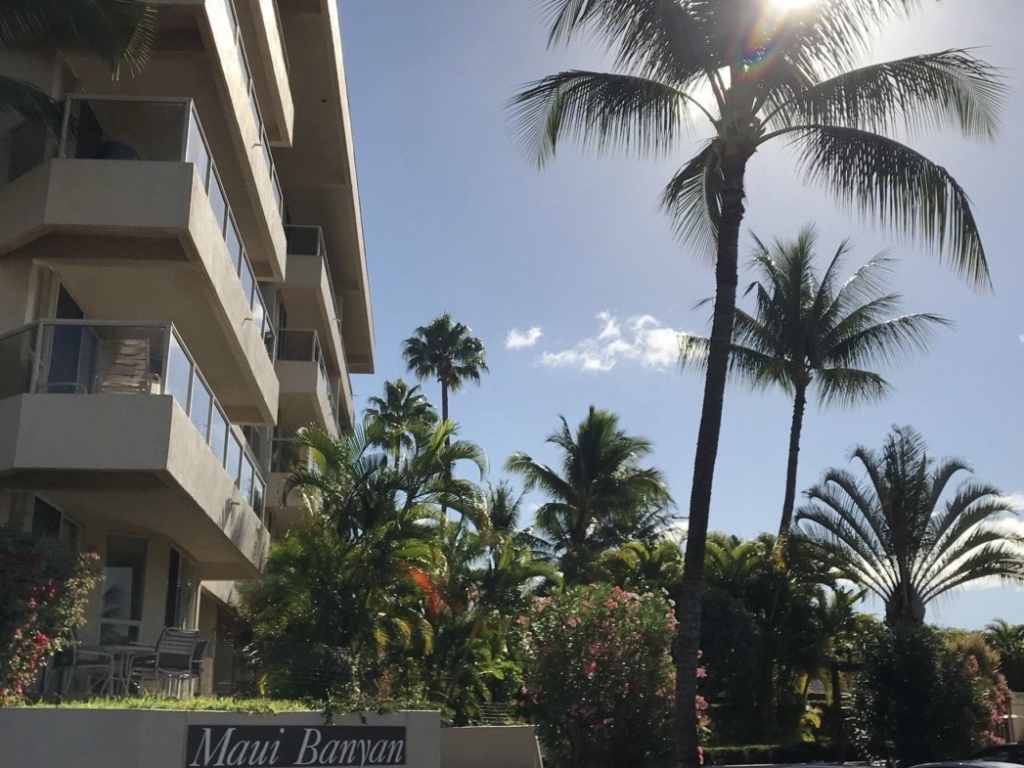 With an RCI exchange membership, Hilton owners have the ability to travel to Maui. RCI is the largest vacation exchange company in the world. Timeshare owners with an affiliated RCI resort can join the exchange platform as members and trade their points or weeks for thousands of other vacation destinations. So, RCI exchanges require a timeshare and a membership. Club Wyndham, Holiday Inn Club Vacations, and Bluegreen Vacations are RCI affiliates in addition to Hilton Grand Vacations Club.
Read more: RCI Resorts: All You Need to Know About RCI Timeshare!
RCI Timeshares in Maui
If you own a Hilton timeshare and want to visit Maui, you can do so through RCI. So, you can visit other resorts outside of the Hilton in Maui resorts we listed above. Here are three fabulous resorts to check out:
Maui Banyan Vacation Club is in sunny Kihei and offers a perfect blend of relaxation and adventure. Units include home-like features such as kitchens, new furnishings, and laundry machines. There are also on-site amenities, such as an outdoor pool and tennis courts.
Maui Lea at Maui Hill is located on the Gold Coast of Maui, moments from three beautiful beaches. This area is renowned for deep-sea fishing, diving, snorkeling, and surfing. On-site amenities include a pool area, tennis court, shuffleboard, putting green, as well as a whirlpool spa. In addition, the Wailea Country Club's championship golf course is nearby.
Located on Maui's southwest coast, Maui Beach Vacation Club offers one- and two-bedroom suites with a spectacular view of three nearby islands. On-site amenities include a restaurant, live entertainment, a pool, tropical gardens, as well as bicycles. Not to mention, the resort is conveniently located near the famous Mt. Haleakala and the scenic Road to Hana.
Buy a Hilton in Maui Timeshare at a Fraction of the Cost
Now that you have learned about HGVC and the top resorts in Maui, you might want to become an owner. When you buy a timeshare on the resale market, you can save tons of money. Start by browsing our marketplace of timeshares for sale. Then simply make an offer on the one for you! Have any questions? Want to learn more about ownership? So, give us a call today! Our phone number is 1 (800) 410-8326. We would love to help you in any way that we can.