Joining Disney Vacation Club is one of the most exciting decisions a family can make. Undoubtedly, DVC is one of the best vacation clubs out there and offers a points-based system that provides flexibility and freedom for owners. But it's no secret that buying DVC points is not cheap. Even when you browse Disney Vacation Club points for sale on the secondary market, you will come to realize that DVC is one of the few brands that holds its value relatively well. Whether you are buying DVC resale or directly from Disney Vacation Club, it doesn't have to be a stressful experience. There are Disney Vacation Club financing options available for everyone.
Financing Directly from Disney Vacation Club
There are pros and cons of buying DVC resales, so many people will make their initial purchase directly from Disney to get all of the DVC benefits. If you are purchasing from DVC directly, you have the ability to finance through DVC or a third-party lender.
Some people will choose to finance through Disney Vacation Club for convenience and conformity. It can be easier to keep track of all maintenance fees and mortgage payments when they're all in one place! Disney Vacation Club financing terms include:
Financing unavailable to Colorado or Delaware residents.
Some state minimum or maximum loan amounts may apply.
Interest rates as low as 9.99%, or 10% APR for a 10-year loan.
Maximum interest rates can be up to 18%, or 18.01% APR.
10% down payment required.
675 minimum credit score.
No foreclosure history in the last three years, and no open Federal or State tax liens
Please note: This is an idea of what DVC financing terms include. These terms are subject to change.
Financing DVC from a Third-Party Lender
When you purchase a timeshare, most developers and vacation club brands offer in-house financing. It's okay to finance through them, however, you may be able to find better loan terms from a third party. With Vacation Club Loans, you can finance Disney Vacation Club memberships when you buy directly from Disney or a Disney Vacation Club resale.
Vacation Club Loans DVC Financing Terms:
At least 600 FICO credit score for instant approval. 
Up to 120 months (10 years) for loans over $8,000.
Up to 60 months (5 years) for loans under $8,000.
Rates start as low as 11.9%.
No prepayment penalties.
Finance up to 90% of the purchase price.
No minimum loan amount.
No loan origination fees.
Vacation Club Loans Interest Rates Based on Down Payment and Credit Worthiness
| | | | |
| --- | --- | --- | --- |
| | Interest Rate | Interest Rate | Down Payment |
| FICO Credit Score | 1-7 year terms | 8-10 year terms | |
| 800-850 | 11.9% APR | 11.9% APR | 10% |
| 700-799 | 13.9% APR | 13.9% APR | 10% |
| 650-699 | 14.9% APR | 14.9% APR | 10% |
| 600-649 | 15.9% APR | 15.9% APR | 20% |
| No Credit Check Option | 15.9% APR | 15.9% APR | 15% |
No prepayment penalities—ever!
Steps to Finance Your DVC Purchase
Whether you are financing a DVC resale or a direct purchase from Disney, the steps are mostly the same to secure a financing loan. DVC timeshare financing is simple with the right lender. Wondering how Disney Vacation Club financing works? Follow along:
Browse DVC points for sale at your desired resort. There are 15 DVC home resorts to choose from, each with their own themes and accommodation styles. Disney Vacation Club owners have priority booking access to their Home resort, so it's important to choose one that you would like to stay at the most often. One of the many benefits of buying a DVC resale is the ability to find points packages available from sold-out properties.
Use Vacation Club Loans DVC Financing Calculator to estimate costs. On every DVC timeshare for sale on our website, you can find the timeshare financing caluclator to estimate your monthly payments. Enter the total amount you will be financing, your down payment (10% is required for most lenders), as well as interest rate and loan terms.
Get fast online approval when you pre-qualify. All you need is a minimum 600 FICO credit score to get fast approval online for your DVC purchase. When you apply for timeshare financing on our website, Vacation Club Loans will contact you as soon as possible to finalize your loan terms and qualify you for DVC financing.
Make an offer on a DVC resale. You can qualify for your loan before you start making offers, or right as you are going into contracts on the sale! Either way, be sure to make an offer quickly on the DVC timeshare you want, because our listings go fast. The quickest way to make an offer is by calling us at 407-465-5188 to speak with a licensed real estate agent.
DVC Financing Calculator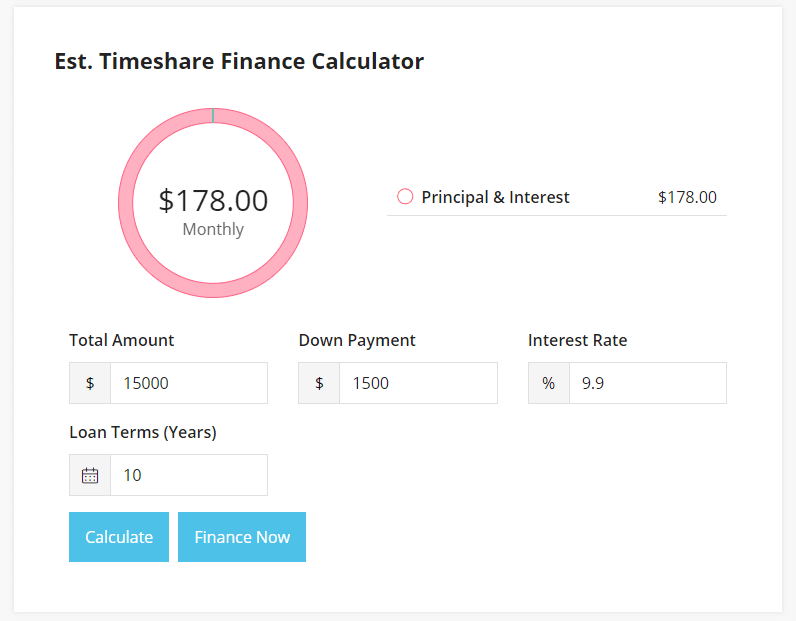 Use the Timeshare Financing Calculator on any DVC timeshare for sale to get an estimate of monthly payments. All you have to do is enter the Total Loan Amount, Down Payment, Interest Rate, and Loan terms.
Disney Interest Rates & Credit Cards
Disney credit cards can be used for down payments on DVC financing, and they come with some neat benefits. The Disney Reward Dollars earned by using the credit card can be exchanged for great products that you would probably end up buying anyway, such as a 1-day child theme park ticket to the Magic Kingdom!
Disney Premier Visa Card
Earn 2% in Disney Dream Reward Dollars at gas stations, grocery stores and most Disney locations
Earn 1% on all other card purchases
Disney Reward Visa Card
Earn 1% in Disney Dream Reward Dollars on all card purchases
1 Disney Dream Reward Dollar for every $100 spent
Interest-free for 6 months
0% APR if you book select Walt Disney World, Disneyland Resorts vacation packages, all Disney Cruise Line packages and Adventures by Disney packages, and Aulani
10% savings on merchandise purchases of $50 or more if you mention your cardmember savings perk and use the Disney Visa Card
Regardless of the reasons for considering financing a DVC purchase, the best course of action depends almost entirely on your overall financial status, so it's important to evaluate your situation thoroughly before making a decision.
DVC Resales Financing
If you'd like some assistance weighing your options, Fidelity's licensed real estate brokers are DVC experts with decades of experience with Disney Vacation Club transactions. They would be glad to provide any information or assistance desired. Simply call or click to contact a Fidelity agent now.
Browse DVC Resale Points for Sale