Westgate owners planning a vacation to Florida have a few fabulous resorts to choose from. Whether you're looking to be near Orlando's theme parks or want a completely unique resort experience, Westgate has an option for you. At our picks for the top Westgate resorts in Florida, you can spend your days at the waterpark, lounge on the beach, or have a Western adventure. Westgate can provide the location for your next unforgettable family vacation.
Westgate Town Center – Orlando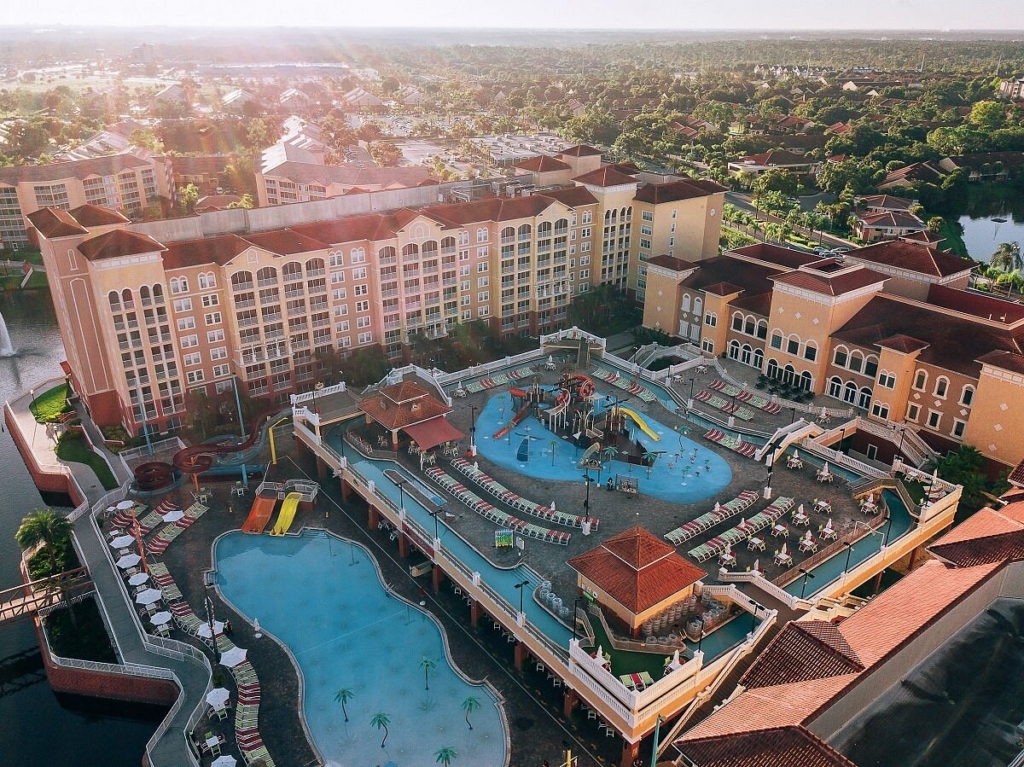 There are five Westgate timeshare resorts in Orlando, Florida for owners to choose from when booking vacations. Although each of the resorts has plenty of amenities to offer, our top pick in Orlando is Westgate Town Center. This sprawling resort is not only packed with fun amenities, but it's also just minutes away from Walt Disney World. This is the perfect spot for a Disney vacation in Orlando!
The amenities at Westgate Town Center include a water park complete with waterslides, a lazy river, and fun for all ages. Kids of all ages will love splashing around at Shipwreck Island Water Park! Plus, there are dining options right off the water park, so you don't have to stop the fun to grab a snack. Another family-friendly amenity at Westgate Town Center is Jurassic Mini Golf. Go head-to-head with some friendly competition at this prehistoric putt-putt course. Other amenities on the property include bike rentals, paddle boats, and sports courts.
Accommodations at Westgate Town Center provide the comfort that you'll desire after a long day of fun. Whether you're out exploring Florida's theme parks or enjoying the resort's amenities, you'll love returning to your Westgate timeshare villa every evening. There are many accommodation options at this resort that can accommodate travel parties of any size. Guests can choose a cozy studio or a one-, two-, three-, and four-bedroom villa.
Westgate Cocoa Beach Resort – Cocoa Beach, Florida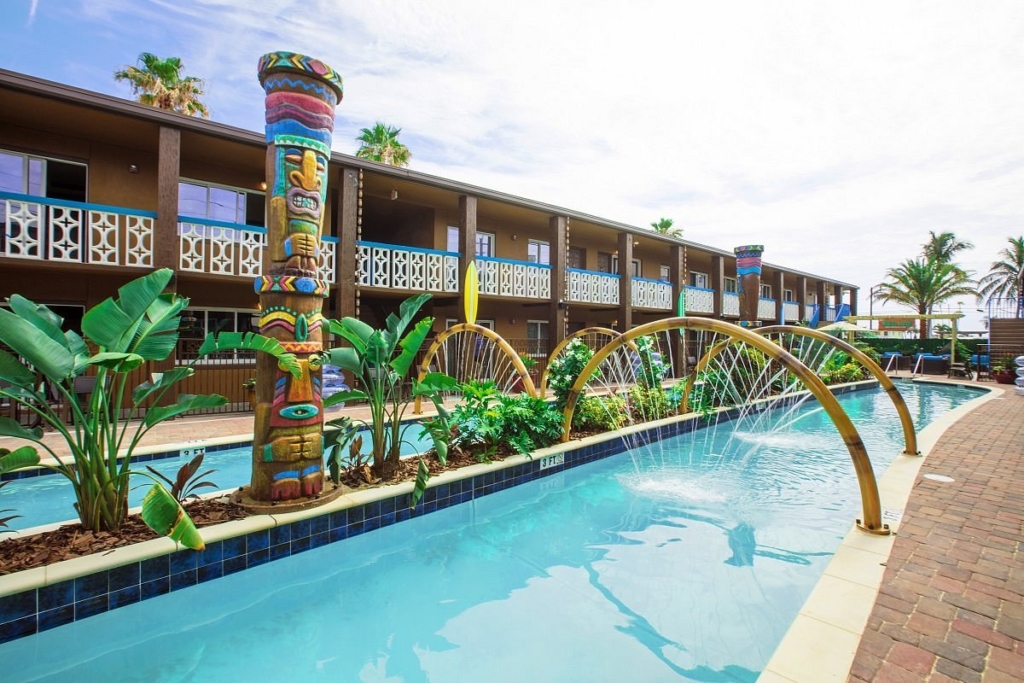 If you're looking for a beach vacation in Central Florida, Westgate Cocoa Beach Resort might be the spot for you. Within a short walk of this resort are the soft sands of Cocoa Beach, one of Florida residents' favorite beaches. Prepare to be fully relaxed at this tropical beachside resort.
Westgate Cocoa Beach Resort has been recently renovated and is now one of the most luxurious resorts in the area. One of the main additions to the resort is the Wakulla Falls Water Park. This aquatic fun spot will provide hours of fun for the whole family. Wakulla Falls has one of the longest lazy rivers at any resort in Florida! There is also a standard swimming pool at this resort if you'd rather have a relaxing pool day. Plus, you can hang out in the Makua Lanai area for a moment of zen. When you're ready to enjoy a refreshing tropical drink by the pool, head to the Aloha Tiki Bar & Cafe.
The brand-new two-bedroom timeshare villas at Westgate Cocoa Beach Resort will make your trip to Florida unforgettable. Each villa has a full kitchen that has every tool and modern appliance you'll need! You and your family can gather around the dining table and enjoy a home-cooked meal. These suites sleep up to six guests!
Westgate River Ranch Resort & Rodeo – River Ranch, Florida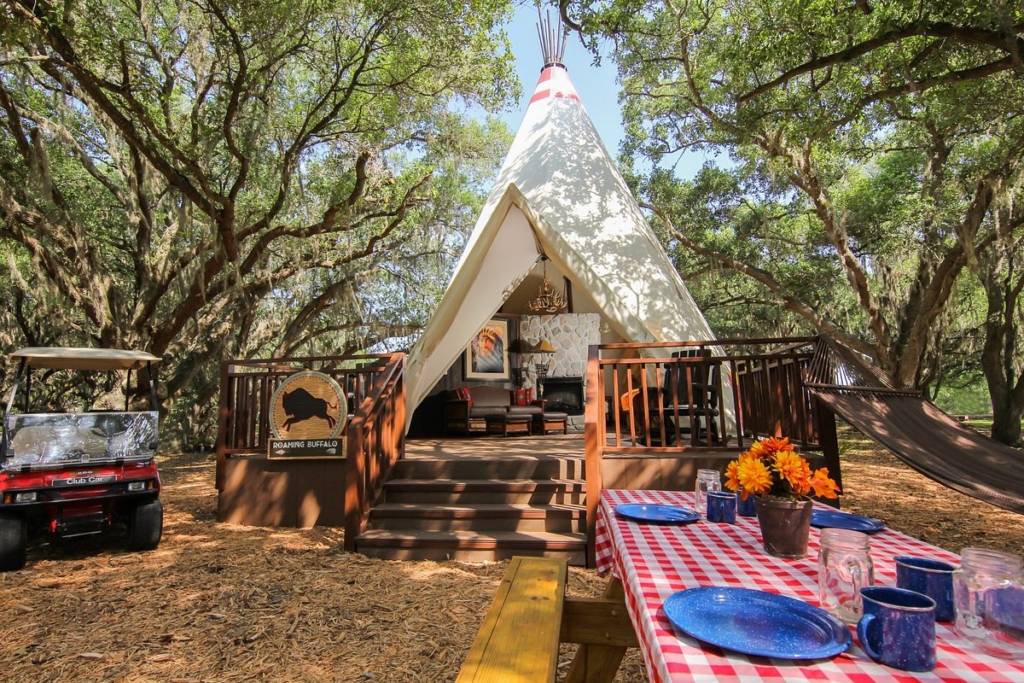 Westgate River Ranch Resort & Rodeo is one of the most unique resorts in Florida. This authentic dude ranch provides a Western-themed adventure just one hour south of Orlando. Sit back, relax, and embrace the resort's 1,700 acres of scenic wilderness.
This resort has everything you'll need to have a full Wild West experience. Guests can go horseback riding, line dancing, or sit by the fire telling stories of their adventures. Each Saturday night there is a rodeo where audiences will be amazed by the talented contestants and their tricks. If you've worked up an appetite while enjoying the ranch, then head to one of the dining options on the property. Guests will love chowing down at the River Ranch Cattle Company, which is the resort's new luxury steakhouse. If you're looking for a cold beer, then the River Ranch Saloon is the spot for you. Plus, the Saloon is where you can enjoy live music and dancing on the weekends.
The accommodations at the Westgate River Ranch Resort are truly one-of-a-kind. For example, guests can enjoy the glamping experience at the resort's luxury tents. The resort's teepees and rail car lodging options are some of the most unique accommodations you'll find. Guests can also choose a more traditional option such as a cabin or a cottage.
Westgate South Beach Oceanfront Resort – Miami
South Beach is one of the most popular spots in Florida and Westgate has an oceanfront resort on its sandy shores. This is one of Westgate's most relaxing resorts, but that doesn't mean it's far from the fun of vibrant Miami. Westgate South Beach Oceanfront Resort gives guests the option to relax or explore the sizzling surrounding areas.
The ocean is right outside your door at this resort, so we imagine you'll be spending a lot of time at the beach. South Beach is typically a very busy area, but luckily this resort isn't too close to the touristy areas. Guests can enjoy a quiet day on the beach, then head into the city to enjoy its colorful nightlife. If you'd rather spend the whole day at the resort, you can relax in a private cabana or grab a bite to eat at the Fresco Cafe. Whatever you decide to get up to while visiting this resort, you'll certainly enjoy returning to your spacious villa at the end of the day.
Of course, when "oceanfront" is in the name of a resort, you'd expect to see sparkling waters outside your window. Well, this resort offers just that. Guests have the option to choose oceanfront villas that offer unbeatable views of South Beach. These villas have recently gotten modern updates to the room design, including trendy furniture and new carpeting. Guests will feel right at home in their spacious timeshare villa at Westgate South Beach Oceanfront Resort.
All Westgate Resorts Florida Locations
There are over 10 Westgate Resorts Florida locations to choose from. For your next vacation to the Sunshine State, a Westgate resort will fulfill all your needs—beaches, theme parks, and even the rodeo.
Orlando, FL—Westgate Lakes Resort & Spa
Orlando, FL—Westgate Palace Resort
Kissimmee, FL—Westgate Town Center Resort
Kissimmee, FL—Westgate Vacation Villas Resort
Cocoa Beach, FL—Westgate Cocoa Beach Resort
River Ranch, FL—Westgate River Ranch Resort & Rodeo
Orlando, FL—Westgate Leisure Resort
Lake Buena Vista, FL—Westgate Blue Tree Resort
Kissimmee, FL—Westgate Towers Resort
Daytona Beach, FL—Harbour Beach Resort
Miami Beach, FL—Westgate South Beach Oceanfront Resort
What's the Best Westgate Resort in Florida?
Depending on your travel preferences can determine what you think is the best Westgate resort in Florida. Do you prefer the beach? And if so, would you rather experience the culture of SoFlo at the Westgate South Beach Oceanfront Resort, or stay closer to Orlando at the family-friendly Westgate Cocoa Beach Resort?
Perhaps you are looking for the best Westgate property close to the theme parks. If that's the case, there are several options to choose from, each with unique amenities and proximities to Orlando attractions.
What's your favorite Westgate property in Florida? Sound off in the comments below!
Westgate Timeshares For Sale
If you're ready to start looking at Westgate timeshares for sale at resorts in Florida, you've come to the right place! Firstly, you should browse our marketplace of available Westgate timeshares. Then, when you find one you love, simply make an offer! If you need further assistance, feel free to contact us at (407) 465-5188 or at [email protected]. Our team of licensed real estate agents has the experience and knowledge to make buying a Westgate timeshare in Florida easy!