Get ready to travel to a new far-out destination—except it's actually only a short flight to Orlando's Walt Disney World. Disney Vacation Club announced last July that a new resort property would be joining the family in December of this year and DVC members are twiddling their thumbs in excitement. The brand-new Riviera Resort will transport guests to the European coastline with its grandeur architecture, enchanting scenery and luxurious interiors.
Once upon a time, Walt Disney himself traveled through Europe and was in awe. Europe has a magical essence of history, architecture, and scenery. He brought his inspiration back home with him to carry into all things we know about Disney. From Walt's adoration of the Mediterranean coastline and European lifestyle, the idea of the Riviera Resort was born.
Guests wishing to travel to Europe without the expensive price tag can do just that–almost. The grandiose entrance is complete with palm trees that tower over the brick-paved road. The landscaping reflects lush Mediterranean gardens. Inside, twentieth-century furniture ornaments the lobby and villas with charming elegance and luxury.
A unique art collection will also decorate the walls to celebrate Disney characters and icons. Each art piece is influenced by other master artists that also found creative influence from the Mediterranean coastline. Get ready for new explorations and vacation memories with Disney Vacation Club's 15th timeshare resort property.
Indulge in Riviera Resort Dining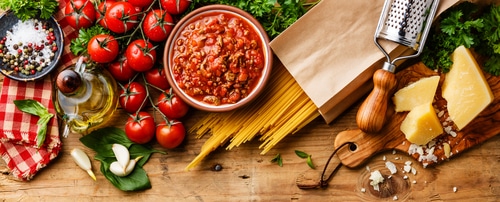 Topolino's Terrace – Flavors of the Riviera
Guests looking for a change of scenery and a trip without a passport can find a similar experience at the Riviera Resort. Topolino's Terrace Flavors of the Riviera is the most long-awaited restaurant addition to Disney. Set on the resort's rooftop, diners will get an exclusive view of Epcot and Hollywood Studios nighttime spectacular shows.
Topolino is Mickey's Italian name so of course, the Mouse will be making an appearance at character breakfasts every morning. Other popular Disney characters will also be joining along. Dishes of Topolino's Terrace will captivate the senses with mouth-watering Italian and French flavors that emit warm aromas.
Le Petit Cafe
The new dining options don't stop there. Grab a quick breakfast or latte from the lobby's cafe, Le Petit, for a French bistro experience. By night, Le Petit becomes a buzzing wine bar complete with rich desserts. Finger foods will make for excellent bites to eat on a nighttime stroll along the Riviera's waterfront paths during a fireworks show.
Primo Piatto
Along the featured Rivera Pool will be a quick-service cafe, Primo Piatto, and a poolside bar, Bar Riva. Grab-and-go opportunities are plenty for those last-minute excursions or mornings spent sleeping in with feather-soft beds and comfortable accommodations.
Riviera Resort Accommodations
Coming to the Riviera Resort is a new room-style, the Tower Studios. These new suites will sleep two guests with a balance between luxury and efficiency. A Queen-size pulldown bed makes it easy to create more space in a pinch while still maintaining complete comfort. Seating for two and a private balcony adds to the charm of Tower Studios. They're a great option for couples looking to save money or points while staying at the resort.
The 300 unit property will also feature Deluxe Studios to sleep up to five guests. Units go all the way to the largest accommodations, the Grand Villas, which will comfortably house up to twelve people. Deluxe Studios will each have kitchenettes with a mini-fridge, microwave and storage space to stow away any snacks or leftovers.
For larger parties looking to find a home away from home, one and two-bedroom Villas, as well as Grand Villas will have fully-functional kitchens with dining space and an open living area. Bring the recipe book for home-cooked meals and board games for even more bonding time away from the parks. En-suite bathrooms with a freestanding tub, walk-in shower, private porch and laundry area with a washer and dryer will also be valuable amenities in each Villa.
Travel to Disney Theme Parks in the Skyliner Gondolas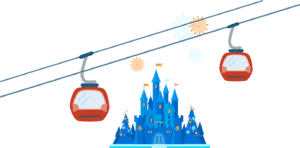 To add to the stir of new Disney developments, the Skyliner Gondola was another exciting announcement at Anaheim's D23 convention that will be a featured amenity opening along with the Riviera Resort. The Skyliner will be a quick stroll from the Riviera Resort to transport guests easily to Epcot or Hollywood Studios in sky-high gondolas.
Each gondola will have a bird's-eye view of the parks—a unique and exhilarating experience for kids and adults. Complete with exterior designs that feature favored Disney characters and icons on select gondolas, it will appear as if the characters are sitting with guests from the outside looking in. The entire family will experience the magic and charm that makes Disney vacations so exciting with this added detail.
Quick tip: getting to the Skyliner at the right time in the evenings will give you the most exclusive view of the nighttime shows every night.
Roughly the same size as the city of San Francisco, the entire Walt Disney property will be connected by the Skyliner system bus transportation to every Disney park, resort and Disney Springs. Four other beloved DVC resorts are also supposed to connect to the Skyliner, making transportation between every Disney property simpler than ever.
Relaxation at New Disney Pools
Mediterranean visitors are often thrilled to feel some extra warm and bright sunshine on their shoulders. Riviera Resort guests can achieve the same benefit in the Florida rays, while also laying on sun loungers surrounding the featured Riviera Pool or serene and relaxing Beau Soleil Pool.
Complete with a column-tower water slide perfect for kids, the Riviera Pool is the main pool area decorated with sun loungers and brightly-colored umbrellas. Splash and play all day long with the little ones at the S'il Vous Play kiddie pool. Inspired by public European fountains, kids can also take in the Mediterranean themes with Fantasia ballet characters also in ballet poses surrounding the pool area.
Adults in need of quiet relaxation can head over to the Beau Soleil Pool. Soothing scenery makes for serene downtime get some shut-eye in the intoxicating sunshine. Grab a cocktail at the Bar Riva poolside bar and enjoy a peaceful afternoon.
Fun and Luxurious Amenities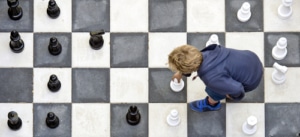 With flavorful dining options, delicious cocktails and scenic views, the amazing amenities don't stop there. The Riviera Resort takes its European theme to the fullest, putting guests in the heart of the Mediterranean.
A unique amenity off of the lobby is the Voyageur's Lounge, which will be full of treasures for the curious bookworms. The quiet study will feature furniture and decor inspired by book titles that Walt Disney collected during his European adventures. Those looking for a cozy area for some quiet can take a breath here and marvel at the impressive theme.
The activity lawn is a great space for family fun with a life-sized chess board, bocce ball court and fire pit to gather around. Taking a beautiful stroll along the waterfront to get some outdoor exercise makes for a perfect, blood-pumping activity. Joggers can also run this path or head to the Athletique Fitness Center.
Disney Vacation Club Resale Restrictions
Until recently, Disney Vacation Club allowed resale buyers to use their points at every resort, new or old. This was a great advantage of the resale market, as retail properties bought brand new was sold at a much higher price point.
This January, DVC made a huge announcement that made restrictions for new resale buyers. Any resale property bought after January 18th would restrict the new owners from using their points at any new DVC resorts. This will include the Riviera Resort. Further, any Riviera resale properties will limit owners strictly to the Riviera Resort.
While this may be a bit of disappointment for new resale owners that were looking to use new DVC resorts coming, it's important to note that all fourteen of the original resorts are still available to use points at. Every DVC resort immerses guests in fantastical themes and amazing amenities that only Disney can offer. Most of the same perks and possibilities will still be available to resale members.
If the newest addition to the Disney Vacation Club family sounds like your ideal Disney escape, Fidelity Real Estate just added our very first Riviera Resort resale listing! For $170 per point, you can also be a part of the excitement. As opposed to retail prices being sold for $220 per point, you can save hundreds and enjoy the fabulous new accommodations at the Riviera.
Planning Your Next Trip?
Read up on more popular vacation destinations, vacation ownership clubs and all the inside information on all things timeshare.