Your family deserves to have a nice and comfortable vacation. Staying in a timeshare villa means that you have more space to stay and play! There's more room, so there's more space for amazing amenities like a full-sized kitchen and living room. The standard size of a timeshare villa is quite a bit bigger than a normal hotel room, so let's talk about how that will benefit you and your family!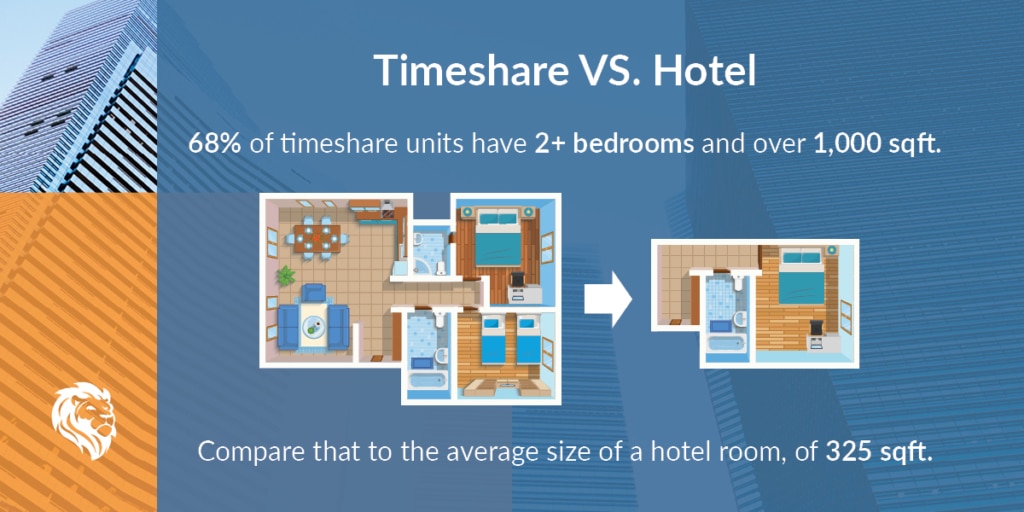 Standard Size of a Timeshare Villa
The standard size of a timeshare villa is exponentially larger than the size of the average hotel room. Oftentimes, villas come with more bedrooms and more living space. Your family will all be able to relax comfortably in your villa, without feeling too crowded. Everybody needs some personal space and that is completely possible with a timeshare villa.
Benefits of a Timeshare Villa
Timeshare villas offer full kitchens which is a huge benefit to guests. Being able to prepare breakfast in the morning or make an afternoon snack, all from the comfort of your villa is an amazing option for families. Stock your shelves with food and keep cold drinks in your full-size fridge; whatever you may need, there is space! The kitchens are also usually equipped with upgraded appliances, such as dishwashers and microwaves. All the comforts of your home kitchen will be available to you whilst on vacation!
There is plenty of room in a timeshare villa for you to spend time with your family. A standard size villa will have a spacious living room for you to enjoy. Gather around the tv for a movie night or unwind on the couch and talk about your adventures from the day. Many villas come with a sizable balcony, so you can enjoy incredible views without leaving the comfort of your room. A major benefit of staying in a timeshare villa, besides the size of the room, is that it will truly feel like a home away from home.
Ready To Buy a Timeshare Villa?
To sum up, the standard size of a timeshare villa will provide you and your family space to comfortably enjoy your vacation. If you're interested in buying a timeshare or finding out more about the process, give us a call at 1-800-465-5188 for a free, one-on-one consultation. Deciding to buy a timeshare can be tricky, so we'd love to help.